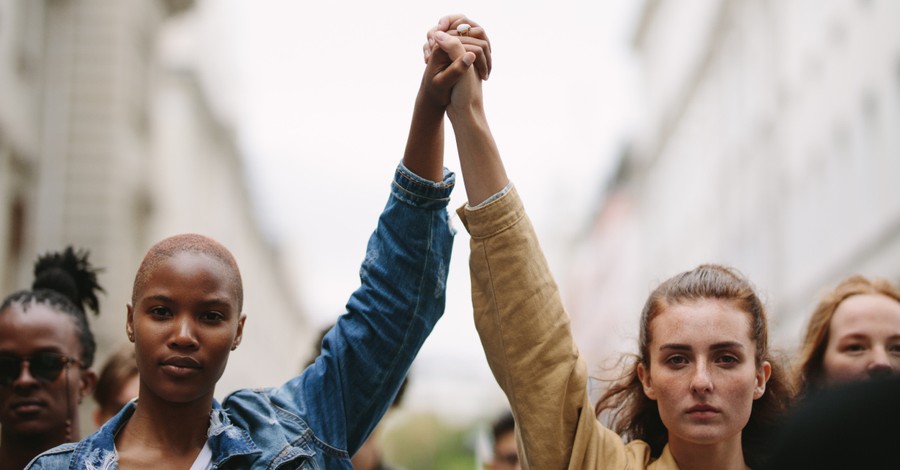 One of the more memorable lines written by C. S. Lewis has to do with whether or not a sense of morality is innate to human beings.
"Whenever you find a man who says he does not believe in a real Right and Wrong, you will find the same man going back on this a moment later. He may break his promise to you, but if you try breaking one to him, he will be complaining, 'It's not fair' before you can say Jack Robinson."
Our culture in particular is full of demands for justice of all kinds: social justice, economic justice, LGBTQ justice, environmental justice, racial justice, even "reproductive justice." At the same time, it's not always clear what is meant by justice. Too often, demands for justice are undergirded by radical and idiosyncratic about right and wrong, about fairness, about the human person, and—thanks to the wide application of critical theory—about power dynamics.
Demands for justice may be getting louder and louder, but that doesn't mean we are making progress as a society. The only worldview framework solid enough to groundhuman dignity and justice in human history is Christianity. True justice is a matter of honoring God and honoring the image of God inherent in every human person, and is grounded in God's love for humanity, our love of God, and our love of neighbor.
Too many Christians, rightly concerned by words like "justice" and "social justice"
being wrongly used, have abandoned them altogether. I've heard from many of them, and, while I share the concern about the wrong worldviews being smuggled into the Church and culture through these words, we must not abandon ideas that belong to God. "He has told you, O man, what is good; and what the Lord requires of you, to do justice, to love mercy, and to walk humbly with your God," wrote the prophet Micah. In Matthew 7:12, Jesus said, "Whatever you wish that men would do to you, do so to them; for this is the law and the prophets."
Starting next Tuesday, I will be hosting a four-week short course, taught by Dr. Thaddeus Williams, assistant professor at the Talbot School of Theology at Biola University and the author of an outstanding new book, Confronting Injustice Without Compromising Truth. If you've struggled with what it means to follow our Lord Jesus as a champion of what is true and good, without embracing or advancing the bad ideas of "wokeness" and critical theory, join us for this short course.
In his book, Williams writes, "The problem is not with the quest for social justice. The problem is what happens when that quest is undertaken from a framework that is not compatible with the Bible. Today many Christians accept conclusions that are generated from madness machines that are wired with very different presuppositions about reality than those we find in Scripture."
This short course will run four consecutive Tuesday evenings starting February 16th through March 9th. Each session begins at 8 PM and runs till 9:30 PM, Eastern Time, and features a dedicated Q&A time, where you can interact with Dr. Williams. If you have to miss a live session, a recording is provided to everyone registered for the course as well as handouts and other resources.
In fact, the first session, which will take place on February 16th, is being offered at no charge. However, because space is limited, you have to register at BreakPoint.org/Williams.
Dr. Williams's topic for Week 1 is the connection between social justice and our view of God. The topic for Week 2 is how ideas of social justice impact the community. Week 3's topic is how our ideas of social justice are shaped by our views about sin and salvation, and the final week will take a deep dive look at the tribalism that is preventing true reconciliation and justice today.
Please join us February 16th for our four-week short course, Confronting Injustice Without Compromising Truth with Dr. Thadeus Williams. Register at BreakPoint.org/Williams.
Publication date: February 8, 2021
Photo courtesy: ©Getty Images/jacoblund
The views expressed in this commentary do not necessarily reflect those of Christian Headlines.
---
BreakPoint is a program of the Colson Center for Christian Worldview. BreakPoint commentaries offer incisive content people can't find anywhere else; content that cuts through the fog of relativism and the news cycle with truth and compassion. Founded by Chuck Colson (1931 – 2012) in 1991 as a daily radio broadcast, BreakPoint provides a Christian perspective on today's news and trends. Today, you can get it in written and a variety of audio formats: on the web, the radio, or your favorite podcast app on the go.
John Stonestreet is President of the Colson Center for Christian Worldview, and radio host of BreakPoint, a daily national radio program providing thought-provoking commentaries on current events and life issues from a biblical worldview. John holds degrees from Trinity Evangelical Divinity School (IL) and Bryan College (TN), and is the co-author of Making Sense of Your World: A Biblical Worldview.
---
---