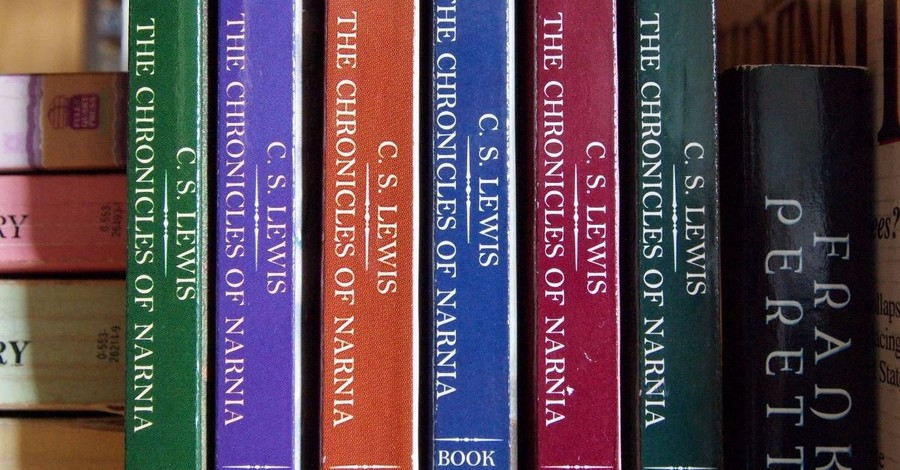 Alone in a seemingly hopeless war against an implacable Nazi enemy with bombs raining down on London, one man stepped up to a microphone, amidst the chaos, and addressed his nation on the subject of Christianity.
That man was C. S. Lewis, and the talks he delivered on the BBC radio network more than 75 years ago would become what is perhaps his best-known book, "Mere Christianity." But don't let that publication date fool you.
Decades later, it's incredible how relevant Lewis' brilliance still is. Much of what he wrote sounds like it was addressed directly to our time and our culture. That's because, despite the imminent threats of his time, Lewis dealt with the ultimate questions all of us have and the objections that have always haunted people about God, faith, and morality. And he did so in a simple, intuitive, humble, and easy to follow way.
In fact, here's an example: the Oxford don himself in one of the only surviving radio clips from those broadcasts. Lewis is explaining how God can listen to the prayers of billions of people at the same time:
"Almost certainly, God is not in time. His life doesn't consist of moments following one another. If a million people are praying to him at 10:30 tonight, He hasn't got to listen to them all in that one little snippet which we call 10:30. 10:30 and every other moment from the beginning to the end of the world is always the present for him. If you'd like to put it that way, he has infinity in which to listen to the split-second of prayer put up by a pilot as his plane crashes in flames. That's difficult, I know." (Ed. Note: Here's a link to the clip: 2:18 to 3:08).
Now, Lewis didn't say anything really new here. Fifteen hundred years earlier, St. Augustine proposed that God is outside of time. But Lewis expressed this, and so many other key concepts of the Christian faith, in a unique way that appealed not only to common sense, but to that stubborn, unshakable knowledge—shared even by atheists—that there's something beyond the material world.
That something, as Lewis argued in the opening chapters of "Mere Christianity," is evident any time two people quarrel and appeal to an ultimate standard of right and wrong. Half a century before the New Atheists began thundering their moral condemnations against the Christian God, Lewis observed that atheism (which he himself once embraced) "turns out to be too simple." The very moral standards that atheists use to try to judge God ultimately depend on God's existence.
Of course, "Jack," as his friends called him, is known for more than just apologetic arguments. Perhaps you first met him in a journey through a wardrobe, a picture frame, or a magician's ring into the land of Narnia.
"The Chronicles of Narnia," like the Great Lion Aslan himself, have a way of getting bigger as the reader grows. Like all of Lewis' fiction, they give faces and voices to serious and grown-up themes with which all humans wrestle. Through Narnia, as well as "The Screwtape Letters" and "The Great Divorce," Lewis provides insights on the nature of evil, the place of humans in creation, the atonement of Christ, and the longings God has placed within the human heart.
The man behind the microphone during the dark days of World War II deserves a closer look today. That's why I'm thrilled to tell you that the latest Colson Center short course will be led by the brilliant Lewis scholar Dr. Louis Markos. Dr. Markos is a world-renowned teacher. In fact he's the teacher in one of the "Great Courses" on C. S. Lewis.
This four-week online course, which you can take from home, is entitled "C. S. Lewis and the Christian Worldview." You'll study Lewis' thoughts on faith and reason, morality, free will, evil, love, and eternity. Participants will be able to ask questions and interact on the books I've mentioned, as well as "The Abolition of Man," "Surprised by Joy," "Reflections on the Psalms," and "The Space Trilogy."
Dr. Markos' course starts in just a few days, beginning Wednesday February 6th, and will be held four consecutive Wednesday nights. To learn how to sign up, just visit BreakPoint.org, and click on this commentary.
---
BreakPoint is a Christian worldview ministry that seeks to build and resource a movement of Christians committed to living and defending Christian worldview in all areas of life. Begun by Chuck Colson in 1991 as a daily radio broadcast, BreakPoint provides a Christian perspective on today's news and trends via radio, interactive media, and print. Today BreakPoint commentaries, co-hosted by Eric Metaxas and John Stonestreet, air daily on more than 1,200 outlets with an estimated weekly listening audience of eight million people. Feel free to contact us at BreakPoint.org where you can read and search answers to common questions.
John Stonestreet, the host of The Point, a daily national radio program, provides thought-provoking commentaries on current events and life issues from a biblical worldview. John holds degrees from Trinity Evangelical Divinity School (IL) and Bryan College (TN), and is the co-author of Making Sense of Your World: A Biblical Worldview.
Publication date: January 29, 2019
Photo courtesy: Pixabay
---
---