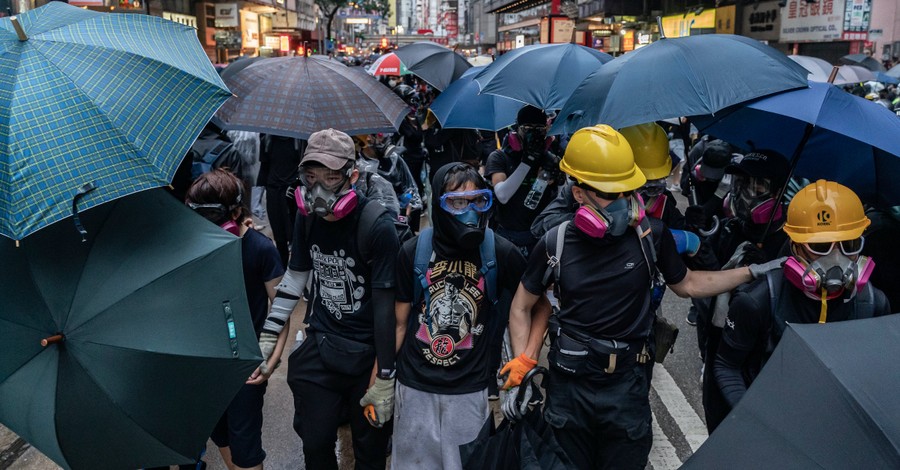 Is there hope for Hong Kong? That's the question the city's citizens, including nearly 1 million Protestant and Catholic Christians, are being forced to ask daily.
Under more than 150 years of British rule, Hong Kong established itself as a bridge from East to West, and an economic powerhouse that protected the basic freedoms of speech, religion, and assembly. In 1997, when the British government relinquished control to Beijing, a 50-year transitional period was established under a principle known as "one country, two systems." The idea that China would respect the agreement and Hong Kong's liberties might have been tenuous, but it wasn't completely irrational. In terms of economic prosperity and a tolerance for democratic norms, some even hoped Beijing's own system would evolve to mirror Hong Kong's.
That hasn't happened. In fact, as The Atlantic's Timothy McLaughlin wrote in April, "[T]hese hopes have now all but been extinguished."
In 2014, China announced that, though Hong Kong voters could choose their chief executive, candidates first had to be screened by a Beijing committee. The response in Hong Kong was explosive. Over 1.2 million people took to the streets in peaceful protest, occupying the central commercial district and famously using yellow umbrellas to deflect tear gas.
In 2019, protests were renewed over a proposed extradition bill that would grant authorities the ability to transport anyone accused of a crime, including political dissidents, to mainland China. Again, the backlash was massive. In a city of 7.5 million people, an estimated 2 million took to the streets, many pushing children in strollers or elderly in wheelchairs. Even when Chief Executive Carrie Lam eventually scrapped the extradition bill, it did little to stop the momentum.
But COVID-19 did. And, like all authoritarian regimes, China did not let a good crisis go to waste. As the city locked down, key protesters were arrested and momentum stalled. China bypassed Hong Kong's government and implemented a draconian national security bill of its own.
Now, the city's future seems especially dire. While some embers of protest still smolder, two of Hong Kong's last British judges resigned this April. By some estimates, nearly 50% of European firms are planning to leave the city. Though an economic blow like that should make Beijing think twice about Hong Kong's fate, economics has never been the primary driver behind the actions of the Chinese Communist Party or Xi Jinping.
Christian concern goes beyond our commitment to human rights, or the tragedy of watching such a vibrant, beautiful place fall under oppression. Our brothers and sisters in Christ have long played a dramatic part in Hong Kong's non-violent resistance. From the beginning, in fact, Hong Kong's Christians have formed the backbone of its pro-democracy movement.
A powerful example is retired pastor Chu Yiu-Ming who, along with eight others, was sentenced to prison for his role in the 2014 and 2019 protests. While his sentence was lightened due to his age, Pastor Chu was fully ready to bear the cost of following Christ and articulate why. Chu's speech, in which he described why he was compelled to act, should be required reading for all of us:
I am a Christian minister committed to the service of God,
and yet, at this very moment, my heart tells me that with this defendant's dock, I have found the most honorable pulpit of my ministerial career. The valley of the shadow of death leads to spiritual heights. …
To those who are naked or hungry, the Christian minister has no business responding with greetings of Peace, Peace. I wish you well; keep warm and well fed, but does nothing about their physical needs. What good are such greetings? [A]sk the Bible. …
This is our conviction based on the faith we hold: Every person is created according to God's image.
As such, every person should be respected and safeguarded. We strive for democracy, because democracy strives for freedom, equality and universal love. Human rights [are] a God-given gift, never to be arbitrarily taken away by any political regime. …
We have opted for a peaceful, non-violent way. Although the power of injustice before us is immense and those holding power capricious, we are not afraid, nor will we run away. …
We have no regrets,
We hold no grudges,
No anger,
No grievances.
We do not give up.
In the words of Jesus, "Happy are those who are persecuted because they do what God requires; The Kingdom of heaven belongs to them!" (Matthew 5:10)
Please pray for Hong Kong, for Pastor Chu, and for the other courageous Christians.
Publication date: April 28, 2022
Photo courtesy: ©Getty Images/Anthony Kwan/Stringer
The views expressed in this commentary do not necessarily reflect those of Christian Headlines.
---
BreakPoint is a program of the Colson Center for Christian Worldview. BreakPoint commentaries offer incisive content people can't find anywhere else; content that cuts through the fog of relativism and the news cycle with truth and compassion. Founded by Chuck Colson (1931 – 2012) in 1991 as a daily radio broadcast, BreakPoint provides a Christian perspective on today's news and trends. Today, you can get it in written and a variety of audio formats: on the web, the radio, or your favorite podcast app on the go.
John Stonestreet is President of the Colson Center for Christian Worldview, and radio host of BreakPoint, a daily national radio program providing thought-provoking commentaries on current events and life issues from a biblical worldview. John holds degrees from Trinity Evangelical Divinity School (IL) and Bryan College (TN), and is the co-author of Making Sense of Your World: A Biblical Worldview.
---
---