Bob DeMoss
| ChristianHeadlines.com Columnist
| Friday, March 26, 2021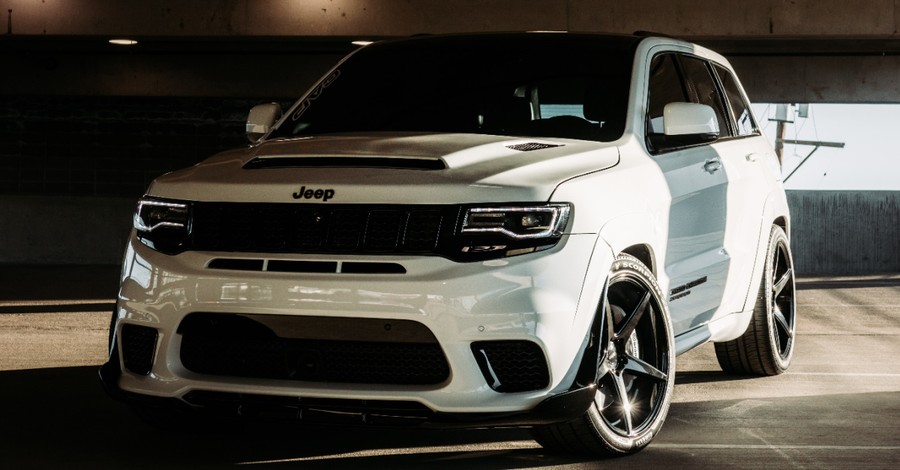 ---
Last month, Chuck Hoskin, Jr., the principal chief of the Cherokee Nation, asked Jeep's parent company Stellantis, to drop the use of their name on the best-selling Jeep Cherokee and Grand Cherokee. Why? Hoskin said, "I'm sure this comes from a place that is well-intended, but it does not honor us by having our name plastered on the side of a car." He's entitled to his opinion. I disagree. For centuries we've honored people who inspire us or who have notable accomplishments by placing their names on all sorts of things—highways, buildings, bridges, monuments and entire cities.
Here's Jeep's response—at least so far: "Our vehicle names have been carefully chosen and nurtured over the years to honor and celebrate Native American people for their nobility, prowess, and pride. We are, more than ever, committed to a respectful and open dialogue with Cherokee Nation Principal Chief Chuck Hoskin, Jr."
That wasn't good enough for Fortune commentator, Sheena Howard, who sides with Hoskin. She believes a "heightened awareness" of Americans having "their eyes opened to the racial, cultural, and economic injustices" has led to Jeep's "racial reckoning"—which, candidly, sounds a bit vindictive. This professor at Rider University is miffed by Jeep's response, calling it "particularly disappointing," because Jeep didn't immediately capitulate to the woke crowd's downhill ride into absurdity and voluntarily change their SUV to something like, oh maybe, the Jeep Tofu instead.
I'd be surprised if she or Hoskin considered the implications of what they're advocating. Here, then, are four reasons why dropping the Cherokee name is a meaningless gesture:
1. Existing Inventory
Let's say the Jeep moniker gets dropped. What should the upwards of 10 million Cherokee and Grand Cherokee owners do with their cars? If, according to Hoskin, their tribal name "plastered" on vehicles isn't honoring, then it must be dishonoring. If it's dishonoring, then shouldn't Jeep owners be required to immediately report to the nearest junkyard and scrap their ride? After all, we cannot afford to have 10 million drivers offending the snowflake generation. Far fetched? Evidently not. The cancel culture has torn down historic statues of leaders deemed no longer worthy of standing, including Christopher Columbus, Benjamin Franklin and Thomas Jefferson.
2. Other Auto Brands.
Where does this hatchet job stop? What about Jeep's Comanche, Chevrolet's Apache and Cheyenne, the Dodge Dakota or Ford's Thunderbird? Will Mazda need to ax their Navajo? What about Pontiac? Well, they're already finished as a brand—but there are bazillions of Pontiac's roving the streets, including some pretty awesome classic GTOs and Firebirds. Should they be rounded up and scrapped, too?
3. Non-auto Products and Brands.
What's good for the goose is good for the gander. If Jeep goes, just as sports franchises have ditched Native American names, so should the Indian Motorcycle Manufacturing Company, Mohawk Airlines, Mohawk Gasoline, Inca Cola, Red Man chewing tobacco, Crazy Horse Malt Liquor, Wamsutta sheets, and Piper's line of civilian planes like the Aztec, Cherokee and Seminole—not to mention a host of military aircraft like the CH-47 Chinook, CH-21 Shawnee, AH-64 Apache, and the OV-1 Mohawk. That's just the tip of the spear for activists on the cancel culture warpath.
4. Rivers, Roadways, and Regions.
I grew up in Pennsylvania where towns and the topography were often named after Native American tribes—like the Susquehanna River, the Potomac River, the town of Conshohocken ("pleasant valley"), Manayunk (place to drink), the Pocono township ("the stream that runs through two mountains"), and Erie Pennsylvania. That's a short list. If Jeep caves to a name change, are we supposed to pull out the giant woke-sized eraser and rename much of Pennsylvania? And New York? And New England? And dozens of other states whose cities, townships, streets and tributaries bear Native American names?
Hurtling headlong into a pileup of unintended consequences is exactly what happens when we allow ourselves to become a nation of crash test dummies. No seatbelt or airbag can save America from such politically correct, wokology. Even so, some well-intended, fairness police-minded commentators have suggested that if Jeeps' parent company races ahead with the use of the Cherokee name, then by golly, they should pay the Cherokee tribe a royalty.
Really? Is that what this is all about?
If so, are we now supposed to pay a royalty to Native American tribes anytime some thing or some place has been named after them? Will New York be required to pay a royalty for the use of "Niagara Falls," "Manhattan," and the "Adirondack Mountains"—all Native American names? Will those royalties be backdated hundreds of years to their first usage? And who pays them? You? Me? We had no say in the naming of something that occurred before our time, so why would we be obligated to cough up a payment?
Then there are the Boy Scouts of America with their Order of the Arrow—a 100-year-old honor society within BSA. Indian themes are found throughout the program, including their ceremonial induction featuring wardrobes and dances influenced by Indian traditions. A "national chief" and "national vice chief" head up the National Council of Chiefs who oversee programs for aspiring "Arrowmen." Should the Boy Scouts be required to sell more caramel popcorn to pay a royalty into a generic Native American slush fund?
What's more if, in the spirit of racial reckoning, we travel down the pathway of paying royalties for existing names on things, then what about paying people where an entire country was named after them? Take Bolivia, named after Simon Bolivar, the Philippines after Philip II of Spain, Saudi Arabia after Muhammad bin Saud, or El Salvador named after Jesus (Republic of the Saviour)—although I'm not sure how you'd pay Him royalties.
The views expressed in this commentary do not necessarily reflect those of Christian Headlines.
Photo courtesy: ©Jakob Rosen/Unsplash
---
Bob DeMoss is a New York Times bestselling author of more than 40 books including collaborations with Phil Robertson/Duck Dynasty, Jim Daly/Focus on the Family, Andy Stanley, and Tim LaHaye/Left Behind. His latest short story is "Hazel: The Outlaw Mummy". Visit BobDeMoss.com.