Bob DeMoss
| ChristianHeadlines.com Columnist
| Friday, September 17, 2021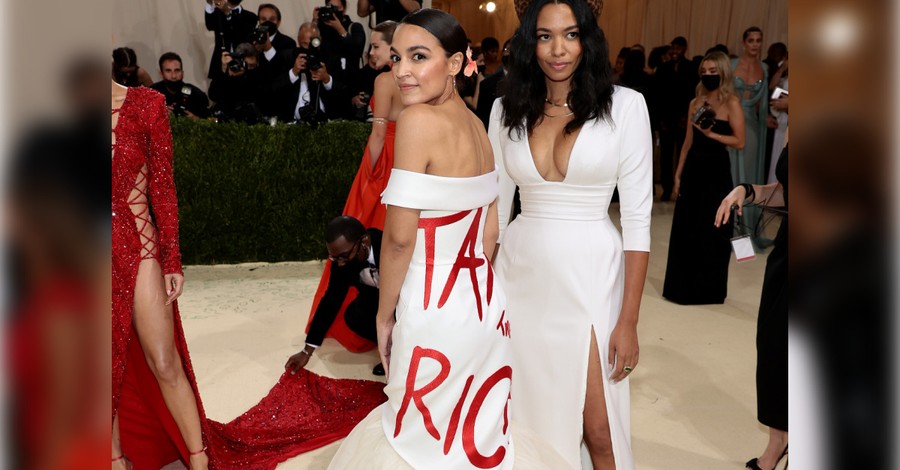 "We need to have a conversation in this country about working families," said Rep. Alexandria Ocasio-Cortez last Monday. While the real working class was at home watching Monday night football—wearing a mask between sips of their Budweiser, AOC, the former bartender turned social justice activist/warrior, shed her mask, donned a white dress, and hobnobbed with Saweetie, Jennifer Lopez, Justin Bieber, Kim Kardashian, Ben Affleck, Lil Nas X and Billie Eilish, AKA the wealthy class.
Oh, the perks of being a servant of the people.
AOC's ticket was reportedly comped. But her rich and famous peeps paid upwards of $35,000/ticket—with tables costing at $275k—for a seat at the elite MET fundraising gala. Reactions on social media and in the press were swift and divided over her "bold" and "courageous" political message emblazoned on the back of her dress: TAX THE RICH.
Washington Examiner's Jerry Dunleavy blasted her hypocrisy, saying, "AOC wanted to hang out with a bunch of rich celebs at a cool party without losing her socialist street cred, so she tossed 'Tax the Rich' on the back of her dress & called it a day. It's not much more complicated than that."
Barstool Sports founder Dave Portnoy called out AOC's sanctimonious behavior: "'Tax the Rich' ... But first I'm gonna go have the time of my life partying with them all at the most extravagant over the top party of the year that is essentially a celebration of richness."
Clearly, AOC was tone-deaf to the optics. As one social media critic tweeted, "The problem with AOC is that she's a national figure who is actually supposed to be beholden to a local community. Her community is fighting for federal funds to recover from a hurricane RN—right across the bridge—and she's at a wealthy tax write off talking about her dress."
The problem with AOC is that she's a national figure who is actually supposed to be beholden to a local community. Her community is fighting for federal funds to recover from a hurricane RN - right across the bridge - and she's at a wealthy tax write off talking about her dress.

— Comorienne 🇰🇲 (@_ShamGod) September 14, 2021
In an editorial, "AOC's Tax the Rich dress doesn't wear well," the Boston Herald observed, "Clearly AOC saw her dress as social warrior armor—kicking down the doors (which were being held open for her) and telling the rich folks they needed to fund her Green New Deal and everything else on her agenda." They add that AOC "is a woman of the people. So much so that she walked past a Black Lives Matter protest outside the Metropolitan Museum of Art in New York and joined the starry Met Gala inside as a guest earlier this week."
Even SLATE, the far-left, snarky magazine, took issue with the effectiveness of AOC's mingling with hundreds of ultra-rich, celebrity and financial tycoons. They write, "But when it comes to manifesting tangible outcomes for constituents, I find it difficult to believe that a slew of wealthy celebs will do more than fawn over the congresswoman's slogan-dress and, just by being near her, think that's enough to signal that they are on board. Giving them that opportunity is nothing even remotely the same as actually doing something about income inequality, which is, after all, her job."
When asked about the class-warfare messaging on her dress, AOC said, "When Aurora and I were first kind of partnered, we really started having a conversation about what it means to be working-class women of color at the Met, and we said, 'We can't just play along, but we need to break the fourth wall and challenge some of the institutions. While the Met is known for its spectacle, we should have a conversation about it."
Great. Let's have the conversation. First, the 31-year-old AOC earns at least $174,000 per year. The average 30-year-old "working-class" person earns $53,000 ... and the national average of all working-class Americans regardless of age is $53,490. When it comes to wages, AOC is shaking down more than THREE TIMES the national average. Is that fair? Is that equitable? As the Boston Herald said, "She is not working-class by a long shot."
Secondly, self-proclaimed socialists like AOC and Bernie Sanders, and leftists like Nancy Pelosi and Joe Biden, et al., love to throw around buzz words like "fairness" and "equality" as excuses to tax the rich—while they live by a different set of rules. They ARE the rich. Sanders owns three houses. Pelosi owns nine properties, including a Napa Valley Vineyard. And Newsweek reports Joe Biden "has multiple homes in his home state of Delaware, and across the U.S.A."
Let's set aside the fact that these public servants live high on the hog while most Americans struggle to pay for the rising cost of bacon—now 13 percent more expensive this year than last. When Amazon, one of the largest companies in the world, wanted to open a facility in AOC's community, she ran them out of town. Instead of helping her middle-class constituents with 25,000 jobs—with pay upwards of $150k, she celebrated her victory over the "robber baron billionaires."
Ultimately, this conversation comes down to two worldviews: Takers and Makers. The Takers want what other people have; dressed up in the latest PC-fashionable words of fairness, equity, sustainable, living-wage, they want to tax and take what others make. By contrast, Makers don't look across the block with envy at what someone else has in order to get their fair share. Makers are too busy making a living through long hours, juggling several jobs, or risk-taking entrepreneurialism because it brings them joy—which sure beats mooching off of the earnings of others.
Conservative Christian commentator Charlie Kirk got it right with his new line of clothing merchandise based on AOC's dress. Instead of advocating TAX THE RICH, his white and red t-shirts say: BE THE RICH.
If AOC really wants to help her constituents, that's the radical notion she should be pushing. She should show how the middle-class can leverage their freedoms, their creativity, their own efforts to improve their economic standing—rather than going through life as a Taker "panhandling for handouts," which enslaves the human spirit by promoting a victimhood mentality.
Believers who have wealth have biblical reasons to be generous to those in need. Proverbs 11:25 says, "A generous person will prosper; whoever refreshes others will be refreshed." I haven't found a scripture yet where Takers have that kind of upside. So, indeed, BE THE RICH ... and as you build wealth, be generous according to what the Lord moves in your heart to do.
The views expressed in this commentary do not necessarily reflect those of Christian Headlines.
Photo courtesy: ©Getty Images/Dimitrios Kambouris/Staff
---
Bob DeMoss is a New York Times bestselling author of more than 40 books including collaborations with Phil Robertson/Duck Dynasty, Jim Daly/Focus on the Family, Andy Stanley, and Tim LaHaye/Left Behind. His latest short story is "Hazel: The Outlaw Mummy". Visit BobDeMoss.com.
---
---