Bob DeMoss
| ChristianHeadlines.com Columnist
| Friday, May 28, 2021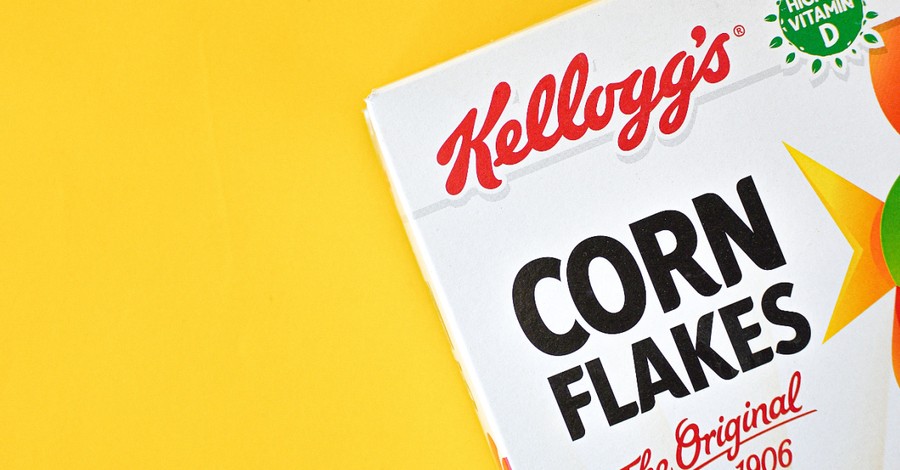 Kellogg's celebration of gay pride month with an LGBTQ-themed breakfast cereal is stirring a food fight with Americans fed up being force-fed a far-left sexual agenda. As part of Kellogg's five-year partnership with the radical Gay and Lesbian Alliance Against Defamation (GLAAD) organization, the cereal giant is schlepping their new "Together with Pride" cereal at retailers like Target.
In 2019, Kellogg's had a similar pro-GLAAD campaign called "All Together", in which they created an indigestion-worthy concoction of Corn Flakes, Frosted Flakes, Fruit Loops, Rice Krispies, Raisin Brand, and Frosted Mini-Wheats combined in one purple box. Company executives said, "It's a symbol of acceptance no matter how you look, where you're from or who you love."
This time around, Kellogg's is donating $3 per box (up to $140,000) to support the aggressive gay et al. lobbying work of GLAAD. Kellogg's marketing states: "Boxes are for cereal, not people. No matter who you are, who you love, or what pronouns you use, you're too awesome to fit into a box." Not all parents resonate with that notion. Tony Perkins, President of the Family Research Council, said, "By a 3-to-1 margin, they don't want corporations openly involved in political activism at all. So when Fruit Loops tries to serve up new genders, don't be surprised if he, she, they, or them don't buy it."
Acting as a gender-bending chorus, the kid-friendly, lovable Tony the Tiger, Toucan Sam, and Dig'em Frog, are being used to manipulate and invite children to choose their own gender pronouns. Social media reaction has been fierce: "I'm hungry for breakfast, not a sexual agenda" and "Stop shoving perverted sex down the throats of our kids" are common themes.
Some on the left can't imagine why anyone would have an issue with this. Perhaps they should imagine the outrage by GLAAD and other far-leftist groups if Kellogg's were to announce a five-year partnership with Focus on the Family and then make a $140,000 donation to support their Bring Your Bible to School Day initiative—with or without a cereal box purchase. Just saying.
But the real controversy isn't that Kellogg's is peddling gender confusion. The deeper issue is why the woke folk at GLAAD—who are hell-bent on fighting racism (see here, here, and here), are happy to take money from the Kellogg's company whose creator of Kellogg's Corn Flakes, Dr. John Harvey Kellogg, was an "extremely racist person" and a leader in the now-discredited eugenics movement.
Need proof? Dr. Kellogg led a week-long "'Race Betterment Conference' in 1914 to seek a cure for 'race degeneracy.'" At the time, he said, "We have wonderful new races of horses, cows, and pigs. Why should we not have a new and improved race of men?" His xenophobia and white nationalism drove him to call for a "eugenics registry to establish 'racial thoroughbreds' and called for the sterilizations of 'defectives.'"
What's more, Dr. Kellogg founded the Race Betterment Foundation to shape public opinion and influence legislation regarding eugenics and "advocated that the whites return to biologic living and avoid 'race-mixing.'" Not surprisingly, he wrote in 1902, "The intellectual inferiority of the negro male to the European male is universally acknowledged." Why, then, isn't GLAAD sad about the roots of racism sown by the company's namesake? Why aren't they boycotting Kellogg's instead of partnering with them? At the very least, the racist history of Kellogg's founder should leave a sour taste in their mouth. Instead, GLAAD is gobbling up the nutritionally deficient sugary profits.
Meanwhile, parents who embrace the Judeo-Christian heritage can use this latest indoctrination effort by a corporate giant to remind their children that God "created them male and female and blessed them. And he named them 'Mankind' when they were created" (Genesis 5:2, NIV).
The views expressed in this commentary do not necessarily those of Christian Headlines.
Photo courtesy: Haithem Ferdi/Unsplash
---
Bob DeMoss is a New York Times bestselling author of more than 40 books including collaborations with Phil Robertson/Duck Dynasty, Jim Daly/Focus on the Family, Andy Stanley, and Tim LaHaye/Left Behind. His latest short story is "Hazel: The Outlaw Mummy". Visit BobDeMoss.com.
---
---