Bob DeMoss
| ChristianHeadlines.com Columnist
| Friday, September 10, 2021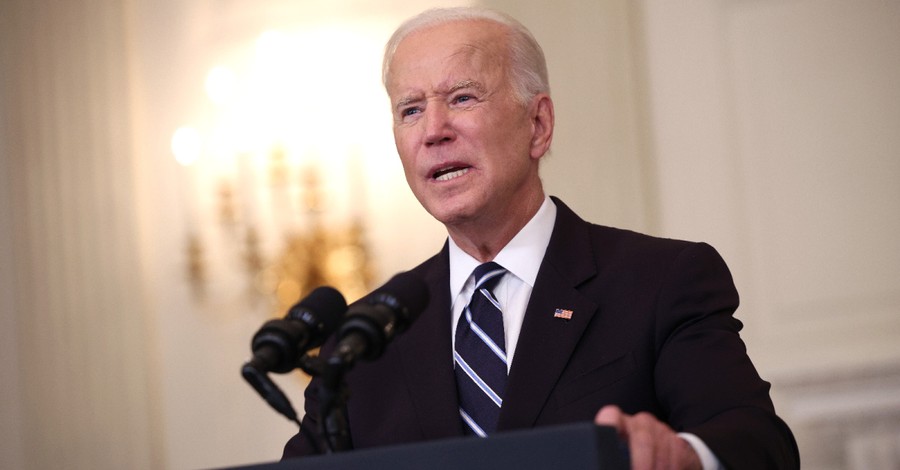 What does President Joe Biden's latest dictate have in common with the new Halloween Kills movie? Both are terrorizing 100 million people—with one difference. Unlike Hollywood's latest horror flick, Biden's latest executive order—that companies with more than 100 employees must vaccinate, isn't fictional. His slashing of our constitutionally guaranteed personal freedoms is on par with the nightmare Halloween Kills evokes.
On Thursday, Biden made the unconstitutional, mandatory vaccination decree, saying, "We've been patient, but our patience is wearing thin—and your refusal has cost all of us." Biden blamed American citizens, upwards of 100 million who have chosen not to be vaccinated for a variety of personal, health, and religious reasons, as the real problem in the fight against COVID. "This is not about freedom or personal choice," he said.
Whatever happened to "My body, my choice"? When it comes to abortion, he's for freedom and choice; not so with the mandatory vaccinations of 100 million people.
Ironically, Biden-Harris Administration policies exclude forcing the vax upon illegal aliens crossing the border. Upwards of 30 percent of illegal immigrants have refused to be vaccinated against COVID. American citizens will no longer enjoy that same choice if Biden's mandate survives a swarm of legal challenges.
Regarding the COVID response, America is suffering from severe government-induced whiplash. The ever-changing advice from Dr. Anthony Fauci and his posse over at the Centers for Disease Control and Prevention (CDC) has put an axe to public confidence in the CDC—plummeting as much as 30 points in six months. That's an understandable byproduct of their revolving door approach to public health and safety policies.
For instance, on July 30, 2021—just five short weeks ago, CDC Director Dr. Rochelle Walensky tweeted: To Clarify: There will be no nationwide mandate. I was referring to mandates by private institutions and portions of the federal government. There will be no federal mandate." You might want to read that again.
Earlier that same day, she was asked by a FoxNews reporter, "Are you for mandating a vaccine on a federal level?" Her answer? "That's something that I think the administration is looking into."
Which doesn't jibe with what White House Press Secretary Jen Psaki said in April of last year, namely, "The government is not now, nor will we be supporting a system that requires Americans to carry a credential. There will be no federal vaccinations database and no federal mandate requiring everyone to obtain a single vaccination credential."
Psaki reaffirmed that position in a June 2021 presser, stating that mandating public vaccination is "not the role of the federal government." And yet, according to CNN, citing a source familiar with Biden's plan, the President "will impose more stringent vaccine rules on federal workers by signing an executive order requiring all government employees be vaccinated against Covid-19—with no option of being regularly tested to opt-out."
While Biden shames and demands all Americans to get the COVID shot, a late-breaking scientific report demonstrates that natural immunity offers the highest protection against COVID-19 as well as the DELTA variant than the vaccine.
FORTUNE reports: "This analysis demonstrated that natural immunity affords longer-lasting and stronger protection against infection, symptomatic disease and hospitalization due to the delta variant." Read more here, here, and here.
What, then, is with Biden's full-court press to vax the public? Given the almost 99 percent survival rate of the virus, wouldn't it make more sense to allow nature to take its course? This is a virtual bloodbath of common sense and, as a number of Representatives are saying, an abuse of power by the President.
Rep. Robert Aderholt, R-Ala, responded to the mandate, saying, "This is unconstitutional. The U.S. Constitution does not give the President this type of authority. Nowhere in Article 2 of the Constitution will you find anything that even remotely gives the President this kind of power." In South Dakota, Gov. Kristi Noem tweeted: "South Dakota will stand up to defend freedom. @JoeBiden see you in court."
Larry Cosme, president of the Federal Law Enforcement Officers Association, drew a line in the sand, saying, "Vaccination should be promoted through education and encouragement—not coercion," adding, "We are a nation built on freedom. We are law enforcement officers who defend that freedom. And we deserve the freedom to make our own health decisions."
While governors, lawmakers, businesses, and private sector interests battle Biden's brazen mandate, losing sight of Who is still on His throne is easy to do. Personally, I find the words to this classic hymn to be especially comforting in disturbing times:
This is my Father's world,
O let me ne'er forget
That though the wrong seems oft so strong
God is the ruler yet!
This is my Father's world,
The battle is not done
Jesus who died will be satisfied
and earth and heaven be one.
Oh, and for the record, avoid the Halloween movie as if it were the plague.
The views expressed in this commentary do not necessarily reflect those of Christian Headlines.
Photo courtesy: ©Getty Images/Kevin Dietsch/Staff
---
Bob DeMoss is a New York Times bestselling author of more than 40 books including collaborations with Phil Robertson/Duck Dynasty, Jim Daly/Focus on the Family, Andy Stanley, and Tim LaHaye/Left Behind. His latest short story is "Hazel: The Outlaw Mummy". Visit BobDeMoss.com.
---
---