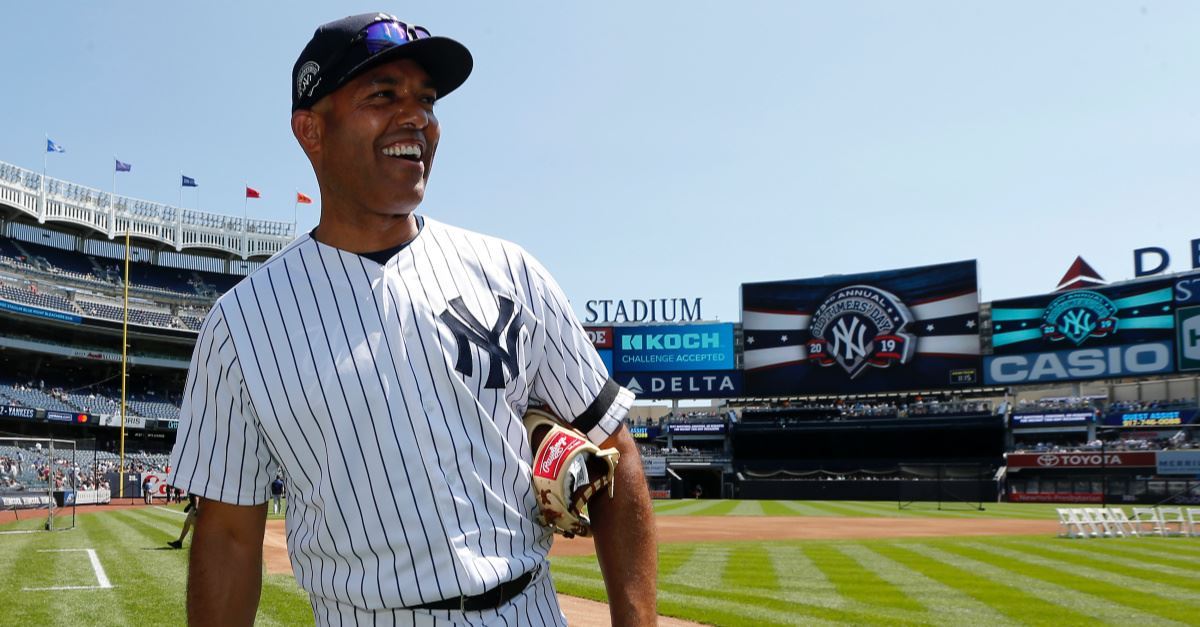 ---
Major League Baseball Hall of Famer Mariano Rivera unapologetically expressed the importance of his Christian faith and explained his support for President Trump and Israel after an opinion writer accused him of perpetuating far-right ideology.
The Christian Post reports that Rivera – arguably the most successful relief pitcher to play the game of baseball – responded on Fox & Friends after writer Robert Silverman accused him of playing into "thinly veiled propaganda on behalf of a far-right government in Israel" and becoming "chummy with outright bigots and apocalyptic loons." 
Siting his Christian faith as an important reason he supports Israel, Rivera told Fox, "When it comes to Israel, as a Christian, if my Savior Jesus Christ, he's a Jew, so how am I going to turn my back and say, 'Oh, I won't support Israel.'" 
Silverman also explicitly mentioned Rivera's support of President Trump noting that while he had never – up until the point of Silverman writing his article – outrightly voiced his support for the president, his "actions make it clear his sympathies lie with the Trump administration." 
In the conversation with Fox & Friends, Rivera confirmed his support for the president. He said, "He was a friend of mine before he became president. So, because he's president I will turn my back on him? No. I respect him."
He added, "I respect what he does and I believe he's doing the best for the United States of America."
When asked if there was anything he would like to say to the op-ed writer, Rivera remained un-waivered in his beliefs, asserting, "You have the power to say whatever you want to say, but that won't change my position, and that won't change my belief."
The Fox & Friends hosts then switched gears, inquiring how Rivera came to be a Christian.
Rivera answered without hesitation saying, "adversities" are what led him to his faith in Christ.
The 49-year-old pitcher shared a vulnerable story about how his wife contracted the chickenpox while she was pregnant with their son. The illness can be deadly to children in the womb. Rivera shared, "Age 24, my wife got sick; my boy got sick; she got chickenpox when he was in her womb for six months." 
He continued, "The doctor told her to stay away from people with chickenpox, and that thing was infectious that year. He was supposed to be born with that vertebra thing open; his head would have been growing, growing, growing, until the point that he would die.
"But a friend of ours took us to — we were in Tampa, and they were at a women's conference, they took her and they prayed for her and he was healed," Rivera recalled.
Now retired, Rivera and his wife Clara lead Refugio de Esperanza church in New York. According to the Christian Post, Rivera founded the church shortly after his retirement from the New York Yankees. A multicultural body, the church seeks to revitalize "its community through acts of service and a genuine demonstration of God's love."
Photo courtesy: Getty Images/Jim McIsaac/Stringer
---
Kayla Koslosky has been the Editor of ChristianHeadlines.com since 2018. She has B.A. degrees in English and History and previously wrote for and was the managing editor of the Yellow Jacket newspaper. She has written on her blog kaylamariekoslosky.blogspot.com since 2012 and has also contributed to IBelieve.com and Crosswalk.com.