Bob Smietana
| Religion News Service
| Published: Feb 22, 2022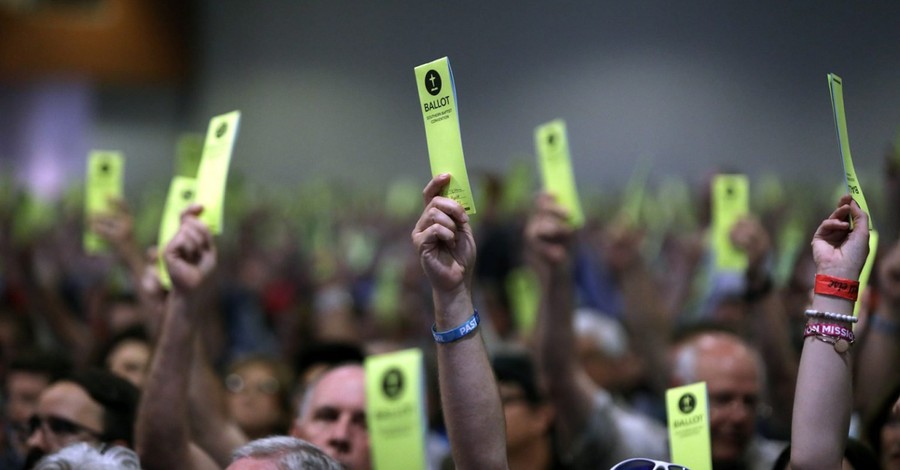 NASHVILLE (RNS) — After four months of relative peace and quiet, the Southern Baptist Convention's Executive Committee will meet this week, their first in-person gathering since a series of contentious meetings led to the resignation of more than a dozen committee members.
The Nashville-based Executive Committee, which oversees the business of the nation's largest Protestant denomination in between annual meetings, will hear reports from SBC leaders, get updates on the convention's finances, and begin the work of searching for a new permanent leader to replace Ronnie Floyd, the committee's former president and CEO who resigned last October.
The committee now has 68 members and 18 vacancies.
Below are a few things to look for ahead of the Executive Committee meetings, which begin Monday.
What is the status of the sexual abuse investigation?
Committee members will hear a status report from the task force overseeing an investigation into how SBC leaders have responded to the issue of sexual abuse in recent decades.
According to a recent update, representatives from Guidepost Solutions, the outside firm running the investigation, have interviewed more than 30 former or current staff and more than 50 current or former trustees. Guidepost is also reviewing more than 4,000 pages of documents from the committee's former lawyers and more than 4 terabytes of data.
The committee will also likely get an update on the cost of the investigation. Last fall the committee approved $1.6 million toward paying for the investigation.
A protest advocating for sexual assault victims is planned Monday before the meetings begin.
Can new leaders move the committee forward?
Last fall, the executive committee held a series of meetings, first in person and then online, filled with debate over the sex abuse investigation. During the SBC's 2021 annual meeting, local church representatives, known as messengers, approved the investigation and told the Executive Committee to waive attorney-client privilege as part of the review. But some committee members balked at revealing privileged information and wanted to control how much of the report was made public. After the committee voted to waive privilege, more than a dozen committee members resigned.
Floyd, a former Arkansas megachurch pastor who was elected to head the Executive Committee in 2019, also stepped down after disagreeing with the committee's decisions.
"In the midst of multiple challenges facing the SBC, I was asked to come here because of my proven personal integrity, reputation, and leadership," he said in his resignation letter. "What was desired to be leveraged for the advancement of the Gospel by those who called me here, I will not jeopardize any longer because of serving in this role."
Still, a number of members who opposed the vote on waiving privilege, which passed in October by a 44-31 margin, ac­­­cording to Baptist Press, remain on the committee.
The committee's officers recently appointed Willie McLaurin as interim Executive Committee president. McLaurin, who had been vice president for convention relations, will serve until a permanent leader is found. He is the first Black leader of a Southern Baptist national entity and will give his first address Monday night.
"We hope that he will help us to reset the tone by which the EC serves Southern Baptists," said the Rev. Rolland Slade, the Executive Committee chairman, in a statement earlier this year.
"Immediately before us is the challenge to regain the sense of trust of Southern Baptists."
What will SBC President Ed Litton say?
On Monday night, committee members will hear an address from the Rev. Ed Litton, an Alabama pastor who was elected in June 2021. In recent years, the president's address at the committee's February meetings has made national headlines. In 2019, former SBC President J.D. Greear called on denominational leaders to investigate churches that cover up abuse. ­­­Last year, Greear addressed ongoing controversies in the SBC over critical race theory and politics, saying, "God did not call Southern Baptists to save America."
Litton, known for his work on racial reconciliation, won a closely contested race for president in June of 2021. His fall speech to the Executive Committee was largely overshadowed by the controversy over waiving privilege.
He has said in the past that his focus will be on getting Southern Baptists to work together.
"I want to be clear that my goal is to build bridges and not walls," he said early on in his presidency.
READ THIS STORY AT RELIGIONNEWS.COM.
Article originally published by Religion News Service. Used with permission.
Photo courtesy: ©RNS/Kit Doyle
---
---