Kayla Koslosky
| ChristianHeadlines.com Editor
| Thursday, September 16, 2021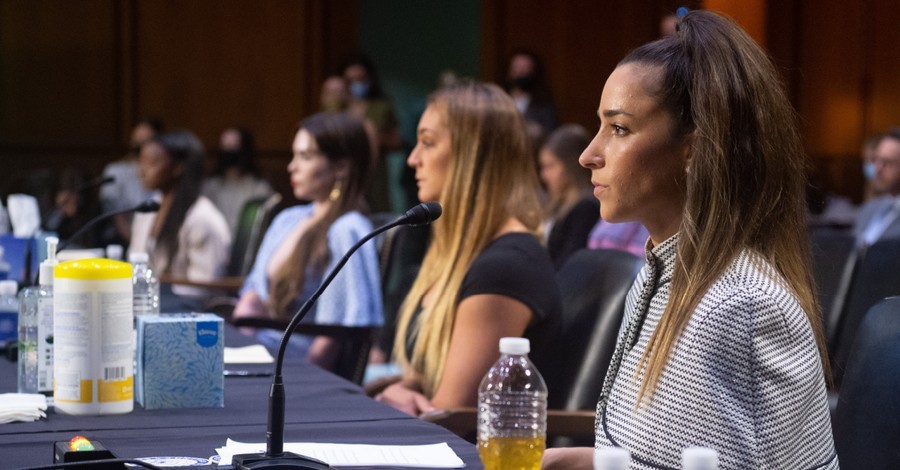 On Wednesday, U.S. Olympic and National Team gymnasts speaking on the handling of sexual abuse allegations against USA Gymnastics team doctor Larry Nassar called out the Federal Bureau of Investigation for failing to investigate the allegations in a timely manner.
Speaking before the Senate Judiciary Committee in a hearing aimed at holding the FBI accountable for mishandling the Nassar investigation, Olympic medalists Simone Biles, Aly Raisman, and McKayla Maroney and U.S. National Team gymnast Maggie Nichols, among others, argued that the FBI's failure to investigate the abuse allegations allowed for more young women and girls to be abused.
According to the Associated Press, all four women, who were abused themselves, testified to knowing more girls and women who were abused after the FBI was made aware of Nassar's actions in 2015.
"I blame Larry Nassar, and I also blame an entire system that enabled and perpetrated his abuse," four-time Olympic gold medalist Biles said.
She added that along with the FBI's failure to investigate Nassar promptly, the USA Gymnastics and the United States Olympic and Paralympic Committee "knew that I was abused by their official team doctor long before I was ever made aware of their knowledge."
"If you allow a predator to harm children, the consequences will be swift and severe. Enough is enough," Biles asserted.
Maroney, who competed and medaled in the 2012 Olympics, recalled telling unreactive FBI agents over the phone of an incident of abuse in which she feared for her life. She said this experience, along with the overall handling of the investigation, showed that the FBI "minimized and disregarded" the abuse she and other gymnasts endured.
"I think for so long all of us questioned, just because someone else wasn't fully validating us, that we doubted what happened to us," Maroney told Congress. "And I think that makes the healing process take longer."
"What is the point of reporting abuse if our own FBI agents are going to take it upon themselves to bury that report in a drawer," she added. "They had legal, legitimate evidence of child abuse and did nothing."
Raisman, who, following her abuse, became an outspoken activist for sexual abuse survivors, argued that the FBI's failure to act swiftly was akin to "serving innocent children up to a pedophile on a silver platter."
According to CBN News, two weeks before the Senate hearing, the FBI fired the agent who buried Maroney's accusation and allowed his boss, who had reportedly applied for a job with USA Gymnastics during the investigation, to retire.
"These individuals betrayed the core duty that they have of protecting people. They failed to protect young women and girls from abuse," FBI Director Christopher Wray said during his opening remarks to the committee.
Despite being invited to appear at the hearing to explain why agents who failed to act on these allegations have not faced criminal charges, the Justice Department, CBN News reports, declined the offer.
"My hope is that the Department of Justice which was invited today and has declined to appear will match your courage by explaining why those lies by FBI agents did not lead to criminal prosecution and accountability," Sen. Richard Blumenthal (D-CT) said at the hearing.
The inquiry into the FBI's handling of the Nassar investigation is ongoing.
Photo courtesy: ©Getty Images/Pool
---
Kayla Koslosky has been the Editor of ChristianHeadlines.com since 2018. She has B.A. degrees in English and History and previously wrote for and was the managing editor of the Yellow Jacket newspaper. She has also contributed to IBelieve.com and Crosswalk.com.
---
---