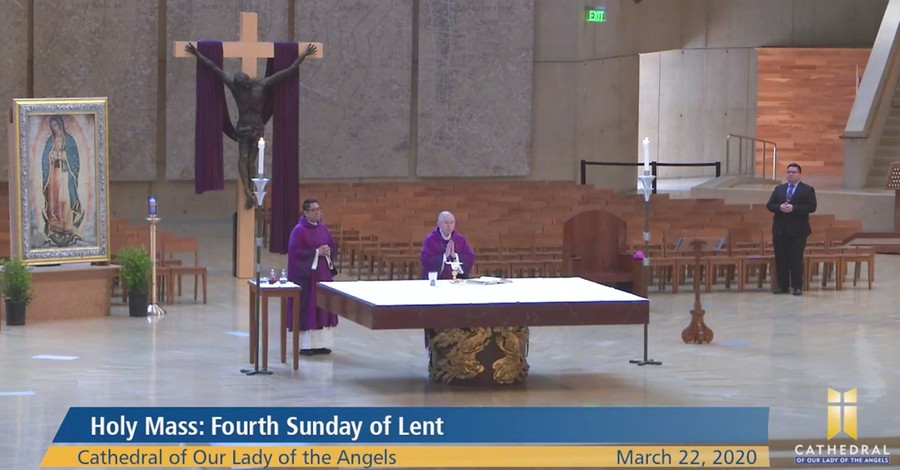 LOS ANGELES (RNS) — Parishioners from the largest Catholic archdiocese in the country can now access Spanish-language Mass on local TV in the wake of the novel coronavirus that has led to the cancellation of the public services.
Through a partnership between Univision television network in Los Angeles and the Archdiocese of Los Angeles, the Spanish-language morning Masses from the Cathedral of Our Lady of the Angels are now being broadcast through the network's local UniMás KFTR-TV on Channel 46. The morning Mass services are offered at 7 a.m. Monday through Friday and on Sunday.
Carolina Guevara, a spokeswoman for the archdiocese, said this service helps fill a void for the large number of parishioners who are Spanish-speaking, as well as for those who may not have social media access. Guevara said more than 70% of the archdiocese's parishioners are Latino.
The archdiocese spans the counties of Los Angeles, Ventura and Santa Barbara.
Guevara said this service does not cost the archdiocese any money and will go on "as long as this crisis continues."
Luis Patiño, president and general manager of Univision Los Angeles, said "this is purely a service to our community."
"These are unprecedented times and we believe it is our social responsibility to help provide Mass for the thousands of faithful who cannot leave their homes," Patiño said.
Patiño said Univision has broadcast Mass in the past, airing the celebratory service in honor of Our Lady of Guadalupe.
The Archdiocese of Los Angeles on March 16 announced the suspension of Masses amid the COVID-19 health threat. Just days before the announcement, parishes in the archdiocese had been allowed to host restricted public Masses with a limit of 250 people.
Before the pandemic, the archdiocese was already livestreaming Sunday Masses from the Cathedral of Our Lady of the Angels on Facebook and YouTube.
Catholic media are also airing Masses in English and Spanish on cable, radio and through the internet on El Sembrador (ESNE) TV/Radio, Guadalupe Radio, Relevant Radio and The Catholic Channel on Sirius XM.
"Our Catholic community is doing our part to limit the spread of this global public health threat by suspending Masses at all parishes for the first time in the history of our Archdiocese," said Archbishop José H. Gomez in a statement.
"Even though we cannot publicly gather in communion to celebrate our faith together during these difficult times, I encourage our faithful to continue to participate in the Holy Mass via television, radio and online so that we may continue to pray together for the Lord's grace and mercy in our time of need," he added.
During Sunday's virtual Mass, Gomez prayed for those suffering from the coronavirus and urged Catholics to maintain their faith.
"This week, as we enter another week of these challenging times, week of sacrifices and hardship, let us try to walk by the light of Christ," Gomez said.
"We know that there are many people praying for healing," Gomez said. "We need to believe in the promises of Jesus, especially in these days when things seem so uncertain."
Catholics can find a listing of available livestreams and broadcasts of Masses in the archdiocese at lacatholics.org/mass-for-the-homebound.
READ THIS STORY AT RELIGIONNEWS.COM
Article originally published by Religion News Service. Used with permission.
Photo courtesy: ©Religion News Service/Cathedral of Our Lady of the Angels Screengrab
---
---