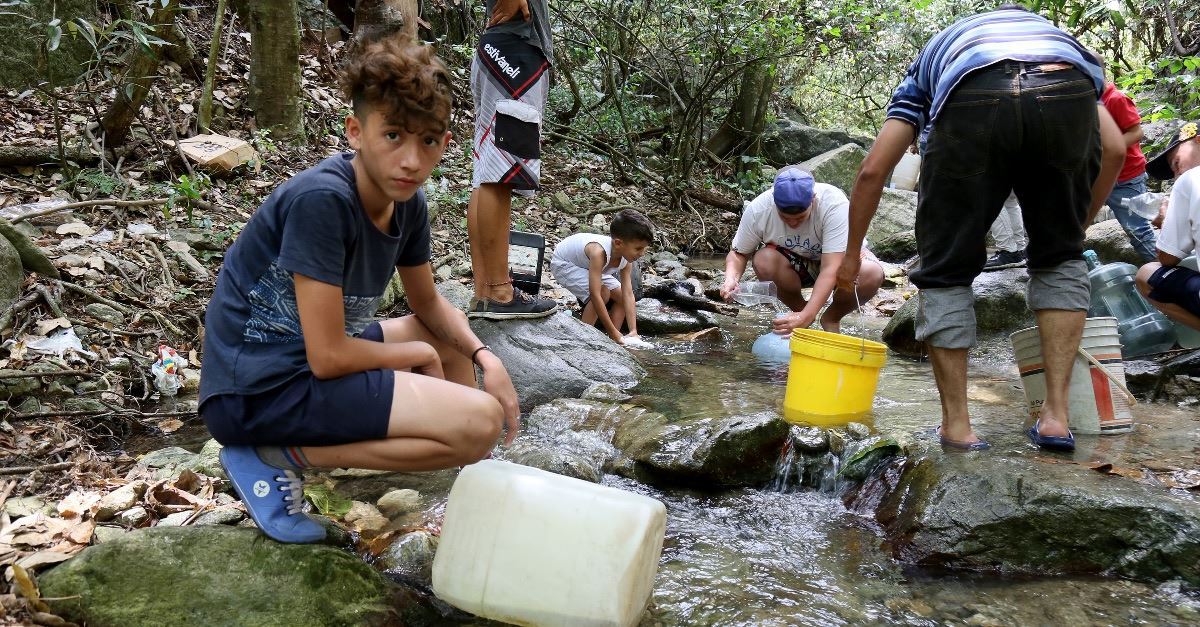 ---
After four days of blackouts in the South American country, the United States announced that it will be removing all remaining U.S. staff members from its embassy in Venezuela.
According to the Associated Press, U.S. Secretary of State Mike Pompeo stated late Monday night that the U.S. will be working to remove all American embassy staff members from the South American nation due to the regression of political, social and economic conditions.
Over the past several months the United States has taken part in efforts to oust the nation's current socialist president Nicolás Maduro. One of those efforts has been to voice its support – along with 50 other countries – for self-elected president and opposition party leader Juan Guaido.
According to the AP, after the U.S. recognized Guaido as Venezuela's rightful leader, Maduro demanded the U.S. to remove all diplomats from Venezuela in late January. Madura reportedly backed down and allowed them to stay. Still, the U.S. removed all embassy employees' dependents from the country and are now working on removing the rest of the Americans in the embassy by the end of the week.
As Christian Headlines previously reported, social and political unrest broke out in Venezuela under Hugo Chávez, who ruled over the nation for almost 15 years. Chávez nationalized many of the major industries in the nation including the "petroleum sector, telecommunications, electricity, steel and cement." He also eliminated term limits, making it so that leaders can run for office indefinitely. The unrest grew after Chávez died in 2013 and his successor Nicolás Maduro – a staunch socialist dictator – took office. 
According to the International Monetary Fund, by 2017 the Venezuelan GDP had dropped by 14 percent and the inflation rate had soared to 2,400 percent.
Political corruption mixed with a dying economy has resulted in a complete lack of resources including clothes, food, medicine, and most recently, electricity. 
According to the BBC, 64.3 percent of people reported losing an average of 25 pounds in 2017 as a result of not having or being able to afford enough food.
The AP reports the last Thursday many parts of Venezuela went dark including, homes, schools, businesses and even hospitals. The outlet reports that the lack of electricity has not only left most people without power, but it has also left many without water or a means of communication. In an effort to survive and to find something to drink, Venezuelan's have reportedly been swarming a polluted river in Caracas and filling bottles with the polluted water.
On Monday night, Maduro took to national television to tell the Venezuelans that people were currently working on restoring the nation's power. Maduro noted that two people were allegedly taken into custody for tampering with power facilities and were providing the authorities with information.
According to the AP, Guaido and U.S. leaders are claiming that Maduro is blaming the U.S. for attacking the nation's power grids through a "cyberattack."
There is no timeline for if or when the power will be turned back on in the South American nation, but amid growing hostility, the United States is working swiftly to remove all remaining American Embassy staff members from Venezuela.
Photo courtesy: Getty Images/Edilzon Gamez/Stringer
---
Kayla Koslosky has been the Editor of ChristianHeadlines.com since 2018. She has B.A. degrees in English and History and previously wrote for and was the managing editor of the Yellow Jacket newspaper. She has written on her blog kaylamariekoslosky.blogspot.com since 2012 and has also contributed to IBelieve.com and Crosswalk.com.