Bob Smietana
| Religion News Service
| Updated: Sep 16, 2021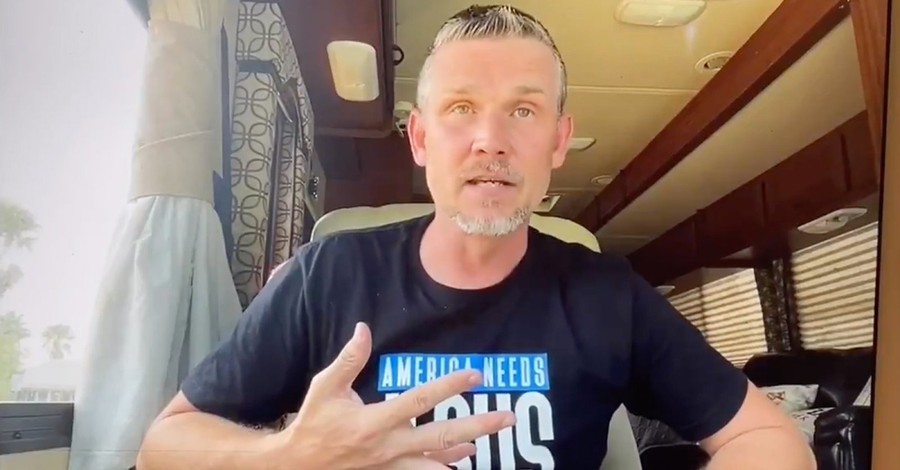 (RNS) — A Tennessee pastor known for controversial stands on COVID-19 and the 2020 election has been banned from the social media giant Twitter.
"Twitter just permanently suspended my account. Welcome to America," Greg Locke said in a Facebook message posted Tuesday afternoon (Sept. 14).
Pastor of the independent Global Vision Bible Church in Mount Juliet, Tennessee, just east of Nashville, Locke was a relatively unknown figure until he discovered the power of social media in the wake of the 2015 Supreme Court decision legalizing same-sex marriage nationally.
His Facebook videos criticizing that decision and follow-up videos about plans by Target to allow transgender people to use the bathroom of their choice went viral, turning Locke into a social media force.
"It's been a whirlwind," he told Religion News Service in an interview earlier this year at America's Revival, a God-and-country conference held in Dallas, where Locke was a featured speaker. "I've just been hanging on for the ride."
Locke has repeatedly mocked those who wear masks to prevent the spread of COVID-19 and has told worshipers that anyone who shows up at his church in a mask will be asked to leave.
The pastor went so far as to post an anti-mask sign outside the 3,000-seat tent where his church holds outdoor services, stating that the church campus is mask-free.
"We celebrate FAITH over FEAR," the sign reads.
"Don't believe this delta variant nonsense," he told worshipers at a July service. "If they go through round two and you start showing up all these masks and all this nonsense, I'll ask you to leave. I will ask you to leave. I am not playing these Democrat games up in this church. If you want to social distance, go to First Baptist Church, but don't come to this one."
While the governor of Tennessee has issued past guidelines limiting the size of large group meetings during the pandemic, churches have been exempt from those statewide restrictions.
Locke has also warned churchgoers not to be vaccinated, referring to the COVID-19 vaccine as an "experimental potion."
"Do not get vaccinated," he told his congregation in August. "Do not get vaccinated."
https://twitter.com/RightWingWatch/status/1421886805427867654?s=20
Locke, whose sermons are also filled with conspiracy theories about the 2020 presidential election — he has called people who believe that Joe Biden won the election "crack-smoking, demon-controlled leftists" — declined to be interviewed about the Twitter ban. In a Facebook Live video, he claimed to be the first pastor to be banned on Twitter and said his banning was an attack on Christians.
"if you don't think persecution is here, you are not paying attention," he said in the Facebook Live video.
In the video, Locke claimed he would sue Twitter and called for his fellow Christians to fight what he sees as liberal forces destroying the nation.
"We are not going to stop," he said.
Despite its lack of masks, Global Vision has drawn large crowds, often drawing out-of-state fans of Locke's videos. Locke said that the church has baptized more than 1,000 people during the pandemic and he has no plans to stop in-person services.
Earlier this year, Locke told attendees at America's Revival that his church would resist any attempts to shut down those services, saying the Second Amendment's right to bear arms would protect their right to worship.
A natural showman on stage, Locke has backpacked for hundreds of miles to raise money to buy Bibles, spent the night in a boom lift and bicycled for hours in the cold to raise money for the homeless. One all-night session on his stationary bike ended after more than 170 turkeys were donated to the church, in time to give away during the holidays.
In his Facebook Live, Locke said that he had been banned from Twitter for short periods in the past and he encouraged viewers to follow him on Facebook and other social media channels. Locke's Twitter page notes the suspension and says: "Twitter suspends accounts which violate the Twitter Rules."
In an interview with RNS earlier this year, Locke compared himself to John the Baptist and said he was "a voice crying in the wilderness."
I think people are hungry for the truth," he said. "I think I say things that people think but they're afraid of the repercussions."
READ THIS ARTICLE AT RELIGIONNEWS.COM.
Article originally published by Religion News Service. Used with permission.
Photo courtesy: ©RNS/Video Screengrab
---
---