Josh M. Shepherd
| ChristianHeadlines.com Contributor
| Wednesday, April 22, 2020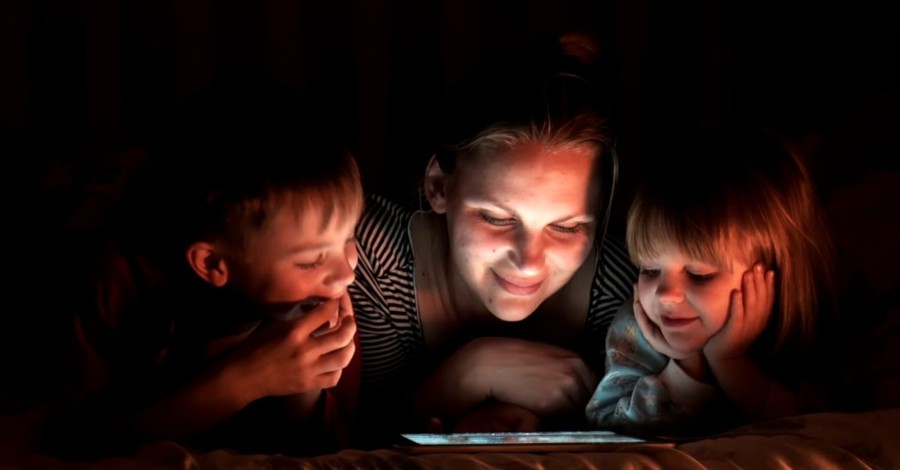 Only one month after offering a trial to families sheltered-in-place, faith-based streaming service RightNow Media reports more than 10,000 people worldwide have signed up.
Public officials have been talking a lot lately about "a light at the end of the tunnel." For many families sheltered-in-place at home, streaming media has helped make this season bearable.
One month ago, streaming service RightNow Media took the unprecedented step of offering a free trial with hundreds of hours of Christian teaching and faith-driven kids content.
"In times like these, when the church is forced to operate in new ways, we want to be there to help," said Brian Mosley, president of RightNow Media based in McKinney, Texas.
Founded in 1977, the ministry uniquely markets its streaming service to churches — who then offer their members free access. Over 10,000 new trial subscribers joined this past month, along with 153,000 individuals who activated accounts through their churches that subscribe.
In a phone interview, Mosley reveals why they decided to open up their library for free. He also shares the challenges of reaching diverse evangelical believers and responds to critics who say streaming video leads people away from the church.
Global Mission, Local Churches
Why did you decide to offer this free trial?
Brian Mosley: Our mission has always been to serve the church. Since many people are now home-bound for a season, we believe this is a time when we can provide some encouraging and helpful content.
We want anyone in the country or the world to have free access to some specific resources that we think could be beneficial in these uncertain times. We have chosen content that can help those with anxiety or fear as well as content that can help parents who find themselves with kids at home more than usual.
Some people might think this is similar to Netflix. How is RightNow Media unique in your focus on churches?
Mosley: As a ministry, our passion has always been using media to help people live out their faith — specifically, in and through the church. For 40 years, we have placed resources in the hands of church leaders and teachers. Then they can use those within their own ministries to people.
Today, more than 18,000 churches see our content as a valuable resource to equip and disciple their people. The churches pay a subscription fee; different size churches will pay a different monthly rate. They in turn can give their people free access.
Prior to the trial, over 3 million people had accounts with us and it's grown since then. Some people use our videos for their own Bible study. But it's more likely they are using it for leading a group, often a men's, women's, or youth Bible study. We help churches get that content in front of all their people with tools to announce and promote it.
Tailored for Diverse Audiences
What's in your full library of content?
Mosley: Discipleship and teaching content for groups has long been the main part of our ministry, but not sermons per se. The most popular originals recently have been the projects walking through a book of the Bible and filmed in some unique locations.
We filmed Francis Chan teaching the Book of James in San Francisco, and Ephesians with J.D. Greear in North Carolina. They walk through the Scriptures in short chunks — each session just 10 to 12 minutes long. In those ten or so weeks going through that book, you'll get a broad overview of that book.
There's this sermon mindset that we're trying to break away from, when it comes to videos. Going to church on a Sunday morning, you're going to listen to a 30 to 50 minute sermon from someone on stage. From a video standpoint, it doesn't always translate well and is not always engaging. Our videos are tailored specifically to a small group or individual watching it.
Our kids shows, the most entertainment-leaning content we have, have become a valuable part of the library. This is not only safe content, but it teaches kids along the way. Of course, we were never trying to compete with Netflix, Disney Plus, or these newer faith-based streaming services.
As RightNow seeks to serve Bible churches, Baptist circles, and beyond, what are the challenges of reaching the splintered world of evangelical churches?
Mosley: We serve a broad group of churches, and sometimes theological differences can make it challenging. Often the way that shows up is in terms of pastors or teachers that people are not willing to follow.
People are going to get excited by or, sometimes, real put off by the faces you put up there — whether Francis Chan or Jo Saxton or Tony Evans. If someone says, 'I can't get into that,' then we can't be one-size-fits-all for everybody. There's always going to be some pushback, based on various topics or issues.
We give the churches we are serving the ability to filter and curate content for their people. If there's a teacher or particular resource they don't want their church to be aware of, they can turn that off. Our content is flexible to help meet their needs.
Being the Body
How does serving at a local church provide insight into meeting the needs of churches?
Mosley: For the last 16 years, I have been part of a little church that started up in my community. Every week, we meet as elders on Wednesday morning. I am up close and personal praying for people at the church — seeing the struggles and issues that happen as you do ministry and try to keep the doors open.
It gives me a deep passion for what pastors and churches are going through around the world as they seek to minister. At RightNow Media I tell our staff a lot: pastors did not get into ministry to answer emails, recruit volunteers, and listen to complaints. That's not what they signed up for but, over time, it can be what they find themselves doing. It's a necessary part of the job, but it's not what they're passionate about.
We come alongside and help shift the focus back to: How do we disciple and equip people? I know firsthand from being an elder how hard it can be to just minister to the church. When we're really excited about discipling and equipping believers, it reignites something in leaders too.
Some people see streaming video as leading people away from the church. Does RightNow Media seek to change that?
Mosley: The last thing we would want to do is to act like our streaming service could replace going to church or participating in small group. I would hate for anybody to use technology, especially our platform, in that way — where being together locally as a church becomes unimportant.
We've had requests over the years: 'Hey, would you create some sort of chat-driven community within your app so we can dialogue with each other about content?' But we've resisted that.
Our app exists for you to watch the content before you go to a group and discuss it with other folks. Adding those kinds of functions would make it easier to fall into a pattern. Now I'm watching it on my own, I'm talking to people, I don't need to go to this physical group.
We are big believers in being present with each other as the local body. It's not just about the discussion and teaching, but being present because there will be moments when someone is suffering. Or you can celebrate with that person.
That's one of the reasons we've gone through local churches. Perhaps this service even helps get you plugged in locally and grow in your faith.
Loving God, Loving Others
All media people choose to watch has some ideals behind it. With your content, how do you define what the 'good life' looks like?
Mosley: In our world, a lot of entertainment points to the good life being: what's in it for me.
Our mission is to work with the global church, to inspire people to love others before self and Christ above all. There's this desire within us, for this content to help get the attention off of me and on to: how do I love others? And how do I love God?
The good life, as empowered by the Holy Spirit, starts when my attention gets away from how I look or how I'm perceived or what's in it for me. We're asking that in reviewing this content, whether for kids or adults. Is it helping me think about my neighbor, my coworkers, our brothers and sisters around the world?
For that question to inspire action, it has to be grounded in a relationship with God. Our hope is this content provides seeds of inspiration. How am I worshipping, serving, and loving God more today than yesterday? It redirects the focus from self, more toward others around you.
Learn more about RightNow Media in the video below.
Photo courtesy: ©RightNow Media
Video courtesy: ©RightNow Media
---
---