Kayla Koslosky
| ChristianHeadlines.com Editor
| Monday, April 15, 2019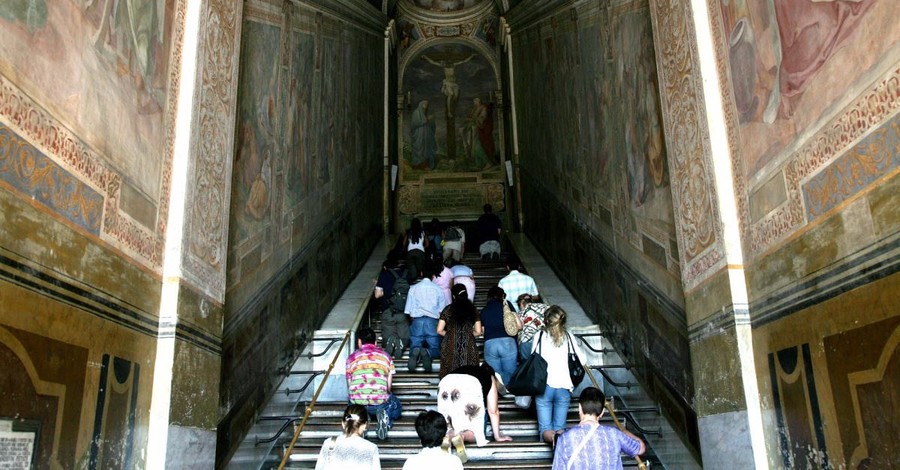 Just in time for Easter, the newly restored Scala Sancta or Holy Stairs – which were said to be walked by Jesus just before Pontius Pilate sentenced him to death – were revealed in Rome on Thursday.
According to ABC News, the staircase is believed to have been moved from Pilate's palace in Jerusalem to Rome by Emperor Constantine's mother St. Helena, after Christianity became the official religion of the Roman Empire in the fourth century.
Housed in a building containing part of the old papal Lateran Palace, the Scala Sancta has been a Holy site that pilgrims have travelled to see, walk up and pray upon, since the Middle Ages. 
According to ABC News, for the last 300 years, the marble stairs have been covered with wood in order to protect them, but for the next two months, the newly restored marble stairs will be free from their wood covering so that pilgrims can ascend the barren stairs while in prayer on their knees.
According to the Musei Vaticani, Jesus' blood is said to have fallen on the staircase causing them to evoke intense emotions from those who come to visit the holy site.
A statement from the museum noted that until Pentecost on June 9, the stairs will be free of their coverings for the first time since 1723, so that pilgrims can once again see the "Three medieval crosses, set into the marble to commemorate" Jesus' walk up the stairs which ultimately led to his Crucifixion. 
According to the Museum, "the first [cross is] in porphyry at the beginning of the staircase, another in bronze at the end, and the third on the eleventh stair, where according to tradition Jesus fell, breaking the marble with His knee."
ABC News reports that restorers found piles of notes, photos, coin and votive offerings left by pilgrims under the wood casing. 
The restoration of the stairs – which took more than one year – is only one part of a six-year restoration project of the sanctuary it is housed in. The sanctuary restoration project is set to be completed by the summer of 2020.
Photo courtesy: Getty Images/Franco Origlia/Stringer
---
---