Kayla Koslosky
| ChristianHeadlines.com Editor
| Thursday, December 12, 2019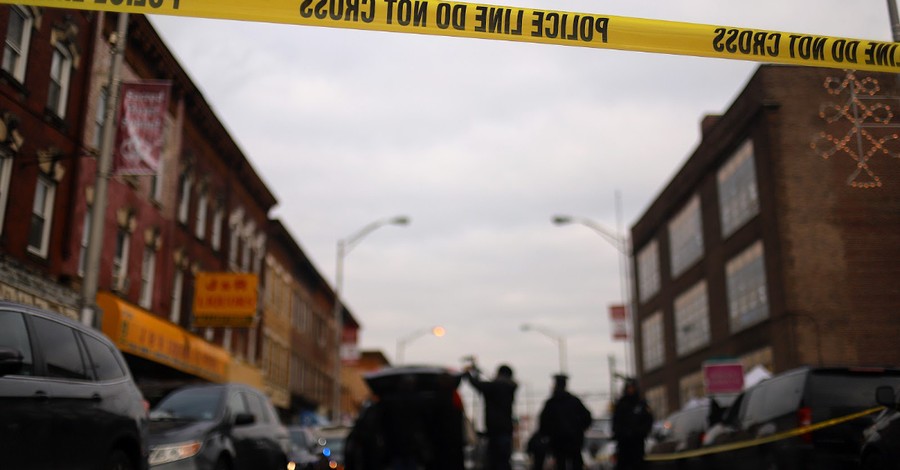 ---
A shooting at a New Jersey kosher market Tuesday afternoon left six dead including one police detective and both suspects. According to a statement released by Jersey City Mayor Steven Fulop on Wednesday, the attack "should be viewed as a hate crime."
According to NBC New York, Tuesday afternoon, Detective Joseph Seals, who has served for 15 years on the force, identified a U-Haul truck believed to be tied to a murder of a livery driver over the weekend. Upon approaching the vehicle, a suspect reportedly got out of the truck and began firing at the officer.
The shooters then drove the truck up to the JK Kosher market where surveillance cameras show them immediately open fire on shoppers.
Police engaged in gun fire with the suspects, who were later found dead inside of the store along with other victims.
New Jersey Attorney General Gurbir Grewal later shared that a pipe bomb was recovered at the scene.
USA Today reports that officials were initially hesitant to classify the act as a hate crime.
Then, on Wednesday, several media outlets, including the New York Times, uncovered that one of the suspects had shared anti-Semitic posts on social media. The Associated Press also reportedly spoke with an unidentified law enforcement official who was not authorized to speak publicly on the shooting. The official identified the suspects as Black Hebrew Israelites – a group historically known for being anti-Semitic and anti-white.
Later Wednesday, Fulop took to Twitter to share why he believes the attacks must be called hate crimes. He wrote, "Why I call this a hate crime. We shouldn't parse words on whether this is a hate crime at this point. This was a hate crime against Jewish ppl + hate has no place. The video is clear that the drivers drove to that location, the video is clear that the shooters bypassed potential targets near the store, the video is clear that the drivers bypassed potential targets driving to the store, it is also clear they chose a Jewish Grocery store next to a yeshiva after driving to that location.
He continued, "It is also clear that they began shooting into the store from across the street, it is also clear that the shooters have indicated on social media favorable sentiment towards groups that show antisemitism. It is also clear that there was a pipe bomb in the vehicle showing an intent to hurt many more ppl."
Fulop then asserted, "We shouldn't parse words. To stop hate + anti-Semitism we need to call it out QUICKLY for what it is. Some will say don't call it anti-Semitism or a hate crime till a longer review but being Jewish myself + the grandson of holocaust survivors I know enough to call it what this is."
The investigation into the shooting is still ongoing, and Grewal has yet to officially call the incident a hate crime, ABC 7 New York reports. On Thursday, however, he announced that evidence collected so far, strongly suggests the attack was motivated by anti-Semitism.
Photo courtesy: Getty Images/Rick Loomis/Stringer
---
Kayla Koslosky has been the Editor of ChristianHeadlines.com since 2018. She has B.A. degrees in English and History and previously wrote for and was the managing editor of the Yellow Jacket newspaper. She has written on her blog since 2012 and has also contributed to IBelieve.com and Crosswalk.com.