Kayla Koslosky
| ChristianHeadlines.com Editor
| Monday, October 28, 2019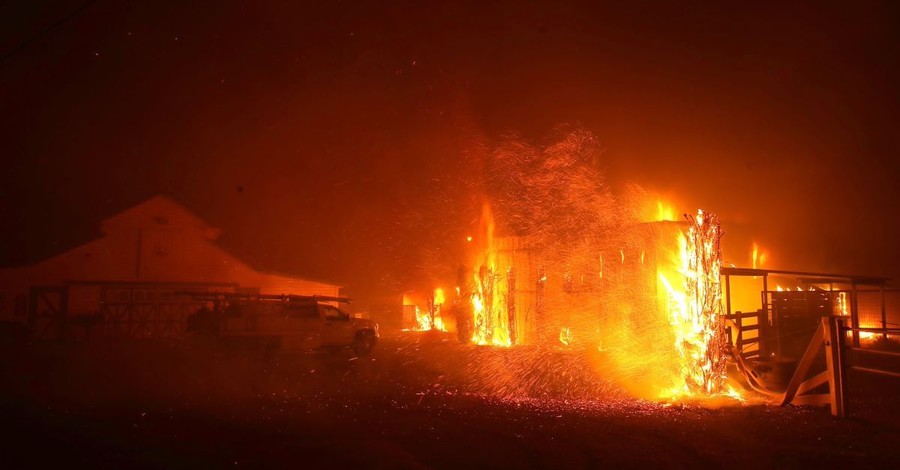 While firefighters battelled two major wildfires across California, another fire began to burn near Los Angeles causing thousands of California residents to evacuate their homes.
According to CBS News, the Kincade fire broke out on Wednesday and is continuing to burn. The Kincade fire is burning trough Northern California near the San Francisco Bay area and according to CNN, the fire has forced nearly 200,000 people from their homes. Power has also been shut off as a result of the fire leaving around one million people without electricity. As of Monday afternoon, the Kincade fire in Sonoma county had burned through 66,000 acres of land, destroyed around 100 structures, and had sent two first responders to the hospital with burn-related injuries. CBS News reports that as of early Monday morning, the Kincade fire was only 5% contained. 
California Governor Gavin Newsom is calling the fire weather conditions "unprecedented" as the state is experiencing incredibly high winds of up to 77mph. Reportedly, this has contributed to the difficulty of containing the fires. 
Newsom said in an emergency declaration, "fire weather conditions are unprecedented due to the scale, scope, wind speed and dry fuel conditions.
"We are deploying every resource available, and are coordinating with numerous agencies as we continue to respond to these fires."
He added, "It is critical that people in evacuation zones heed the warnings from officials and first responders."
According to the National Weather Service, the wind is expected to shift for 24-hours on Monday creating a short window of time to help firefighters gain control over the fire.
One day later, firefighters also began battling a fire in Santa Clarita called the Tick fire. The Tick Fire had burned over 4,600 acres of land and was 70% contained by Sunday night. According to the Los Angeles Times, the fire has destroyed 29 structures and has damaged 44. Nearly 10,000 homes are still at risk of being affected by the fire. Evacuation orders have been lifted in the area, though500 firefighters are remaining on the scene to avoid rekindling.
Meanwhile, a brush fire near the Getty Center in Los Angeles broke out in the early morning hours on Monday. According to CBS News, the fire broke out along the west side of the 405 freeway around 1:30 a.m. and quickly scorched more than 75 acres of land. According to ABC 7, by 7 a.m., the fire had burned more than 500 acres. CNN reports that many celebrities and affluent people are known to live in the area in the Getty fire's path. Legendary basketball player LeBron James was reportedly among the LA residents forced to evacuate.
Firefighters are continuing to extinguish each of these fires along with several smaller blazes across the state.
Photo courtesy: Getty Images/Justin Sullivan/Staff
---
---