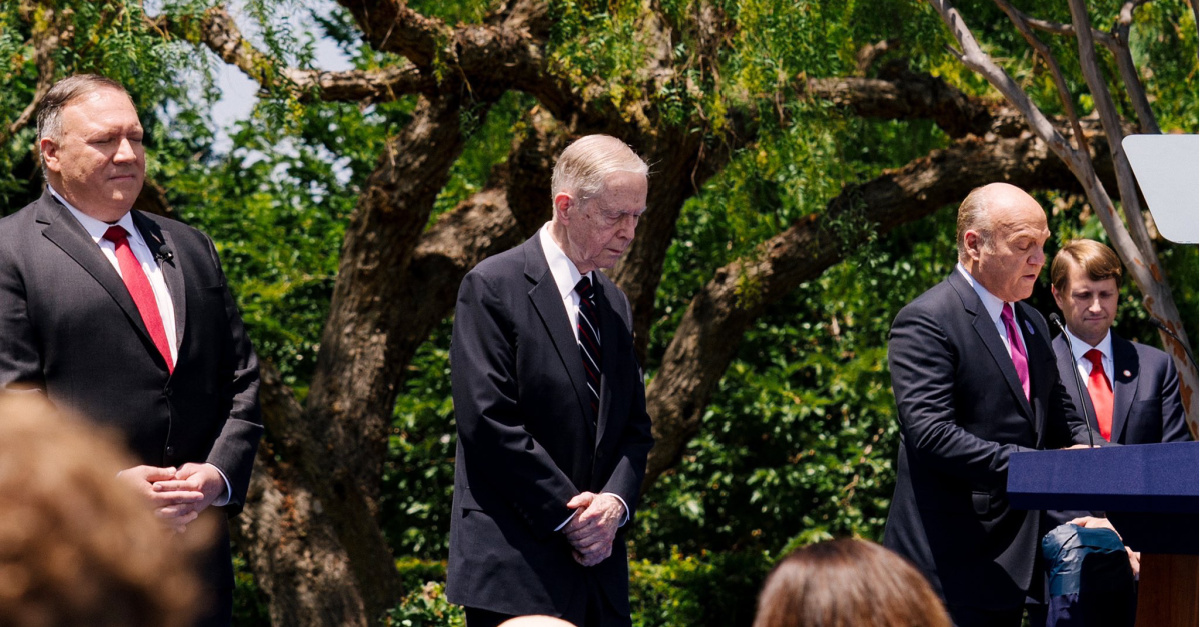 ---
Pastor Greg Laurie prayed at an event on Thursday where Secretary of State Mike Pompeo implored world leaders to demand change from China.
"Lord, today we come before you to thank you that we live in the United States of America," Laurie, the pastor of Harvest Christian Fellowship Church in Riverside, California, began. "And one thing we treasure so greatly is the freedom we have from you to pursue life, liberty and the pursuit of happiness.
"We have the freedom to speak our minds, the freedom to worship, and the freedom to proclaim the message that Jesus died for our sins and rose from the dead and can give us that personal liberty, life and happiness we desire if we trust Him as our Savior and Lord," Laurie concluded.
According to Air 1, at the event, Pompeo spoke about China's communist regime.
Pompeo asked that the free world helped "induce" change in China, where there have been increasing levels of violence and what Pompeo called a "totalitarian" environment.
"Communists almost always lie," he said. "The biggest lie that they tell is to think that they speak for 1.4 billion people who are surveilled, oppressed and scared to speak out."
According to the New York Post, Pompeo was speaking at the Nixon Library in California. Nixon is credited as being the first president to create "harmonious" relations with China in 1972.
"For too many decades, our leaders have ignored or downplayed the words of brave Chinese dissidents who have warned us about the nature of the regime we're facing," Pompeo said. "We can't ignore it any longer.
"I call on every leader of every nation to start doing what America has done — to simply insist on reciprocity, to insist on transparency, and accountability from the Chinese Communist Party," he said.
"General Secretary Xi is not destined to tyrannize inside and outside China forever unless we allow it," he said.
Pompeo's speech comes after the arrest of two Chinese diplomats, who are both charged with trying to steal COVID-19 vaccine research.
Photo courtesy: Vitaly Manzuk
---
Amanda Casanova is a writer living in Dallas, Texas. She has covered news for ChristianHeadlines.com since 2014. She has also contributed to The Houston Chronicle, U.S. News and World Report and IBelieve.com. She blogs at The Migraine Runner.