Amanda Casanova
| ChristianHeadlines.com Contributor
| Monday, May 10, 2021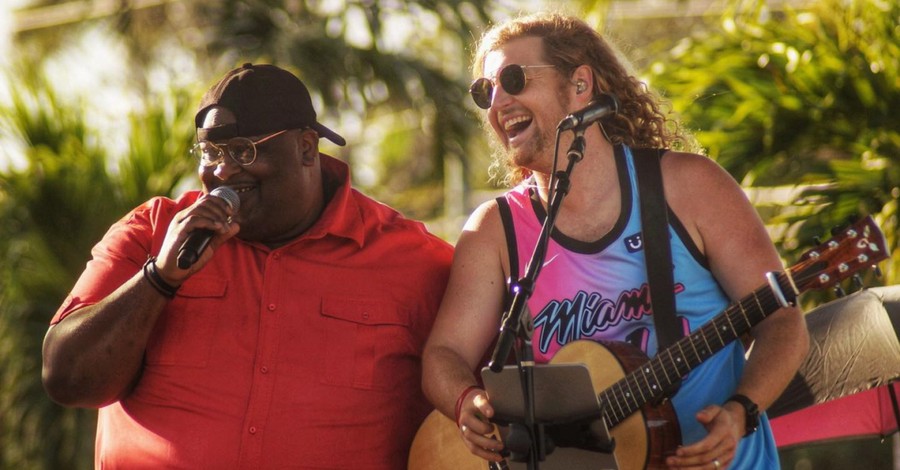 ---
Worship leader Sean Feucht kicked off his "Summer of Revival" U.S. tour in Texas late last week. The tour is scheduled to visit 34 U.S. cities over the next three months.
Feucht announced on his Instagram page that more dates could be added in the fall.
"Still nailing down some venues, but they will be the most epic places ever," Feucht said.
Feucht said he has a surprise planned for the July 16-18 dates. The tour doesn't have a scheduled stop on those days yet.
The tour officially started last week in Corpus Christi, Texas, with more than 5,000 people in attendance, CBN News reports.
"It's real, what God is doing is real," Feucht said in a video posted online. "It's crazy what the Lord is pouring out right now. The altar is packed and it's mostly Gen Z and God is wrecking them for revival. He's filling them with identity."
At the Houston tour stop last week, Feucht said protestors tried to derail worship, but "God set the captives free."
"Protestors tried to stop it, but joy took over," Feucht wrote on Twitter.
"What a powerful night," he later said on Instagram.
The tour stopped in Lubbock over the weekend and heads to Georgia next.
"It's a due day for revival in America," Feucht said. "God is doing it. I feel this fire in my heart. God is moving in a sovereign way."
Feucht's "Let Us Worship" tour was launched last year in response to pandemic restrictions on gatherings and events.
This year's tour officially ends in Washington, D.C., in September.
"On Saturday, September 11th, we will be holding a candlelight ceremony on the National Mall," Feucht's website says. "We will follow that up with a Let Us Worship service the next day, Sunday, September 12th — also on the National Mall.
"The last time we were in D.C. was a POWERFUL TIME, and we are expectant that the Lord will move in power AGAIN!"
Related:
Sean Feucht Brings 'Let Us Worship' Protest to Alabama
Sean Feucht Receives William J. Seymour Award at AzusaFest 2021
Over 5,000 Believers Worship Together in Texas
Worship Leader, Activist Calls Out Social Media Sites for Censoring Praise, Worship Content
12,000 People Gather for Worship Service at California State Capitol
Tennessee Officials Investigate Large Worship Event Where Many Ignored COVID-19 Guidances
Massive Revival Meetings Ensue across the East Coast
Photo courtesy: Sean Feucht Facebook
---
Amanda Casanova is a writer living in Dallas, Texas. She has covered news for ChristianHeadlines.com since 2014. She has also contributed to The Houston Chronicle, U.S. News and World Report and IBelieve.com. She blogs at The Migraine Runner.