Amanda Casanova
| ChristianHeadlines.com Contributor
| Tuesday, September 15, 2020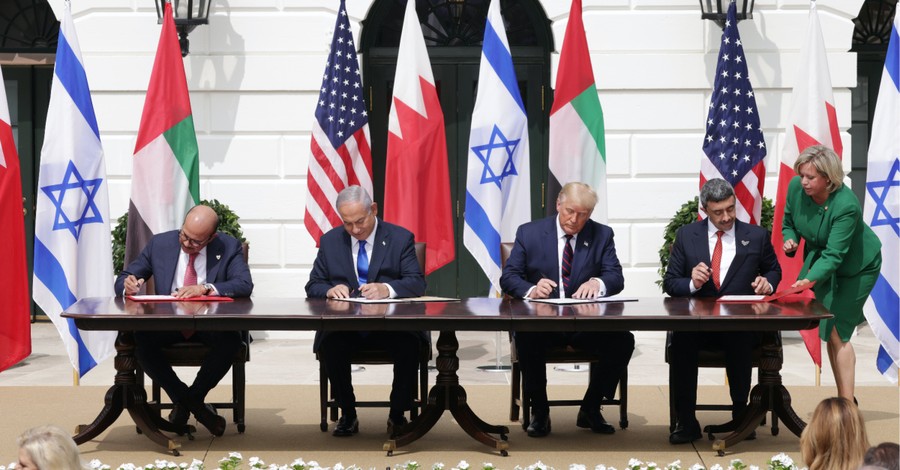 President Donald Trump and Israeli Prime Minister Benjamin Netanyahu met with representatives from the United Arab Emirates and Bahrain at the White House today to officially sign a peace treaty between Israel and the UAE and a formal recognition of ties with Bahrain.
"This is an incredible day for the world," Trump said. "There will be other countries very, very soon that will follow these great leaders."
Trump called the treaty the Abraham Accords, saying it will allow Muslims, Jews and Christians "to live together, pray together and dream together," the Jerusalem Post reports.
In his speech today, Netanyahu also said he hoped to see more countries join the peace treaty.
"To all of Israel's friends in the Middle East - those who are with us today and those who will join us tomorrow - I say, salaam aleichem, peace unto thee, Shalom," he said.
According to the Jerusalem Post, Israel will be signing a peace treaty with the UAE and a declaration of intent to make peace with Bahrain.
"After 49 years, Israel and the United Arab Emirates will fully normalize their diplomatic relations," Trump said in a statement. "Not since the Israel-Jordan peace treaty was signed more than 25 years ago has so much progress been made towards peace in the Middle East."
Nearly 700 people were expected at the signing ceremony at the White House South Lawn, Times of Israel reports.
"We worked on it for many years," Netanyahu said in a statement before the signing ceremony. "This is a tremendous turning point in the history of Israel and the Middle East. It will have a great and positive influence on all citizens of Israel."
UAE Minister of State for International Cooperation Reem Al Hashimy told CNN the "historic" deal with Israel "is an indication that we are keen on a new narrative of hope and prosperity where you have dialogue and debate."
The peace treaty will also need to be approved by the Israeli Cabinet and Knesset after Netanyahu signs it. The process is standard, officials sad.
UAE and Bahrain will become the third and fourth Arab countries to formally make peace with Israel. The other two countries are Egypt and Jordan.
Photo courtesy: ©Getty Images/Alex Wong/Staff
---
Amanda Casanova is a writer living in Dallas, Texas. She has covered news for ChristianHeadlines.com since 2014. She has also contributed to The Houston Chronicle, U.S. News and World Report and IBelieve.com. She blogs at The Migraine Runner.
---
---