Kayla Koslosky
| ChristianHeadlines.com Editor
| Wednesday, January 9, 2019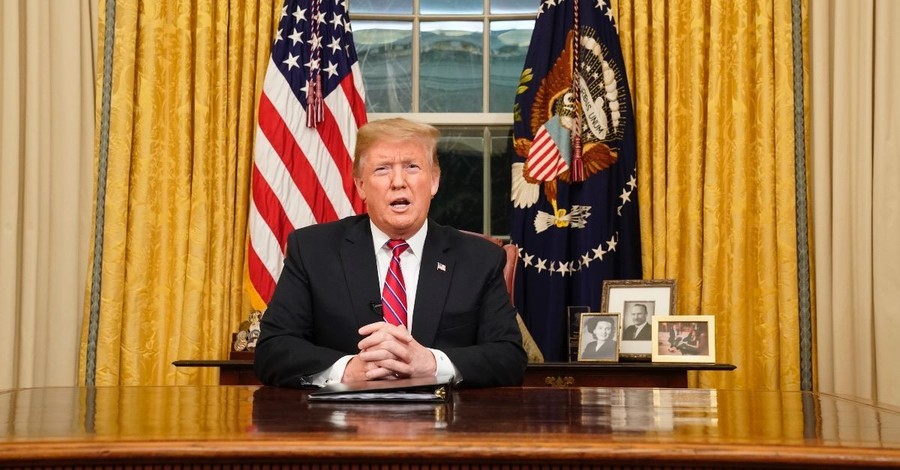 President Trump spoke directly to the American people about the threat of illegal immigration last night in an address from the oval office.
The President, who is currently fighting with congressional Democrats over border wall security, took to TV last night to implore Americans to support the building of an almost $6 billion border wall.
The President first noted that mass quantities of illegal drugs have been and are being brought into the United States from across the U.S.-Mexico border. He said, "Our southern border is a pipeline for mass quantities of illegal drugs, including meth, heroin, cocaine and fentanyl." 
He continued, "Every week, 300 of our citizens are killed by heroin alone, 90 percent of which floods across for our southern border."
President Trump then noted that the drug crisis in America costs the country nearly $500 billion annually, a significant number compared to the price of the border wall, which he says will quickly pay itself off. 
President Trump then noted that at the request of congressional Democrats, he has agreed to make the border wall out of steel instead of brick, as he initially intended. 
The President then went on to site the several cases in which illegal immigrants who crossed over the Southern border were arrested in the U.S. for crimes including murder, dismemberment, rape, and gang-related activities. 
The President said, "This is a humanitarian crisis. A crisis of the heart and a crisis of the soul."
President Trump went on to break down his border security requests which include a steel border wall, medical aid for immigrants, the installation of "cutting-edge technology for detecting drugs, weapons, illegal contraband and many other things," more immigration agents and judges, and closed border security loopholes in regard to unaccompanied minors among other things. 
The President then charged, "The Federal Government remains shut down for one reason, and one reason only – Because Democrats will not fund border security."
Following the President's address from the oval office, House Speaker Nancy Pelosi and Senate Minority Leader Chuck Schumer had the opportunity to speak to the American people. 
In their nearly 5 minutes on the air, the pair called Trump out as a liar and fearmonger.
Pelosi started her address saying, "Sadly, much of what we heard from President Trump throughout this senseless shutdown has been full of misinformation and even malice." 
She continued, "The President has chosen fear. We want to start with the facts." 
"The fact is, on the very first day of this Congress, House Democrats passed Senate Republican legislation to re-open government and fund smart, effective border security solutions. But the President is rejecting these bipartisan bills, which would re-open government over his obsession with forcing American taxpayers to waste billions of dollars on an expensive and ineffective wall," she added. 
Minority Leader Schumer then took his turn, during which he said President Trump threw a "temper tantrum" when he couldn't secure the funding for the wall. Schumer said, "Tonight and throughout this debate and throughout his presidency, President Trump has appealed to fear, not facts, division, not unity." 
Minority Leader Schumer then spoke directly to the President and implored him to end the government shutdown. 
According to CBN News, President Trump is set to meet with Democrats on Wednesday, to come up with a viable compromise that will hopefully bring the government shutdown to an end.
Photo courtesy: Getty Images/Pool
Video courtesy: TIME
---
---