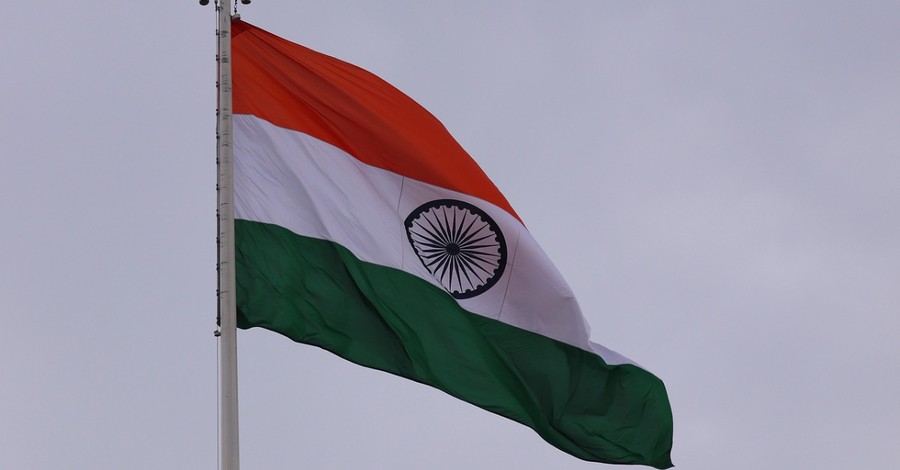 NEW DELHI, May 4, 2021 (Morning Star News) – Police in India who initially took a pastor and his family into custody to protect them from an attack by a 300-member Hindu extremist mob were pressured into jailing them under a baseless charge of forcible conversion, sources said.
Pastor Manu Damor, 35, remains in Depalpur jail a month after the Easter Sunday (April 4) attack on the worship service of five families at a Christian's home in Rangwasa village, Indore District in the central Indian state of Madhya Pradesh. Though Betma police had assured him and his wife that they would be allowed to go home morning after their first night of detention, they were instead charged with serious crimes and sent to two separate jails.
The pastor sent his two oldest children, ages 4 and 5, home with another Christian family detained and released that night, while his 18-month-old girl remained with him and his wife, Asha Damor, until the next morning.
After hearing the charges against them in a court hearing on April 5, the couple handed their still-nursing 18-month-old to the same Christian family who took the other children after police warned them of widespread COVID-19 in the jail. The children were sent to another town to live with their grandparents the same day, while their mother remained in Indore District jail until her release on bail on April 12.
"I had never left my children alone, and my children had never lived without me," Asha Damor told Morning Star News. "It was traumatizing for them to stay without me for a week. After my release I was told that my 18-month-old would often cry and trouble the relatives a lot. Even the older children missed me so much that they stopped taking food."
Pastor Damor had called police for protection when members of the mob began beating down the door and tearing through the roof after he had led worship in the house, his wife said.
"The police initially detained us to safeguard us from being killed by the mob," Damor said. "However, the tables turned after large crowds of Hindu extremists and influential political people began to pour into the police station the late evening of our detention."
The couple was shocked the next morning to hear that their case, initially described as a "small matter," had become big and they would have to go to jail after appearing before a judge.
"We were not informed that someone has done a formal complaint against us the same night, and that an FIR [First Information Report] had been registered against us," Damor said. "We were not interrogated by the police, nor our statements were recorded. We were shocked when the FIR was read before the magistrate, which stated that we had allured a woman named Leela Bai and committed to pay her 3,000 rupees [US$40] every month if she agreed to convert to Christianity."
Calling the allegation baseless, she said she had never visited or spoken to Bai.
"We do not know how they persuaded the police and convinced them to book us under such a stringent law," Damor said.
They were charged under the Madhya Pradesh Freedom of Religion Ordinance, 2020, which prohibits "unlawful conversion from one religion to other religions," and under the Indian Penal Code's Section 294 for "obscene act/song in public place."
Tearing through Roof
After leading the Easter morning service at a village four miles from Rangwasa, Pastor Damor and his family, residents of Betma village, reached Rangwasa for a 4 p.m. service at the home along with four other families, including the host family.
As they finished worship, four or five villagers walked inside the house and began questioning them, Damor said. When the Christians objected to the questioning, the intruders left and returned with mob of more than 300 villagers who surrounded the house and demanded they hand over the pastor.
The women of three families were standing in front of the door trying to block the assailants, Damor said.
"The mob manhandled the women while they were trying to break the door to get to where we were hiding," she said.
Hurling obscenities, the Hindu extremists reviled the pastor and other Christians, with some peeping through a window into the room where the pastor and another visiting family were hiding and threatening them.
"We will kill you and send your dead bodies from here," one of the Hindu extremists said.
One group of assailants broke the door of another room and made their way to where the Christians were taking refuge, while another climbed onto the roof and began to dismantle the metal sheet above their room, Damor said.
"We were very scared and called the police," she said. "We requested them to come fast, as the agitated mob was making their way from every side. It was a very scary sight. We prayed for God to send help."
Some of the assailants began to break the family's motorbike.
"They broke our motorbike, broke its lock and were draining the petrol," Damor said. "They were about to burn our motorbike when the police arrived and stopped them. The people on the roof had also managed to open a portion of the roof and were about to jump inside our room, when the police arrived and took us to the Betma police station. We were so grateful to the Lord and thanked Him for sending the police in time and saving us."
Legal Hurdles
Damor was kept in a cell with 23 other women prisoners. Knowing a pandemic lockdown would begin in the state the evening of April 12, she prayed for bail and praised God that she was released that day and re-united with her children.
The Session Court has refused bail for Pastor Damor, and his counsel has petitioned the High Court, a local pastor said.
An officer at the Betma police station who did not disclose his name told Morning Star News that the investigating officer in the case, Sub-Inspector Padam Singh Kayat, had been transferred and that a new officer had not yet been assigned.
"The case diary for this case has been sent to the High Court, but as the High Court is closed due to the lockdown [extended weekly to April 30], the diary has not been sent back," the officer said. "Once the diary is received, a new investigating officer will be assigned to this case."
Damor's attorney said he would decline to comment in order to avoid creating any more trouble for Pastor Damor.
Bachubhai Bhabor, senior pastor of the church where Pastor Damor helps shepherd the congregation, said he was deeply concerned about the harassment and case delays.
"What worries me is that Pastor Manu is still inside the jail," he told Morning Star News. "He is suffering for no fault of his. He has been falsely implicated, and the police have joined hands with the accusers. Instead of taking action against the attackers, the police have booked an innocent couple, and this is causing them great harassment."
Intimidated Christians
Residents of Rangwasa are terrorizing the three Christian families in the village, sources said.
"The villagers are threatening them," Damor said. "The villagers have told them that if I or my husband are seen even passing by that village, they will burn us alive and also burn the believers."
The three families refuse to approach police for protection.
"They say that the police are siding with the Hindu extremists, and that even when our pastor called the police for protection, they came and arrested Pastor Damor and his wife instead of the attackers," said one area Christian, whose name is withheld for security reasons. "We do not trust the police."
On March 27 the Madhya Pradesh Freedom of Religion Act of 2021 replaced the Madhya Pradesh Freedom of Religion Ordinance of 2020, but police inexplicably filed the charges under the 2020 ordinance, which penalized religious conversions by "misrepresentation, force, undue influence, coercion, inducement (or allurement) or by any fraudulent means or by marriage."
The 2021 act calls for 10 years in prison and hefty fines in some cases. State Home Minister Narottam Mishra presented the 2021 bill in the House on March 1, it passed in the Assembly on March 8 and came into effect on March 27.
The hostile tone of the National Democratic Alliance government, led by the Hindu nationalist Bharatiya Janata Party, against non-Hindus, has emboldened Hindu extremists in several parts of the country to attack Christians since Prime Minister Narendra Modi took power in May 2014, religious rights advocates say.
India ranked 10th on Christian support organization Open Doors' 2021 World Watch List of the countries where it is most difficult to be a Christian, as it was in 2020. The country was 31st in 2013, but its position worsened after Modi came to power.
If you would like to help persecuted Christians, visit http://morningstarnews.org/resources/aid-agencies/ for a list of organizations that can orient you on how to get involved.
If you or your organization would like to help enable Morning Star News to continue raising awareness of persecuted Christians worldwide with original-content reporting, please consider collaborating at https://morningstarnews.org/donate/?
Article originally published by Morning Star News. Used with permission.
Photo courtesy: Pixels/Pixabay
---
---