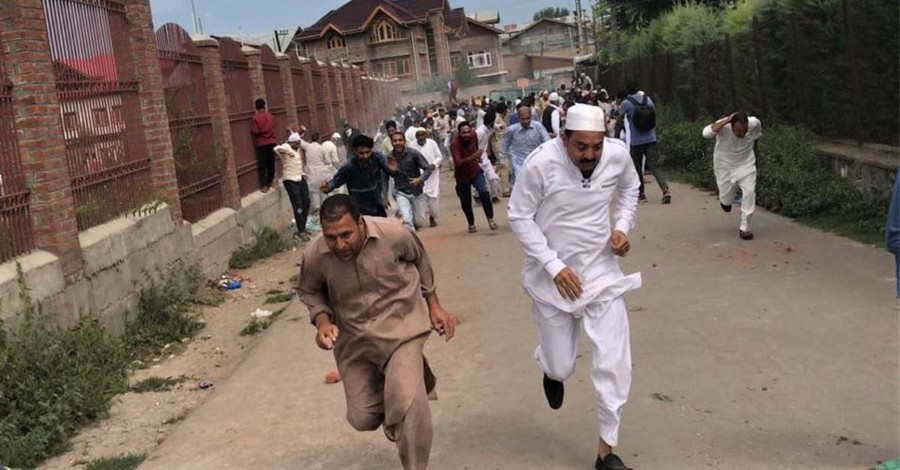 HYDERABAD, India, Nov. 21, 2019 (Morning Star News) – Heavy-handed revocation of Jammu and Kashmir's autonomy and statehood by the government of India three months ago has led to measures used against Christians, sources said.
The government on Aug. 5 revoked the special status granted to Jammu and Kashmir state in 1949 that allowed it to have its own constitution. By thus abrogating Article 370 and Article 35A of India's constitution, the government set back separatist movements within the Muslim-majority state while ushering in security measures that make it nearly impossible for Christian congregations to meet.
Besides cutting off all communications and Internet access and imposing a curfew to forestall an uprising against the measure, the government prevented assembly by issuing an order, Section 144 of the Criminal Procedure Code. Effective on Aug. 5 in Srinigar, the capital of Jammu and Kashmir, and in Jammu on Nov. 9, Section 144 prohibits assembling of four or more people, with those violating it subject to charges of rioting.
Besides thousands of security forces sent to the area, Hindu extremists have used the order to prevent Christians from meeting for worship, sources said. Based on Section 144, police took pastor Mohan Lal Kaith of the Ranbir Singh Pora (R.S. Pora) area in Jammu District into police custody on Nov. 10 as he led Sunday worship at a congregation member's home.
Police took him into custody on both Nov. 10 and Nov. 11, releasing him each evening at 6 p.m. after spending the day threatening and intimidating him, he said. Police told him that Section 144 prohibited his congregation from meeting.
"I asked them, 'If Hindu temples, Gurdwaras [Sikh temples] and mosques, and pujas [Hindu worship] can take place despite the imposition of Section 144, why not Christian prayers? It is the norm, Christians gather and worship on Sundays across the world. Why are you targeting me alone?'" Pastor Kaith said. "But the SHO [Station House Officer] was very angry, and he asked me to plead with the Ram Sevaks [worshippers of Ram] and [Hindu extremist] Bajrang Dal activists for forgiveness, and that I was wrong to question him. I told them, 'All right Sir, I didn't know that Section 144 was imposed. Please forgive me.'"
A large mob gathered outside the police station. Relatives present, fearful that the mob might target his small children, begged police and Hindu extremists to free him, the pastor said.
"The Station House Officer of R.S. Pora police station hurled abuses at me that I am a baba[religious guru] in the making, and that I have no idea that he can trap me into a huge case from which I can never get out of," Pastor Kaith told Morning Star News.
The station officer continued threatening him, telling him repeatedly that he was wrong to lead Christian worship, and that cases against him had already been filed, the pastor said.
"Then I told him that, 'I have not violated the Indian Constitution, and I abide by every word written in it as framed by its makers. If still you see fault in me, it is fine – you can forcefully frame me in any case that would incriminate me for sharing about Christ, but I will not stop,'" Pastor Kaith told Morning Star News.
He said he had decided to face whatever consequences might follow. The Bajrang Dal and Ram Sevaks had been threatening him three months before the Section 144 order, he added.
"They threatened me and closed down the worship service in my own house, and then in two other areas in the homes of believers," he said. "How far can they go to stop us from praying and worshipping together? Some of the new believers come to church for healing or for blessings, and when they see opposition from outside, they backslide and don't turn up again."
A remnant gathering remains, and they are praying that they would grow stronger in faith, he said.
Pastor Kaith said he has received scores of threats in text messages in the Hindi language over the past six months.
"Every few minutes I received a message that the Bajrang Dal and Ram Sevaks are aware of where I am, and that they are observing me closely, and that I should preach about Hindu gods while sharing about Christ, and that if I failed to do so they would punish me with death," he said. "The neighbors in the village keep watch on me, and if they see me going out for prayer, immediately the message passes on, and a mob of Ram Sevaks and Bajrang Dal reach there to disrupt the prayer service. They use filthy language, so that we can never have a proper dialogue with them."
Police filed cases against Pastor Kaith under sections 107 and 117 of the Criminal Procedure Code, suspicion of committing a breach of peace. He has been ordered to appear before a judge on Dec. 9. 
Religious Freedom 'Getting Worse' 
The former state of Jammu and Kashmir has a Christian population of 0.28 percent according to the 2011 census, while Muslims make up 68.3 percent and Hindus 28.4 percent of the total 12.5 million population.
Since the repeal of Jammu and Kashmir's special status by Prime Minister Narendra Modi's Hindu nationalist government, the state has been divided into two union territories – Jammu and Kashmir in the west, and Ladakh in the east, effective Oct. 31.
"It has always been difficult for missionaries and pastors to serve in Jammu and Kashmir region, but the latest move taken by the Indian government abrogating Article 370 has stirred the anger of dominant Islamic community," pastor Vishnu Dev, based in Punjab state's Ludhiana District, told Morning Star News.
Islamist Kashmiri separatists and other Islamic extremists groups have also threatened and attacked civilians, hoping to sow chaos in response to the federal clampdown, and Christians are gripped by fear of violence, sources said.
On a recent visit to churches enduring persecution in Jammu and Kashmir Territory, Pastor Dev told Morning Star News that he was shocked to see that Sunday worships took place in secret.
"At the most, five families would gather in a house and would pray in secret. Microphones and large congregations have disappeared," he told Morning Star News. "It is saddening that the religious freedom situation for Christians in the valley is only getting worse."
He said Srinagar-based pastor Lance Thomas and his wife are under constant surveillance.
"They have been ministering in Srinagar and other areas of the Kashmir Valley in the toughest times now – they visit believers' homes and worship inside their homes with Christian families," Pastor Dev said. "Their movements are closely under the watch by police officials as well as religious extremists in the area." 
Communications Blackout 
Ahead of the repeal of the state's special status, the central government cut all communication lines and placed political leaders under house arrest to try to head off opposition protests, which have erupted sporadically.
As a result, the region has been without Internet service for more than 105 days.
Srinagar-based Pastor Thomas said both his phone numbers are tapped by government officials.
"I can't communicate much over the phone right now, and because of the Internet clamp down, it would be very difficult to write an email also, as only one government cyber-café is open," Pastor Thomas told Morning Star News.
Pastor Jeewer Joeswa of Rajouri District said he also has been hampered.
"In Kashmir Valley, the curfew is still on," he told Morning Star News. "There are very few churches in the region, and nowhere will you find open worship as a congregation. All Sunday gatherings are done secretly inside a Christian's home, hiding from the police and neighbors."
The communications blackout has also been problematic, he said.
"It was a total blackout – we had no access to phone lines or Internet when the government was deciding to abrogate Article 370," he told Morning Star News. "The connections were restored in Jammu Region in a couple of days, but Srinagar still suffers an Internet clampdown, and we could not reach our pastors and Christians there for weeks." 
Pastor's Eardrums Injured 
In the Jewel area of Jammu, Hindu nationalists seized a pastor from a house-church worship service on Oct. 6 and took him to a neighboring village, where they badgered him with questions and beat him, damaging his eardrums, he said.
Initially two men took him from the service he was leading, pastor Packiya Raj said.
"A mob of 25 strongmen joined the two persons, and they forcefully boarded me in a vehicle and took me to a garage and then to a village nearby," Pastor Raj told Morning Star News. "They started badgering, 'Tell us, how many more like you are in Jammu? How many believers did you get here? What are you doing in Hindus' houses? Where are your believers and pastors, tell us their address?'"
They beat him as they questioned him, he said. After beating him further, they left him at the Domala police station, he said.
"The police didn't help me, and they told me that prayers should be done inside a church and not at home," Pastor Raj said. "The police officials told me that it is my mistake that I have gone to someone's house, and the local people are angered. It is a very natural reaction, they said."
Pastors from neighboring areas arrived at the police station within about a half hour. They asked officers to file a case against the assailants, who had falsely accused Pastor Raj of adultery, he said.
"They [Hindu extremists] told the police, 'There were six to seven ladies in the house. We don't know what this fellow was doing inside,'" he said. "They tried falsely to book a stronger case against me, but by God's grace my wife and son also reached there, and police didn't pay heed to these allegations."
Over the following three days he suffered severe body pains, including pain in his ears, he said.
"The doctors told me that both my eardrums were damaged, and that I should undergo an operation," Pastor Raj said. "By God's grace, both the operations were successful."
He declined to register cases against the attackers, who remain poised to accuse him of assembling for worship in a home, though apart from Section 144 as implemented in the region, home worship is not illegal in India.
"I live in a rental house here, and it is not safe as the people connected to the assailants also live very close by, and I am constantly under watch," he said. "If I speak any louder, they can hear me."
Originally from Tirunelveli District in southern India's Tamil Nadu state, Pastor Raj and his wife, Rajakani, had a strong desire to serve among those who have never heard of Christ, he said.
"I was working as an assistant pastor in Chennai when I received the confirmation from the Lord that I should serve the unreached in Jammu and Kashmir. We immediately obeyed and moved to Jammu with our son, who was 1-year-old then," he said. "After much toil, we now have four to five families in each village. Even among the neighboring houses, there would be at least one person who has heard of Christ and desires to come to Him but is afraid, because of their families and the presence of Hindu extremists in their area."
In September 2018, while distributing gospel tracts in Amb Grota and Nagbani villages, Hindu extremist Rashtriya Sevak Sangh (RSS) members chased them away, threatening to kill them if they see them again in those areas, Rajakani said.
Elesh Prabhu Vasave, secretary of the Friends Mission Prayer Band of Jammu and Kashmir region, requested prayers for peace to return to Kashmir, and for safety of pastors and missionaries serving in regions stripped off of Internet and phone service.
India is ranked 10th on Christian support organization Open Doors' 2019 World Watch List of the countries where it is most difficult to be a Christian. The country was 31st in 2013, but its position has been worse each year since Modi of the Bharatiya Janata Party came to power in 2014. 
If you would like to help persecuted Christians, visit http://morningstarnews.org/resources/aid-agencies/ for a list of organizations that can orient you on how to get involved. 
If you or your organization would like to help enable Morning Star News to continue raising awareness of persecuted Christians worldwide with original-content reporting, please consider collaborating at https://morningstarnews.org/donate/?

Article originally published by Morning Star News. Used with permission.

Photo coourtesy: Morning Star News

 

 

 
---
---