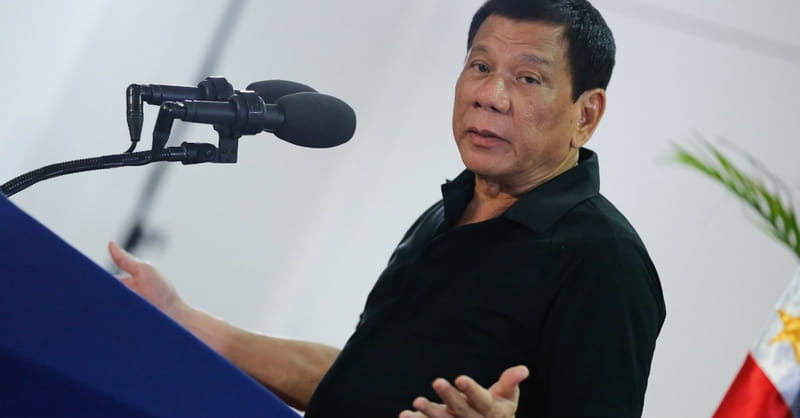 ---
Rodrigo Duterte, the president of the Philippines, is stirring up controversy for speaking out against God and even calling Him "stupid."
Slate.com reports that, in a speech last Friday, Duterte questioned the truth of the Bible and said "Who is this stupid God? This son of a b**** is then really stupid. How can you rationalize a God? Do you believe?"
Duterte quckly received pushback and criticism for his harsh comments, especially from religious leaders in the Philippines, which is Asia's largest Catholic nation.
Catholic bishop Arturo Bastes responded to Duterte's comments by stating, "Duterte's tirade against God and the Bible reveals again that he is a psychological freak, a psychopath, an abnormal mind who should have not been elected as president of our civilized and Christian nation."
Leaders of Protestant churches also condemned Duterte's comments. The Philippine Council for Evangelical Churches demanded that Duterte "refrain from issuing insulting statements against the Christian faith."
In addition to his comments against God, Duterte also cursed the Pope, the European Union, and the United Nations, according to The Telegraph.
Slate reports that the Philippines is more than 80 percent Catholic, with another 10 percent of the population belonging to other Christian denominations. Duterte has often clashed with his country's religious leaders, and particularly Catholic clergy.


Photo courtesy: Wikipedia
Publication date: June 27, 2018
Veronica Neffinger wrote her first poem at age seven and went on to study English in college, focusing on 18th century literature. When she is not listening to baseball games, enjoying the outdoors, or reading, she can be found mostly in Richmond, VA writing primarily about nature, nostalgia, faith, family, and Jane Austen.