Kayla Koslosky
| ChristianHeadlines.com Editor
| Wednesday, November 7, 2018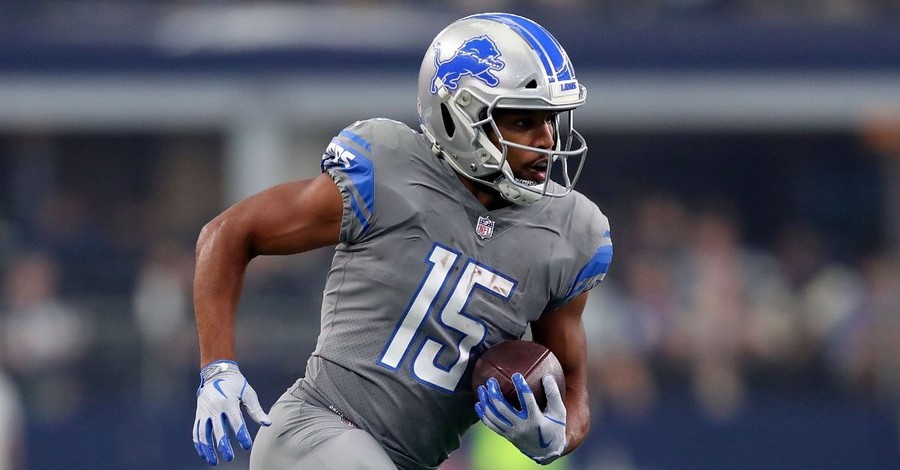 The Philadelphia Eagles welcomed a new teammate last week by inviting him to church.
According to The Christian Post, Eagles quarterback Carson Wentz invited his new teammate, wide receiver Golden Tate, and his family to church on Sunday.
Tate, like Wentz, is a 'devout Christian,' but because Sundays are the NFL's game days, they are seldom able to go to church. 
The Christian Post reports that Tate was not able to go to church because he was learning the playbook in preparation for the following weeks game. Tate's wife and child, however, were able to join Wentz and his family for the Sunday service. 
The Notre Dame standout expressed gratitude for his new quarterback saying, "We are already just trying to build a relationship."
He continued, "I have played with some really good quarterbacks through all my years. I think a wide receiver and quarterback relationships are a big reason for those guys having [success]."
Tate has played in the NFL for nine seasons and has played alongside Seattle Seahawks' quarterback Russell Wilson and the Detroit Lions' Matthew Stafford.
After being traded last week by the Lions, Tate thanked the organization during a press conference for everything they had helped him "achieve as a player, as a person, as a Christian."
Complex Magazine reports that Tate is a devout Christian who was raised Southern Baptist. 
By joining the Eagles, Tate has become a part of the NFL team that gained a reputation last year of being "one of the most faith-oriented teams in the league."
In a video highlighting the team's faith and prayer rituals, Wentz shared, "On every Monday night, we have a couples' Bible study. We have a Thursday night team Bible study. On Saturday nights, we just get together before the game and just kind of pray, talk through the Word of what guys have been reading, what they are struggling with, and just kind of keep it real with each other. To have that here in an NFL facility like this, it is really special."
The Eagles currently have a 4-4 record and are scheduled to play the Dallas Cowboys Sunday night at 8:20 EST.
Photo courtesy: Getty Images/Tom Pennington/Staff
---
---