Kayla Koslosky
| ChristianHeadlines.com Editor
| Friday, September 21, 2018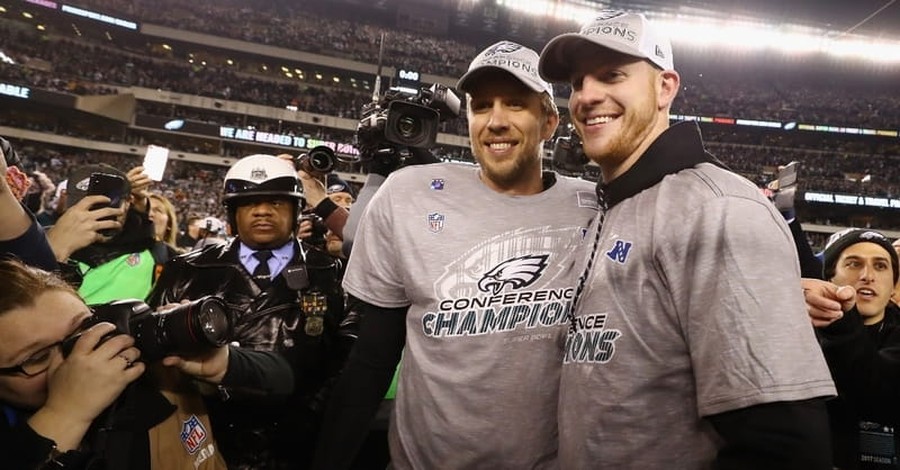 Last December, just weeks before the Super Bowl, Philadelphia Eagles quarterback Carson Wentz tore his ACL and LCL. On Sunday, however, the starting quarterback is finally returning to the field.
After sustaining his injuries, Wentz was taken out for the rest of the season, leaving backup quarterback Nick Foles to lead the Eagles to the franchise's first Super Bowl win.  
Many expected there to be rivalry and tension between Foles and Wentz as Wentz was welcomed back as starting quarterback, but according to Inside the Iggles, this is not the case. Instead, CBN reports, the two were grateful for one another and praying for each other's success.
"It's been a long time coming," Wentz said to CBN. "It's been quite the grind of an off season. There's a lot of excitement, a lot of built-up almost anxiety over when it was going to be that time, and almost relief finally being cleared to get back out there."
CBN News sports reporter Shawn Brown recently spent time getting to know the duo and recalled that "their faith keeps them grounded."
"It's a competitive sport but they have a really really unique relationship that's rooted in their faith in Christ," Brown explains. "These guys get it. They understand each other's roles. Nick knows that he is a backup."
Brown recently interviewed Eagles head coach Doug Pederson and learned that the two quarterbacks pray for each other often. 
"When Carson went down, Carson was lifting up prayers for Nick Foles," he says. "I think that was pivotal in giving Nick Foles the confidence that he needed to step up to the plate last season and we saw what happened there."
"It's really admirable to see the relationship these two quarterbacks have...Faith is definitely present in their locker room," Brown says. 
Carson Wentz and the Eagles play the Indianapolis Colts on Sunday, September 23, at 1 p.m. EST.
Photo courtesy: Getty Images/Al Bello/Staff
---
---