Kayla Koslosky
| ChristianHeadlines.com Editor
| Tuesday, January 8, 2019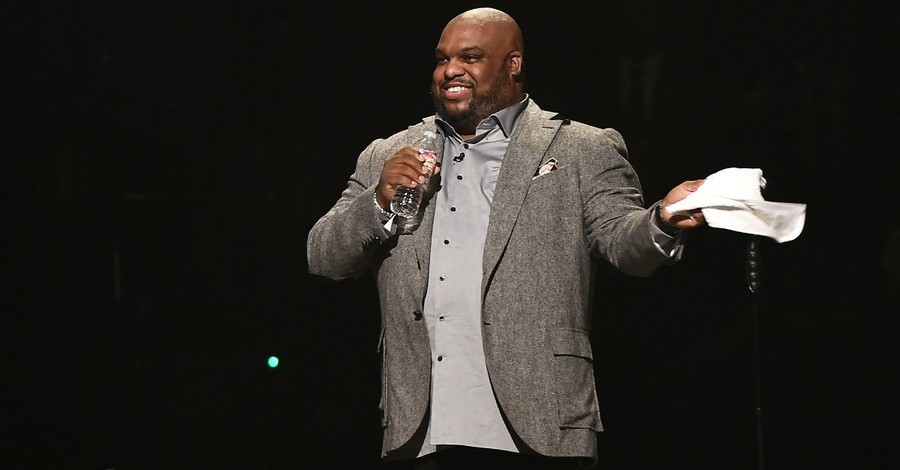 Megachurch Pastor John Gray admitted during a sermon on New Year's Eve that he almost committed suicide in 2018. 
Gray, who was publicly criticized in 2018 for meeting with Donald Trump at the White House and then again for buying his wife a $200,000 Lamborghini, told his Relentless Church congregation on New Year's Eve that 2018 almost killed him. In a video recording of the sermon, Gray started the sermon by pointing to the fact that he was wearing all black. He said, "I'm standing here, because this is my funeral outfit." 
He continued, "2018 tried to kill me, so I thought I'd dress for the occasion."
Gray told the congregation that he was not innocent in his suicidal ideation, however. He said, "The truth is some of the stuff that tried to kill me I helped. Nobody wants to shout. Everybody needs to know some stuff wasn't the devil, some stuff was you. It would be great if we shout for that too because when you shout for that what you're saying is I take personal responsibility."
He pastor continued, "I literally thought about how I could end my life and still get to Heaven and somehow my kids would not be scarred but there was no way I could figure out how to do it. And I'm not the only person that thought about that. I'm not the only person the devil attacked in that area."
Gray then revealed to the congregation that he began to seek counseling last year because there was some stuff from his childhood, his past, old insecurities and brokenness in his marriage that he needed to "work out" with a Christian counselor.
He added that he and his wife Aventer almost called it quits last year because he was nearly taken by temptation.
The Pastor said of his life, "I wanted to call it quits. 'Hey you sound like you need counseling,'" recalling what critics had said to him.
"You do too. And I have counselors," he said. "And let me help you. Some stuff you can't slap oil on your forehead and ask for it to go away. Some stuff you gon' have to work out. Some stuff you gon' have to walk out. And you gonna need some certified Christian counseling and some therapy," he argued. 
According to the Christian Post, Gray attended a pastor leadership conference in Maryland, the following Saturday, where Pastor Bishop Jakes laid hands on him and rebuked the spirit of suicide from his body and his home. In a video of the conference session, Gray is seen fainting when he is overcome by the Holy Spirit and then lying face on the floor in Prayer. 
Photo courtesy: Getty Images/Marcus Ingram/Stringer
Video courtesy: Relentless Church
---
---