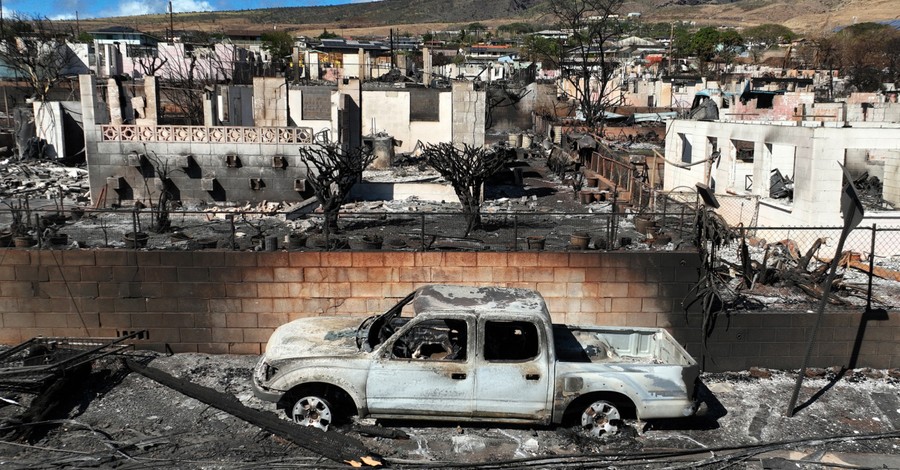 As the wildfires in Hawaii in 2023 wreaked devastation across the island of Maui, 68-year-old Frank Trejos lost his life while trying to protect his beloved best friend — a dog named Sam.
Marked as the deadliest fire in the US for over a century, there were plenty of tragic stories coming out of the wildfires in Hawaii in 2023.
RELATED: Quick-Thinking Bus Driver 'From Heaven' Saves 22 Kids During Raging Wildfire
And one of those involved Franklin Trejos, a man who spent his final moments trying to protect the dog he loved.
WATCH: The Deadly Impact Of The Wildfires In Hawaii 2023
Frank had been living for quite a while with his close friends, Shannon Weber-Bogar and Greg Bogar. The man was not only close with the couple but also with the family's Golden Retriever, Sam.
Many fled as the wildfires blazed across the island. But as a retired fire captain, Greg Bogar stayed behind to try and protect the house and save the neighbors.
RELATED: Wife's Touching Tribute To Late Husband Killed Protecting Their Farm From Wildfires
However, Greg wasn't alone. His good friend Frank Trejos stayed behind, too, and the men worked to try and help others.
Finally, it came time for Greg and Frank to flee the wildfires in Hawaii as well. The two took off in separate cars and it was the last time the pair would see each other alive.
Man Dies Protecting Dog During Wildfires In Hawaii 2023
As Greg Bogar tried to evacuate, he discovered his vehicle wouldn't start. He ended up breaking a window to escape the car. He then crawled on the ground until police found him and transported him to the hospital.
The next day, Greg made a heartbreaking discovery. He learned his friend Frank Trejos tragically never succeeded in escaping the flames.
RELATED: California Pastor Recalls How Church Miraculously Survived Wildfire Untouched
Greg returned home to find Frank's remains inside his vehicle. But he wasn't alone. Frank's body lay on top of the beloved family dog, Sam. He'd been trying to use his own body to protect the dog he loved from the flames.
The heartbreaking news devastated Frank Trejos' family.
"This has been a tragic and heartbreaking loss for our family," said Kika Pérez Grant, Frank's niece. "To know that he must have been so scared or to imagine him suffering, there are no words."
Yet, it came as no surprise to Frank's family that the "huge animal lover" did everything in his power to try to save Sam.
"Even in his very last moments, he thought to protect," Kika explained.
The news rocked Shannon Weber-Bogar and her husband, Greg, as well. They say they will miss the laughter and love he brought to their lives.
"God took a really good man," Shannon said.
YOU MAY ALSO LIKE: Nurse Tamara Ferguson's Harrowing Story Of Surviving The California Wildfire
The love Frank Trejos had for God's creatures won't be forgotten. And please join us in praying for all those impacted by the wildfires in Hawaii in 2023.
"Greater love has no one than this, that someone lay down his life for his friends." John 15:13
LISTEN: 2-Year-Old Recalls Being Held By Jesus During Near Drowning | Scott Baio Caught Flack For Leaving California
Article originally published by GodUpdates. Used with permission.
Photo courtesy: ©Getty Images/Justin Sullivan/Staff
---
---