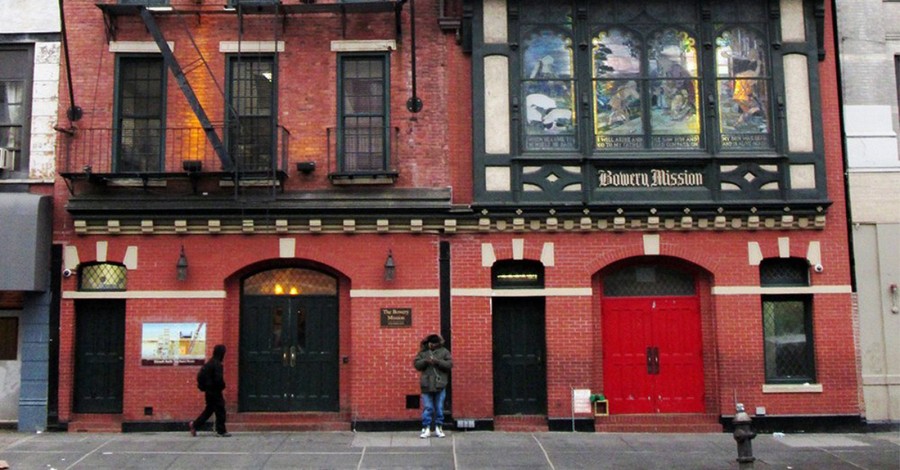 NEW YORK (RNS) — Almost every day for the past two years, Aaron Johnson, 37, has come to the Bowery Mission to eat a hot meal and see friends.
The oldest Christian rescue mission in New York City, the Bowery provides food, beds, showers, clothing and free medical services to the estimated 70,000 New Yorkers who don't have permanent shelter.
For Johnson, the mission has been a "safe haven and friendly atmosphere."
Now, his one place of stability is suddenly unstable.
As restrictions have taken effect in New York City to halt the spread of COVID-19, the Bowery Mission has had to change its operations virtually overnight.
This week, the mission replaced its hot meal service in its dining hall with to-go meals at the door. The chapel, where clients usually come in to socialize and escape inclement weather, is closed. The shower and clothing program is postponed as staff figure out how to continue it under new CDC restrictions. And volunteers — the heartbeat of the mission — have been asked to stay home at all but two of the Bowery's six campuses in the New York Metro area.
The mission is still housing people — with 200 overnight shelter beds at their Tribeca campus and a few long-term residential programs that together house 77 people.
But the staff has moved the overnight beds farther apart, and things are being sanitized and cleaned more frequently. At all overnight facilities, every client is also asked a series of medical screening questions before staying overnight.
The Bowery Mission, with its iconic red doors, has been a beacon to the homeless and hungry on the Lower East Side since the neighborhood was known as "Skid Row."
Run by the Christian Herald Association since the 1890s, the 501(c)(3) has grown in recent years to 153 full-time employees and $21.6 million in combined revenue. The mission currently serves an estimated 566 people every day and last year provided more than 558,000 meals and 140,600 nights of shelter.
Despite offering leaner services, mission leaders believe that more people will show up at its red doors in the coming weeks.
"There are more people unemployed today than there were last Friday," said James Winans, the mission's interim CEO.
According to The New York Times, the state's unemployment insurance system crashed this week due to inquires from New Yorkers newly out of a job in the restaurant and entertainment industries.
Winans believes the homeless have largely been forgotten by government leaders trying to mitigate the spread of coronavirus.
"The government is giving instructions to stock up at home, hunker down at home, work from home," he said. "The assumption is that everybody has a home."
In other words, it is hard to shelter in place without a shelter.
As New York's beloved restaurants have shuttered this week, the mission has lost its primary source of donated food. In 2019, the mission received more than $4.8 million of donated food from Trader Joe's, Whole Foods, City Harvest and restaurants. And as cafes, libraries and other public spaces have closed, the homeless community has lost safe places to spend the day.
"Normally I can walk by a public library in Tribeca and see 15 guys who come and eat every meal with us," said Mark Dixon, the mission's manager of community life. "That's their shelter."
Now, Bowery Mission clients are worried that the subways — one of their remaining places for respite — will shut down as well.
For most Americans, new social distancing practices have created stress and uncertainty. But it's particularly hard for people whose lives are already unstable.
"Routine is important for someone with trauma," said Dixon. "For most people we serve, the Bowery is the only stable thing they have in their life."
"When you're dealing with marginalization or addiction or mental illness, isolation can be very dangerous," said Winans. The current challenge is to run a "high-touch" ministry while practicing social distancing.
A small task force of mission staff meets every day to talk through operations in light of new restrictions.
This week, the team decided to stop in-person volunteers from serving at all but the Bowery and Tribeca campuses.
An estimated 17,000 individuals from church groups and corporate teams volunteer each year to prepare and serve meals, sort donations and clean. But any contact from outside people could increase the risk of COVID-19 infection among staff and clients — many of whom are already physically vulnerable.
The task force has talked about whether to restrict volunteers entirely.
"So far we have not pulled that trigger, but I have my hand on it," said Hannah Vanbiber Wagner, the mission's manager of volunteer relations.
For now, the mission's doors will stay open; the city's homeless services organizations are being treated similarly to any emergency care provider. But the mission is spending more money than it normally would to cover the increased demand for prepackaged food and cleaning supplies.
Instead of asking for volunteers, staff members are asking for donations to cover the ballooning costs.
This week, one staff member raised more than $2,000 via a Facebook fundraiser. The funds went to purchasing to-go meal containers, cleaning supplies and 60 rolls — or 9 miles — of paper towels.
"It's often people of faith who can be in a moment of emergency and look beyond their self-interest," said Winans. "It's people of faith who would be the ones to step up and say, 'Here I am.'"
Johnson said he is frustrated by the new restrictions and the changes to Bowery's daily services. But he warned against giving in to fear.
"In the midst of this we need to find our commonality," said Johnson. "We are more together than we are alone. Don't allow fear to take over."
READ THIS STORY AT RELIGIONNEWS.COM
Article originally published by Religion News Service.
Photo courtesy: RNS/Beyond My Ken/Creative Commons
---
Katelyn Beaty is a former managing editor of Christianity Today and the author of A Woman's Place. The views expressed in this commentary do not necessarily represent those of Religion News Service or Christian Headlines.
---
---