Kayla Koslosky
| ChristianHeadlines.com Editor
| Monday, October 1, 2018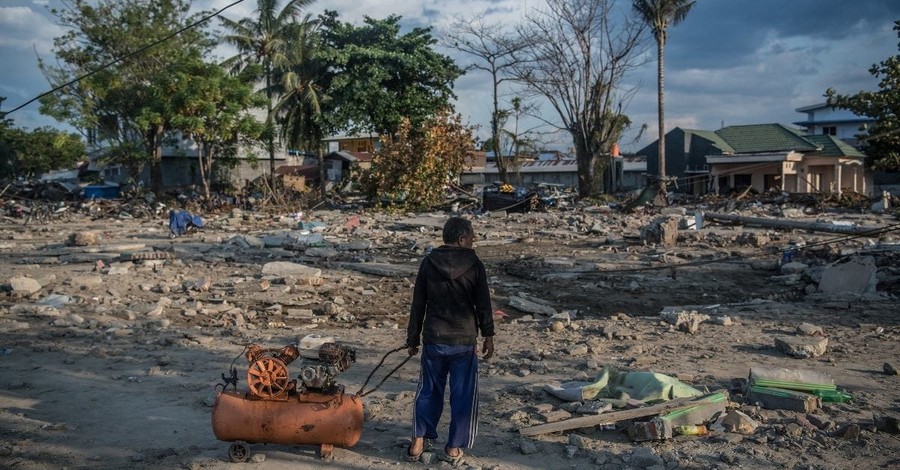 A deadly 7.5 magnitude earthquake and a tsunami with waves as high as twenty feet, struck Indonesia on Friday, leaving at least 840 people dead and thousands homeless. 
On Monday, the government made the decision to conduct a mass burial of those lost in the tragedy saying that "This must be done as soon as possible for health and religious reasons." Local Army Commander Tiopan Aritonang said, Indonesia is a majority Muslim, and religious tradition calls for the burial of a loved one typically one day after death.
According to Fox News, Aritonang said, 545 bodies would be brought from one hospital to the grave. 
All of the victims coming from hospitals have been photographed so that families can identify their loved ones and locate where they are buried, Fox News reports. 
Willem Rampangilei, the chief of Indonesia's National Disaster Mitigation Agency, said the grave was dug in Palu, where the majority of the casualties have been recorded and is 33 feet by 330 feet.
At this time, the death toll is expected to continue to grow as rescuers reach areas that were previously cut off by rubble. 
Military and commercial aircraft are delivering some aid and supplies, but rescue teams are in desperate need of heavy equipment to reach possible survivors buried under rubble.
People are also suffering from a lack of resources including food and clothing. A local television station reported that around 3,000 Palu residents had flocked to the local airport trying to get out but were not able.
"We have not eaten for three days!" one woman yelled. "We just want to be safe!"
The Chair of Indonesia's Investment Coordinating Board, Thomas Lembong, took to Twitter on Monday to announce that Indonesian President Joko "Jokowi" Widodo has authorized the acceptance of international aid for the disaster.
"We will send food today, as much as possible with several aircraft," Lembong told journalists in the capital, Jakarta. He also asserted that they will be sending a supply of fuel to aid with emergency vehicles.
As of now, the official death toll is 844 people. This number was released by disaster agency spokesman Sutopo Purwo Nugroho, Monday afternoon. This is an increase of 12 people since Sunday, however, the areas of Donggala, Sigi and Parigi Moutong have yet to be fully assessed. These three areas have a combined population of 1.2 million people, and as such, the total of deaths is predicted to increase. 
Additionally, according to Nugroho, some 50,000 people have been displaced from their homes.
In one area in Palu, residents believe that dozens of people could still be buried under their collapsed homes.
"The ground rose up like a spine and suddenly fell. Many people were trapped and buried under collapsed houses. I could do nothing to help," resident Nur Indah said, with tears in their eyes. "In the evening, some of them turned on their cell phones just to give a sign that they were there. But the lights were off later and the next day."
With thousands injured and hundreds dead, hospitals, many of which were damaged by the earthquake, are overwhelmed with the influx of patients.
Photo courtesy: Getty Images/Carl Court/Staff
---
---