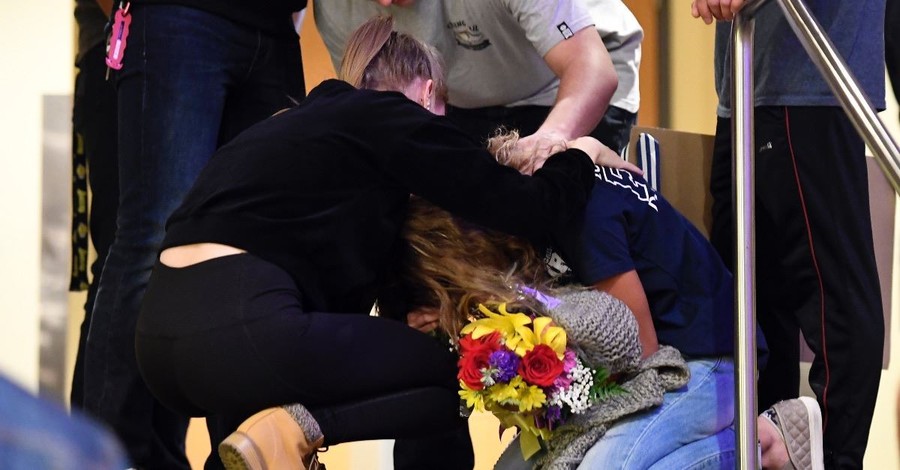 The tragic shooting on Wednesday in Thousand Oaks, California, took the lives of 12 unsuspecting people. One of the victims was 27-year-old Telemachus Orfanos, a survivor of last year's Las Vegas shooting. 
Orfanos' mother, Susan, spoke out in a recent interview with ABC 13 saying, "My son was in Las Vegas with a lot of his friends and he came home. He didn't come home last night, and I don't want prayers. I don't want thoughts. I want gun control, and I hope to God nobody sends me anymore prayers. I want gun control. No more guns," pleaded the grieving mother. 
According to USA Today, the horrific events occurred after 28-year-old David Long entered the Borderline Bar and Grill, set off a smoke device, and open fired into the crowd.
Orfanos, who served two-and-a-half years in the navy, was a survivor of the 2017 Route 91 music festival shooting in which 58 individuals were killed and nearly 500 were left wounded. 
The victim's father, Marc Orfanos, addressed the heartbreaking irony, stating: "It is particularly ironic that after surviving the worst mass shooting in modern history, he went on to be killed in his hometown." 
Pastor Shawn Thorton of Cavalry Community Church in Westlake Village informed ABC 2 that 20 to 30 members were visiting Borderline Bar and Grill when the massacre took place. He also stated that a total of three families from the church were directly impacted by the attack, either by a death or an injury. 
"If God is God, how could this happen? That's a question that will emerge," stated Thorton. 
Part-time Cavalry Community Church staff member Noel Sparks was one of the 12 lives lost in the shooting. 
Senior pastor at the United Methodist Church Walter Dilg informed the San Gabriel Valley Tribune that Sparks was an active member of the church throughout her childhood, serving in Sunday groups and singing in the choir. 
"It is with heavy hearts that we notify you that Noel Sparks was among the victims of last night's shooting. We grieve with Tony Sparks and Wendy Anderson," the United Methodist Church Westlake Village said on Facebook.
"Having her reared at our church, there are a lot of people who are terribly heartbroken over this," said Dilg.
CNN reports that the shooter, David Long, served as a corporal in the Marines from August 2008 to March 2013. He was in Afghanistan from November 2010 to June 2011. 
Thomas Burke, a pastor who served alongside Long in the same U.S. Marine Corps regiment, mentioned that Long experienced extreme combat in Helmand province. In regard to whether or not PTSD might be to blame, Burke had this to say: 
"PTSD doesn't create homicidal ideation. We train a generation to be as violent as possible, then we expect them to come home and be OK. It's not mental illness. It's that we're doing something to a generation, and we're not responding to the needs they have."
Photo courtesy: Getty Images/Kevork Djansezian/Stringer
---
---