Kayla Koslosky
| ChristianHeadlines.com Editor
| Monday, January 13, 2020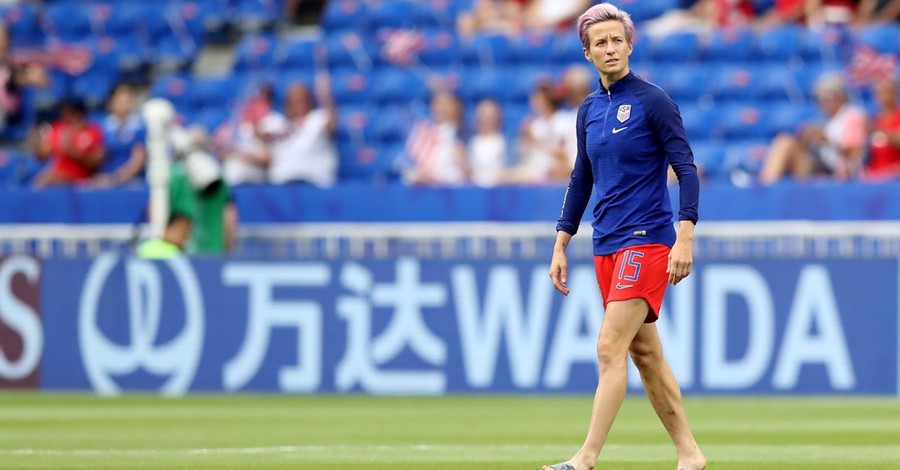 U.S. Women's National Soccer Team star Megan Rapinoe is speaking out after the International Olympic Committee published a new set of guidelines for the upcoming games stating that athletes are forbidden from participating in political statements and protests during the games.
Rapinoe, who made headlines last year after she refused to sing the national anthem, responded to the IOC's policy change noting that she will not be silenced.
RELATED: The Era of the Ungrateful American
"So much being done about the protests. So little being done about what we are protesting about. We will not be silenced," Rapinoe shared on her Instagram story.
Megan Rapinoe responds to the IOC banning protests at the Olympics: "We will not be silenced" pic.twitter.com/69PljKC8u5

— Sports Illustrated (@SInow) January 10, 2020
According to Sports Illustrated, Olympic athletes will not be allowed to kneel or make political hand gestures while participating in a sport. The guidelines also note that athletes will not be allowed to show any disrespect during the medal ceremonies.
As Christian Headlines previously reported, Rapinoe first made headlines for her activism in 2016 when she joined former 49ers Quarterback Colin Kaepernick in protesting inequality and injustice by kneeling during the playing of the national anthem at professional sports games. In 2019, however, the U.S. Women's National soccer team passed a new rule requiring players to stand during the anthem. Rapinoe complied and instead stood silently.
Later in an interview with Yahoo! Sports, the openly gay soccer star admitted that she would "probably never sing the national anthem again." Rapinoe also asserted that she would not go to the White House if the American team were to win the World Cup. The USWNT did in fact not visit the White House after winning the World Cup and instead, accepted an invitation to be honored before Congress, the Associated Press reports.
Rapinoe's comments made national headlines with many calling into question her love of country. The athlete responded to the controversy noting that America is "a great country."
"I'm particularly and uniquely and very deeply American. If we want to talk about the ideals we stand for, the song and the anthem and what we are founded on, I think I am extremely American. For the detractors, I would have them look hard into what I am actually saying, the actions I am doing," Rapinoe said, according to the Washington Post.
"I think I stand for honesty and for truth and for wanting to have the conversation. Looking at the country honestly and saying, 'Yes, we are a great country, and there are many things that are so amazing, and I feel very fortunate to be in this country.' I would never be able to do this in a lot of other places. But that doesn't mean we can't get better. It doesn't mean we shouldn't always thrive to be better," she concluded.
Photo courtesy: Getty Images/Elsa/Staff
---
Kayla Koslosky has been the Editor of ChristianHeadlines.com since 2018. She has B.A. degrees in English and History and previously wrote for and was the managing editor of the Yellow Jacket newspaper. She has also contributed to IBelieve.com and Crosswalk.com.
---
---