Kayla Koslosky
| ChristianHeadlines.com Editor
| Tuesday, April 26, 2022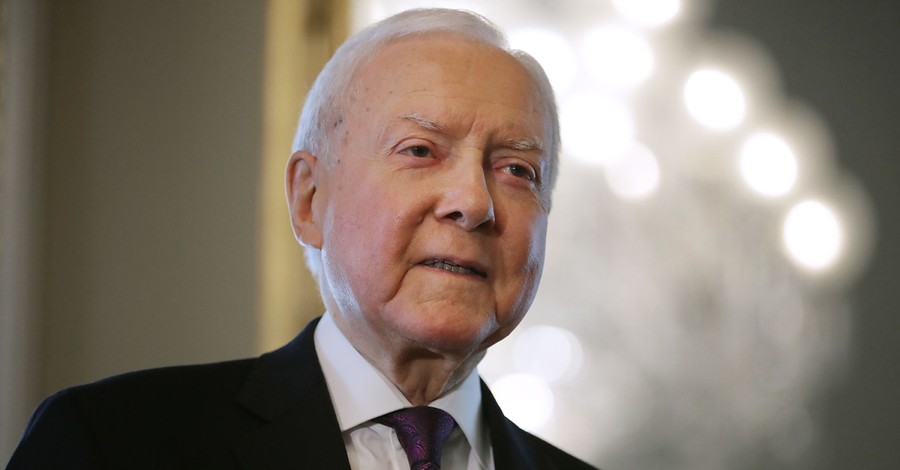 ---
Republican Senator for Utah Orrin G. Hatch passed away over the weekend. He was 88.
According to the Associated Press, Hatch's foundation announced the Republican senator's passing on Saturday. A cause of death has not been revealed.
Hatch, the longest-serving Republican senator in U.S. history and the longest-serving senator in Utah history, was a fierce defender of conservative values, championing limitations on abortions and defending Supreme Court Justice Clarence Thomas when he was accused of sexual harassment during his confirmation hearing.
He did, however, work with his colleagues across the aisle on some occasions.
Following his death, President Joe Biden, who served as a senator with Hatch for three decades, released a statement highlighting the duality of his personality.
"Orrin Hatch once shared in an interview that he had a soft side, and he had a tough side. To serve with Orrin, as I did for over three decades, was to see—and appreciate—both," Biden wrote in a statement.
"He was the fighter who carried with him the memory of his humble upbringing near Pittsburgh, who never humored a bully, or shied from a challenge," he said.
"At the same time, Senator Hatch was also a man of deep faith; a gentle soul who wrote songs and poems, and shared them with friends, colleagues, and the world. This was the Orrin who looked out for the people who often didn't have a voice in our laws and our country," Biden added.
According to Politico, Hatch was born in Pittsburg, Pennsylvania, in 1935 to a carpenter and plaster lather. In 1957 he married his wife, Elaine Hanson. Two years later, he became the first person in his family to graduate from college, receiving a bachelor's degree from Brigham Young University. In 1962 he earned a law degree from the University of Pittsburg and served as a partner at the Pittsburg-based law firm Thomas, Rhodes and Grigsby until 1969.
Hatch was first elected to Senate in 1976 and served seven terms before retiring in 2019.
Throughout his career, Hatch pushed for abortion limitations and tighter restrictions on child pornography and the illegal downloading of music.
Diverging from his conservative colleagues, Hatch also worked with Democrats, particularly is close friend the late Senator Ted Kennedy, to pass the Children's Health Insurance Program in 1997. Further, he supported federal funding of embryonic stem cell research and the passage of the Americans with Disabilities Act.
"He exemplified a generation of lawmakers brought up on the principles of comity and compromise, and he embodied those principles better than anyone," Hatch Foundation chairman A. Scott Anderson said in a statement. "In a nation divided, Orrin Hatch helped show us a better way."
After retiring in 2019, the AP reports that Hatch encouraged Mitt Romney to run for his senate seat. Romney would win the election.
"Few men have made their mark on the Senate as [Hatch] did. Our judiciary, our economy and our national character are more elevated and more secure thanks to his years of leadership," Romney wrote in a statement following Hatch's death.
"A great man, and like his good friend Ted Kennedy, a lion of the Senate."
April 24, 2022
Hatch is survived by his wife, Elaine, and their six kids, Scott, Alysa, Jesse, Marcia, Brent and Kimberly.
Photo courtesy: ©Getty Images/Chip Somodevilla/Staff
---
Kayla Koslosky has been the Editor of ChristianHeadlines.com since 2018. She has B.A. degrees in English and History and previously wrote for and was the managing editor of the Yellow Jacket newspaper. She has written on her blog since 2012 and has also contributed to IBelieve.com and Crosswalk.com.