Scott Slayton
| ChristianHeadlines.com Contributor
| Monday, November 8, 2021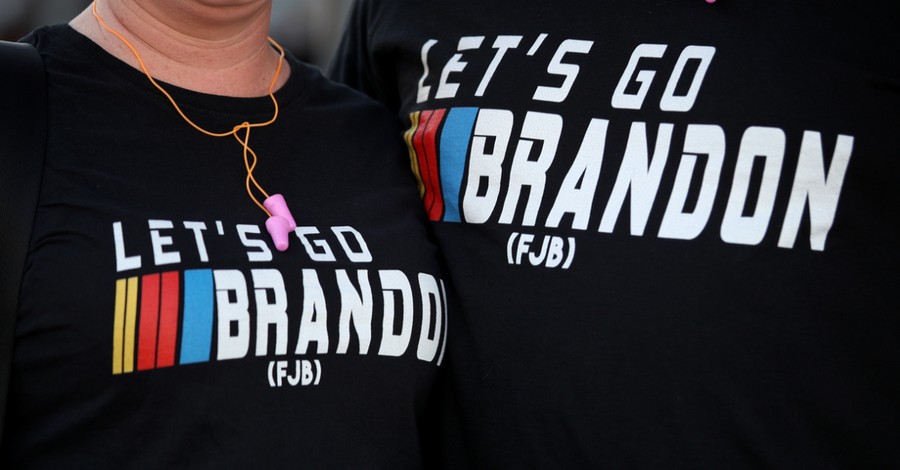 Over the last several weeks, Conservatives have adopted the rallying cry "Let's Go Brandon" to express their displeasure with the Biden Administration. It started late this summer when Brandon Brown won a NASCAR race. While he was being interviewed, the crowd was chanting "F- Joe Biden," and the NBC News reporter said the crowd was chanting "Let's Go Brandon."
"Let's Go Brandon" has become shorthand for the phrase the crowd chanted at the end of the race. It is a way of cursing at the President of the United States and has been adopted by many people at the highest levels of government and Conservative media.
Clay Travis of "The Clay Travis & Buck Sexton Show" appeared on Hannity wearing a "Let's Go Brandon t-shirt, and Hannity begged him to send him one. Representative Lauren Boebert (R-CO) appeared at a party with President Trump wearing a dress designed to mimic Representative Alexandra Ocasio-Cortez's Met Gala dress with the phrase etched on the back. Florida Governor Ron Desantis referred to the Biden Administration as the "Brandon Administration," and Florida Representative Bill Posey concluded a speech in the House with "Let's Go Brandon." Representative Jeff Duncan (R-SC) wore a mask with the phrase on it, and Senator Ted Cruz (R-TX) said it was "one of the funniest things I've seen."
That so many elected officials and Conservative media personalities are using this phrase in public shows how far the Conservative movement has fallen over the past few years. To see our elected leaders giggling about a curse word and pretending that they are clever in the middle of a pandemic, supply chain crisis, and rapid inflation proves that they are not serious enough to govern.
The Conservative movement once drew its energy from big ideas and optimism about America's future. Think of Ronald Reagan's "Morning in America" and his push to reduce the size of the government. Conservatives upheld the beauty of American freedom in the face of Communism. They championed a strong military, fiscal responsibility, personal freedom, and civil virtue. To listen to Conservatives talk about politics was to hear an array of strong ideas rooted in American history and practical wisdom.
Unfortunately, the Conservative movement is being led by a brigade of giggling middle schoolers masquerading as adults. Democrats are pushing ideas–unlimited access to abortion, socialized medicine, paid family leave, a complete rewrite of how we teach American history and a revolution in how we provide power and fuel to our country. We need our leaders to offer a strong refutation of these proposals and counter them with better legislation rooted in Conservative principles. Every leader and personality who says "Let's Go Brandon" is announcing that they are not up to the task.
I am so old that I remember when Conservatives stood on the bully pulpit and preached about family values. They pointed at the decadence in our culture and said that it was going to erode our civic life. The movement eschewed profanity and upheld the necessity of public morality and virtue. Conservative leaders will have to answer one simple question – "did the importance of public morality change, or did we?"
Let's step away from elected officials and movement officials and think about American Christians. There is nothing about chanting the phrase "Let's Go Brandon" to insult our President that is becoming of a follower of Jesus. Christians run from immorality, coarse joking, and filthy talk. We speak words designed to give grace in the moment and use our words to build up rather than tear down. These principles don't change because we are dealing with politics.
We live in serious times. Many Americans are paying more money for groceries than they were two months ago. Filling up their gas tank to drive to work has gotten dramatically more expensive. The national debt has reached an alarming level, and the current Administration wants to spend a lot more. Over 750,000 people have died in the Coronavirus pandemic, and the mental health crisis lockdowns have spawned will last long after we are done debating vaccine mandates.
I harbor no illusions that we are going to hear a modern version of the Lincoln-Douglas debates, but we need leaders who will raise the level of debate far above "Let's Go Brandon." It is time for the adults in the Conservative movement to step to the front of the room and lead. The middle schoolers haven't been in charge of the movement for long, but it has been long enough.
The views expressed in this commentary do not necessarily reflect those of Christian Headlines.
Photo courtesy: ©Getty Images/Meg Oliphant/Stringer
---
Scott Slayton writes at "One Degree to Another."
---
---