Jack Jenkins
| Religion News Service
| Tuesday, June 18, 2019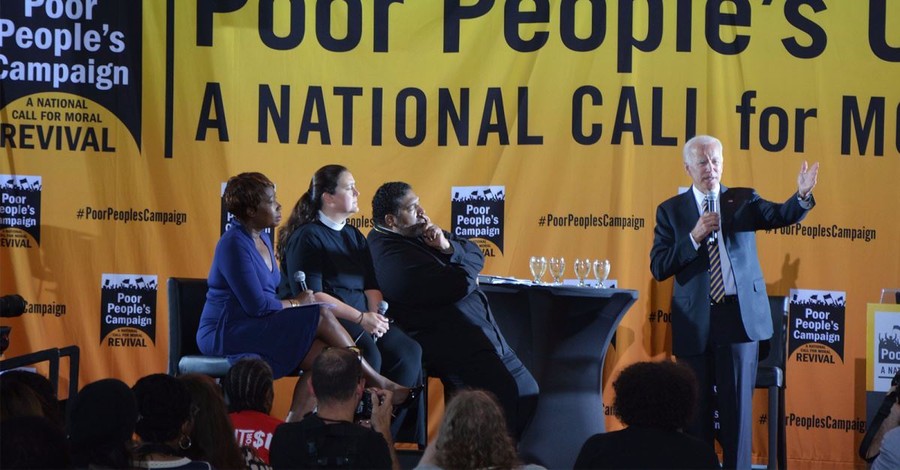 WASHINGTON (RNS) — Former Vice President Joe Biden kicked off a major forum on faith and poverty issues Monday afternoon, fielding questions from faith leaders and low-income Americans during a gathering organized by the Poor People's Campaign.
"We have the greatest income inequity… in the United States of America since 1902," Biden told the crowd of hundreds assembled on Monday (June 17) at Trinity Washington University in Washington, D.C. "But the fact of the matter is there is plenty, plenty to go around."
Biden, the current frontrunner among Democrats, according to most polls, was also asked questions by the co-chairs of the Poor People's Campaign — the Rev. William Barber and the Rev. Liz Theoharis — as well as MSNBC host Joy Reid.
Attendees at the gathering of religious progressives peppered the onetime Delaware senator with questions about how he would address issues impacting the poor, including whether he would campaign in the South — a region that faces some of the largest issues of poverty.
"I plan on winning Georgia, South Carolina, North Carolina," he said. "And I believe we can win Texas and Florida."
Biden also discussed the issue of health care, saying as president he would make sure "that every single person in the United States has access to Medicaid right off the bat." He later argued that "you have no dignity when you cannot provide healthcare for your children."
During the question-and-answer session, one woman, Francine Jefferson, stood up and said she hailed from a county in Mississippi that is one of the poorest in the country. She asked Biden how he would address the impacts of climate change and natural disasters.
He responded by describing global warming as a "gigantic unfairness to people in poverty."
Biden was also asked by Barber if he would advocate for a formal debate on poverty, to which Biden said yes.
Several other candidates are also slated to speak on Wednesday at the Poor People's Moral Action Congress, which lasts from June 17-19 in Washington, D.C. They include businessman Andrew Yang, Sen. Michael Bennet, spiritual author Marianne Williamson, Sen. Elizabeth Warren, Sen. Michael Bennet, Rep. Eric Swalwell, Mayor Wayne Messam, Sen. Bernie Sanders and Sen. Kamala Harris.
Organizers said President Donald Trump and other Democrats were also asked to attend.
Former U.S. Secretary of Housing and Urban Development Julián Castro was originally slated to speak at the forum. But he had to cancel at the last minute due to flight complications, according to Poor People's Campaign officials.
Barber revved up the crowd with hymns and chants before Biden spoke. Poor People's Campaign co-chair the Rev. Liz Theoharis name-checked participants who flew in for the event from Alaska, California, New Mexico, Pennsylvania, Alabama, New York, Colorado and others.
She noted that many people had to "save" to attend the event, which is also co-organized with Repairers of the Breach and the Kairos Center for Religions, Rights, and Social Justice — groups led by Barber and Theoharis, respectively.
Theoharis laid out the "fusion" of overarching, intersecting issues that brought participants together — ranging from poverty to environmentalism.
"We are a movement that is building power among the 140 million and (low-income) people," she said. "We are confronting systemic racism, poverty, ecological devastation, militarism and the war economy, and this distorted moral narrative of Christian nationalism."
Barber also took questions from Reid. The MSNBC host asked Barber what he would say to those who argue that churches should tackle the problem of poverty instead of the government.
"The prophets of the Bible would call that dumb," he said. "And the Jesus that I serve would call that hypocrisy."
He later added: "You cannot say that something that was created by government policy can't be un-created by government policy."
Several White House hopefuls have gravitated to Barber and his events over the past two years, often to do more listening than speaking.
When the pastor and a bevy of other faith leaders held a protest last week outside the White House decrying the Trump administration, Pete Buttigieg — presidential candidate and mayor of South Bend, Indiana — showed up to pay "silent witness" to the proceedings.
READ THIS STORY AT RELIGIONNEWS.COM.
Article originally published by Religion News Service. Used with permission.
Photo courtesy: RNS/Jack Jenkins
---
---