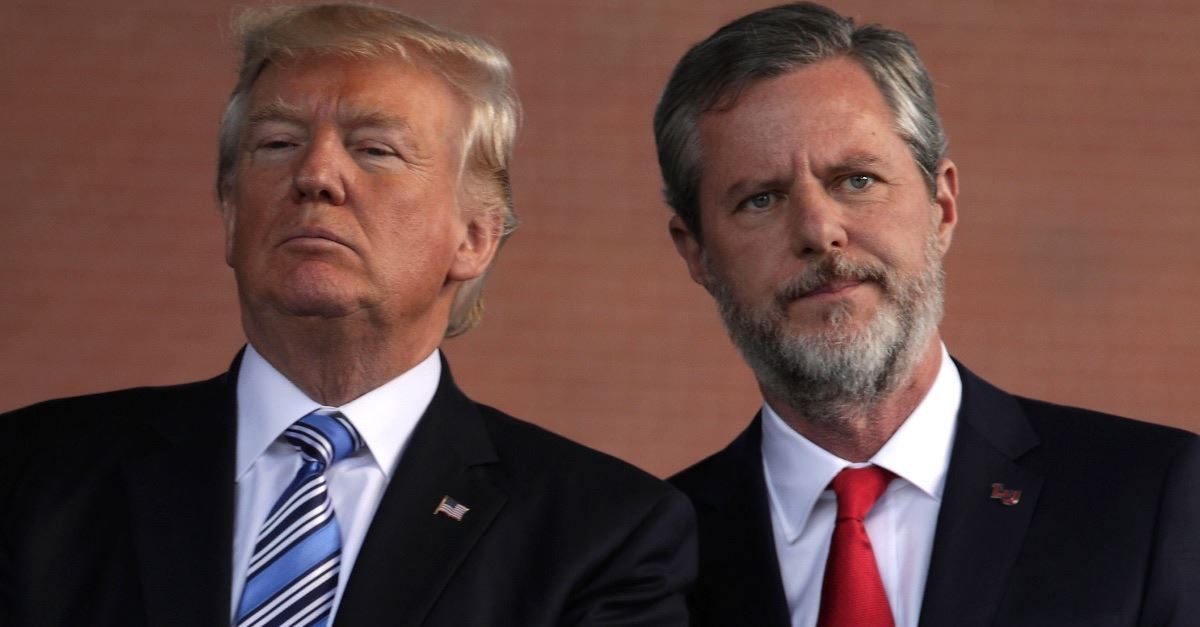 ---
"I don't think you can choose a president based on their personal behavior," Liberty University President Jerry Falwell, Jr. said of President Trump in an interview with the Washington Post on Tuesday.
In the interview, the Christian University president was asked if he felt that it was "hypocritical for evangelical leaders to support" a political leader who has done things like lie, commit adultery and condone violence. 
Simply put, Falwell said no. He told the interviewer, Joe Heim, "When Jesus said we're all sinners, he really meant all of us, everybody. I don't think you can choose a president based on their personal behavior because even if you choose the one that you think is the most decent — let's say you decide Mitt Romney. Nobody could be a more decent human being, better family man. But there might be things that he's done that we just don't know about."
He continued, "So you don't choose a president based on how good they are; you choose a president based on what their policies are. That's why I don't think it's hypocritical."
The interviewer pressed Falwell further, inquiring about some of the criticisms he's faced because of his outspoken support for the President. Heim asked Falwell if he disagreed with his fellow evangelists who have criticized him for not demanding a "higher moral and ethical standard" from the leader of the free world.
According to the interview, Falwell said, "It may be immoral for them not to support him."
Media-ite reports that the University President then used minority employment statistics as his defense for why it would be "immoral" to not support President Trump. He said, "He's got African American employment to record highs, Hispanic employment to record highs. They need to look at what the president did for the poor."
Falwell concluded the interview by noting that many of his critics have since changed their minds. He said, "Some of the most prominent evangelicals in the country have said, 'Jerry, we thought you were crazy, but now we understand.'"
Photo courtesy: Getty Images/Alex Wong/Staff
---
Kayla Koslosky has been the Editor of ChristianHeadlines.com since 2018. She has B.A. degrees in English and History and previously wrote for and was the managing editor of the Yellow Jacket newspaper. She has written on her blog since 2012 and has also contributed to IBelieve.com and Crosswalk.com.