Doreen Ajiambo
| Religion News Service
| Monday, June 10, 2019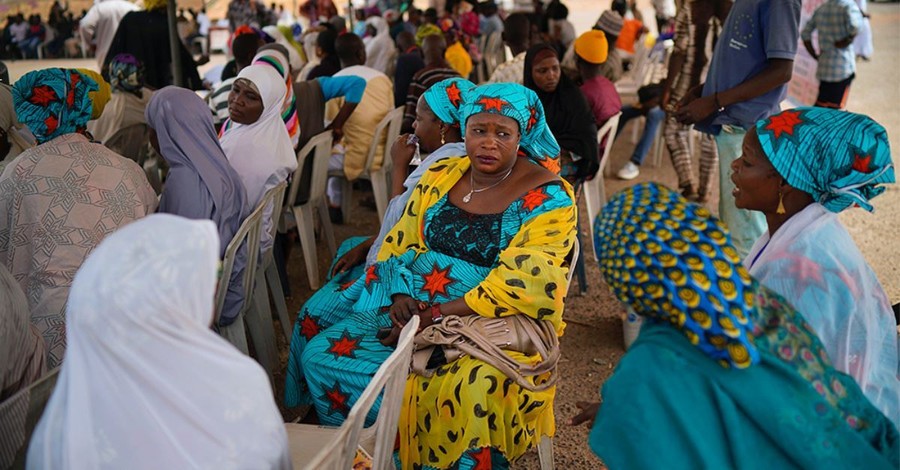 (RNS) KAMPALA, Uganda — Recently, a group of Muslims visited Christian widows and orphans in northwestern Nigeria and donated food, clothing and school items as part of efforts to enhance peaceful coexistence among different faiths.
"I can't believe they came and visited me," said Judy Ugwu, a mother of four who lives in Kaduna state in northwestern Nigeria. "They have given me enough food and clothes. I want to forgive every Muslim who has wronged me in any way."
Ugwu, 38, who is a Christian, lost her husband early this year when gunmen dressed in military uniforms and armed with AK47 rifles, machetes and sticks attacked her village of Kajuru and killed more than 60 people. She accused the majority Hausa-Fulani tribe, who are predominantly Muslim and herders of cattle, for brutally murdering her husband.
"I had vowed never to forgive them," she said. "They wanted to finish us (non-Muslim) during elections so that their people can ascend to power, but God protected his people."
There has been constant conflict in northern Nigeria for decades, pitting the majority Muslim population against the minority Christian population.
In Kaduna state, the Hausa-Fulani tribe makes up 60% of the population, and the non-Muslim minorities who are mainly farmers make up the remaining 40%.
The minority Christian populations have for decades accused Muslims of using elections to control political and economic power in the state by only electing Muslim leaders. They have also felt marginalized in terms of development and job opportunities. The difference between them became more pronounced early this year during national Nigerian presidential elections when the Hausa-Fulani faction of Kaduna state's residents (who are majority Muslims) voted for the president, who is a Muslim. All other elective seats in the state (like governorship, House of Representatives and the Senate) went to Muslim candidates. No Christian candidate was elected in the election in Kaduna state or in the majority of the northern region states
As a result, there have been nonstop attacks on communities, leading to the loss of thousands of lives, with several others injured. In recent weeks some churches, Mosques and Islamic schools have been burned in retaliation.
However, the tide is slowly turning — at least on a small scale. Lately, Muslims have been reaching out to Christians in northern Nigeria to seek reunion and deliver a message of peace, hope and solidarity that all Muslims are peace-loving people.
"I urge Muslims and Christians to live in peace and harmony," Emir Muhammadu Sanusi II said by phone from northern Nigeria. "Jihad is not about killing people in the name of Jihad. That's not Islam. People who are killing others and looting their properties are criminals. Islam promotes peace, and I urge Muslims to show their Christian brothers that Islam is a peaceful religion."
Mahamadou Aliyu, a Muslim from Kaduna state in northwest Nigeria, said he recently reconciled with his Christian neighbor after he realized that Islam was a peaceful religion and that both the Bible and Qur'an are Holy Books.
"We reconciled and shared a meal together," said Aliyu, 35, a father of five. "We all worship one God who loves peace, and we should respect and tolerate each other as brothers and sisters. We should never kill each other and hide behind religion."
Pastor Yohanna Buru of Christ Evangelical and Life Intervention Ministry welcomed this act of kindness by Muslims and reminded Christians to be peace-loving people. He urged Christians to also reach out to Muslims and help promote peace and unity among people despite their religious differences.
"Let us live in peace and tolerate each despite our religion differences," he urged. "We should preach peace everywhere we go to bring the lost love between us. Christians and Muslims are one people and we should love one another."
Ugwu, a Christian woman from Kaduna state, agreed.
"If we continue with this act of kindness then we can heal and forgive each other," she said. "There's nothing impossible before God. We can forgive each other and forget."
READ THIS STORY AT RELIGIONNEWS.COM.
Article originally published by Religion News Service. Used with permission.
Photo courtesy: RNS/AP Photo/Jerome Delay
---
---