Jack Jenkins
| Religion News Service
| Published: Dec 26, 2019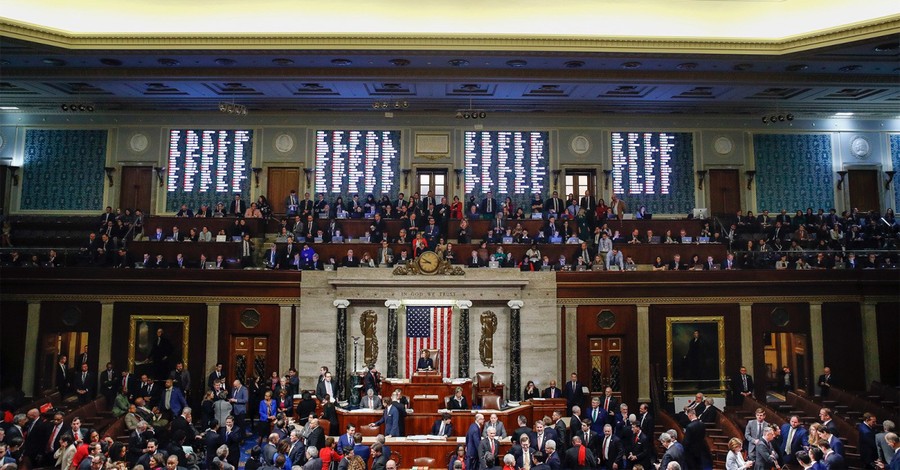 (RNS) — The impeachment process is getting biblical. Literally.
Perhaps it all started a few days before the impeachment vote, when House Speaker Nancy Pelosi told journalists that she had been praying for President Donald Trump and rebuked a reporter who asked if she hated the commander in chief.
"I don't hate anybody," she said, explaining that her feelings were a byproduct of her Catholic faith.
Or perhaps the God talk really began in earnest during the debate before the House of Representatives made its historic decision to impeach Donald Trump last Wednesday (Dec. 18) when Rep. Barry Loudermilk, R-Georgia, compared the president to Jesus Christ.
"Pontius Pilate afforded more rights to Jesus than the Democrats have afforded this president and this process," he said.
His religious ribbing did not go unanswered. New York Democrat Rep. Alexandria Ocasio-Cortez quickly fired back on Twitter, responding to Loudermilk's remark by citing Romans 1:25, which reads, "because they exchanged the truth about God for a lie and worshiped and served the creature rather than the Creator, who is blessed forever! Amen."
These are but a few examples of what has become an atypically religious — and particularly Christian — impeachment process, with lawmakers, faith leaders and even members of the same famous evangelical family invoking the Almighty while making the case for and against the president.
And experts say the God talk isn't just a sign of religious devotion; it's also an unusually heated form of discourse that hints at shifting opinions about the intersection of religion and politics.
The theological debate stretched beyond Capitol Hill the day after the vote, when the editor-in-chief of Christianity Today published an article calling for the president to be removed from office out of "loyalty to the Creator of the Ten Commandments."
Evangelical supporters of Trump responded in-kind, with nearly 200 rejecting the editorial in a public letter and at least one deriding it as a "full blown attack on the President of the United States and the millions of evangelicals who support him."
In response, CT published another editorial, this time from President Timothy Dalrymple, defending the original editorial.
"Out of love for Jesus and his church, not for political partisanship or intellectual elitism," he wrote, "this is why we feel compelled to say that the alliance of American evangelicalism with this presidency has wrought enormous damage to Christian witness."
According to Simran Jeet Singh, professor at Union Theological Seminary in New York (and a regular columnist at RNS), the uptick in God talk is, at the most basic level, evidence of how religious Americans respond to crisis.
"It's like, 'Hey, what can we find within these wisdom traditions that so often have helped us — how can they help us right now?'" he said.
R. Marie Griffith, director of the John C. Danforth Center on Religion and Politics, agreed. She argued that "the intensity of this moment and the genuine feeling among people of faith (that they) must approach it prayerfully seem to be part of what's thrust religious language into such public view."
John Fea, scholar of evangelicalism at Messiah College, said that while it's a "shame" to see Christian scripture used in such a debate, there is ample historical precedent.
"Since the time of the (U.S.) founding politicians have used the Bible to advance their political preferences," he said via email. "Thomas Paine referenced the Bible in Common Sense to justify independence. Both slaveholders and abolitionists used the Bible in the lead-up to the Civil War."
Even so, Griffith noted that the preponderance of liberals calling upon their religion in public over the past few months is abnormal — at least when it comes to impeachment.
"I don't remember hearing a lot of prayer talk around the impeachment of Bill Clinton — on either side but especially the Left — or in relation to the crimes of Richard Nixon," she said. "There does seem to be something new about public talk regarding 'prayerfulness' among liberals as it relates to something so seemingly secular as impeachment."
Fea pointed to the dynamics of this election and, in particular, the power of the evangelical vote as a compelling reason for liberals to call upon religious language typically associated conservatives. "In this particular moment, when Bible-believing evangelicals make up a huge voting block in support of the president, appeals to scripture and Christian teaching can be effective persuasive tools on both sides of the debate," he said.
The impeachment process has also produced some unusually charged remarks from faith leaders. The African Methodist Episcopal Church issued a statement praising the House vote and framing Trump's presidency in dire religious terms.
"We take no solace in the fact that God's revelation about Trump's lack of Constitutional character and his divisive and destructive policies would push our nation away from democracy and toward dictatorship were right," read the statement.
Meanwhile, Rev. Samuel Rodriguez, president of the National Hispanic Christian Leadership Conference, and the Rev. Johnnie Moore, a de facto spokesman for Trump's informal group of evangelical Christian advisers, issued a joint statement saying some evangelicals took impeaching the president as a personal affront.
"Millions of Americans recognize that the House leadership is not actually impeaching the President of the United States but the policies and people that he represents," their statement read in part. "The Democrats in the House impeached millions of God-fearing, family-loving and patriotic Americans from the Democrat and Republican parties."
Singh argued that such statements — combined with scriptural back and forths between lawmakers — are a byproduct of an era where everything seems polarized, be it religion or politics.
"When a society becomes so divided that every aspect of identity is politicized and everything is up for debate, then major ground-shifting moments like the impeachment process become battles for identity," he said.
That polarization has extended to famous Christian families as well. Franklin Graham came out strongly against the Christianity Today editorial on Thursday, saying, "my father would be embarrassed" — a reference to famed evangelist Billy Graham, who also founded Christianity Today. He later revealed on Twitter that his father allegedly voted for Trump in 2016 (voting records confirm Billy Graham cast a ballot by mail that year, but not who he voted for).
However, some of the elder Graham's grandchildren took exception to this revelation, including a sardonic tweet from Graham's grandson Aram Tchividjian and a blog post from his granddaughter Jerushah Duford, published on the website Red Letter Christians.
Duford later told CNN she felt speaking for her grandfather when he was not here to speak for himself was a "dangerous place to be," and called the Christianity Today editorial "courageous," saying, "My hope is that an article like this will be the first step for people to actually stand up and start saying, 'You know what? I'm actually not comfortable (with Trump).'"
Another grandson, Boz Tchividjian, retweeted the editorial with "a heavy hearted bravo to CT!" and expressed the belief that his grandfather "would have had a similar perspective."
Molly Worthen, scholar of religious history at the University of North Carolina at Chapel Hill, said that while the Christianity Today editorial is unlikely to create a "sea change" and trigger a mass rejection of Trump among evangelicals, it might embolden evangelicals who have long been reticent to voice their discontent.
Indeed, social media reacted swiftly to the Christianity Today editorial calling for Trump's ouster, with #christiansagainsttrump quickly trending on Twitter.
"They will draw encouragement from this, and they might use that editorial as a set of talking points around family dining tables this Christmas," Worthen said, speaking of evangelicals who are frustrated with Trump. "Maybe it's a small signal flare of common moral sense that will help these dissenters stay in the game and resist the temptation to give up on conservative evangelicalism entirely."
Singh predicted such religious tensions are likely to persist throughout the impeachment process but pointed out that the current discourse is disproportionately Christian.
"What does it mean to think about America as becoming increasingly theocratic?" he said. "When we put Trump on a pedestal comparing him to Jesus, then what does that do to one's theology, and their vision of what an American democracy actually looks like?"
READ THIS STORY AT: religionnews.com.
Article originally published by Religion News Service. Used with permission.
Photo courtesy: ©AP Photo/Patrick Semansky/RNS
---
---