Kayla Koslosky
| ChristianHeadlines.com Editor
| Tuesday, March 9, 2021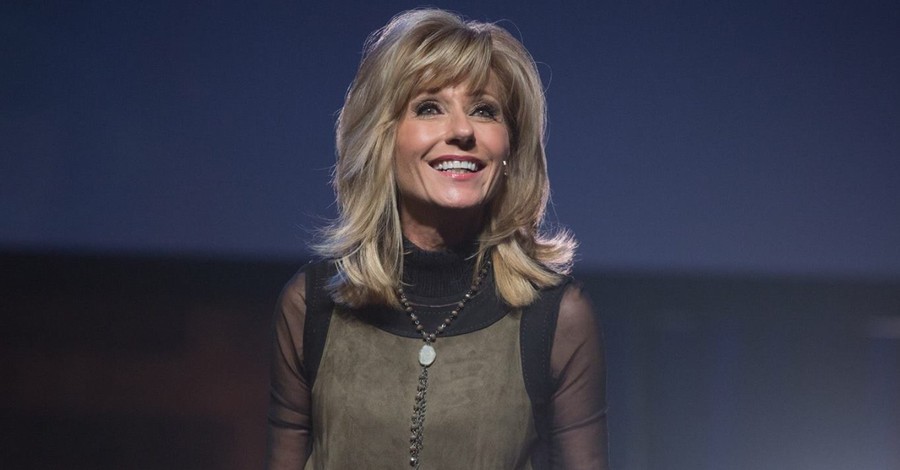 Author and Bible teacher Beth Moore is reportedly breaking ties with the Southern Baptists.
In an interview published by Religion News Service on Tuesday, Moore shared that she is walking away from the Southern Baptist denomination.
"I am still a Baptist, but I can no longer identify with Southern Baptists," Moore told RNS. "I love so many Southern Baptist people, so many Southern Baptist churches, but I don't identify with some of the things in our heritage that haven't remained in the past."
According to the news outlet, widespread sex abuse, the rise of Christian Nationalism and the current debate over Critical Race Theory within the denomination have all played a part in Moore's departure.
In the interview, Moore highlighted several moments that left her disillusioned with the denomination.
In October of 2016, Moore reportedly listened to the "Access Hollywood" tapes in which the now-former President Donald Trump speaks explicitly about women.
Shocked by the tapes, Moore shared that she expected her fellow Southern Baptists to denounce Trump, but instead, she said, they united around him.
"The disorientation of this was staggering, just staggering," Moore told RNS, pointing to how staunchly Southern Baptist leaders denounced Bill Clinton's behavior in the 90s.
Being pro-life herself, Moore shared that she understood why Trump's pro-life platform was attractive to some Christians, but given the tapes, she couldn't get behind the widespread support for him within the faith community.
"He became the banner, the poster child for the great white hope of evangelicalism, the salvation of the church in America. Nothing could have prepared me for that," she said.
In the same year, allegations of abuse and misconduct within Southern Baptist churches began to surface causing Moore to further question the denomination's view towards women.
Then in 2019, after Moore replied to a friend's tweet saying that she would be speaking at a church on Mother's Day, she watched as SBC leaders turned their attention away from what had grown into what Moore called the "biggest sexual abuse scandal that has ever hit our denomination", and toward the topic of whether women should be preaching from the pulpit. During this time, Moore received harsh criticism from several of her male counterparts within the SBC for preaching in a church. Perhaps most notably, Moore received criticism from megachurch pastor John MacArthur who, while speaking at a leadership conference, told Moore to 'Go Home.'
This, paired with the current debates over Critical Race Theory that have prompted several prominent Black SBC leaders to abandon the denomination, appears to have been something of a breaking point for Moore.
As well as leaving the denomination, Moore told RNS that she is also bringing to an end her longtime publishing partnership with LifeWay Christian. RNS reports that the two will still support each other. LifeWay is expected to continue selling Moore's books and promoting some of her events, but the company will no longer be publishing Moore's books or putting on her events.
"These are people that I love so dearly and they are beloved forever," Moore said of the LifeWay team. "I just have not been able to regard many things in my adult ministry life as more of a manifestation of grace than that gift of partnership with Lifeway."
Lifeway Women director Becky Loyd shared similar sentiments for Moore, telling RNS in an email, "Our relationship with Beth is not over, we will continue to love, pray and support Beth for years to come. Lifeway is so thankful to the Lord for allowing us to be a small part of how God has used Beth over many years to help women engage Scripture in deep and meaningful ways and help them grow in their relationship with Jesus Christ."
Photo courtesy: Living Proof Ministries Facebook page
---
Kayla Koslosky has been the Editor of ChristianHeadlines.com since 2018. She has B.A. degrees in English and History and previously wrote for and was the managing editor of the Yellow Jacket newspaper. She has also contributed to IBelieve.com and Crosswalk.com.
---
---