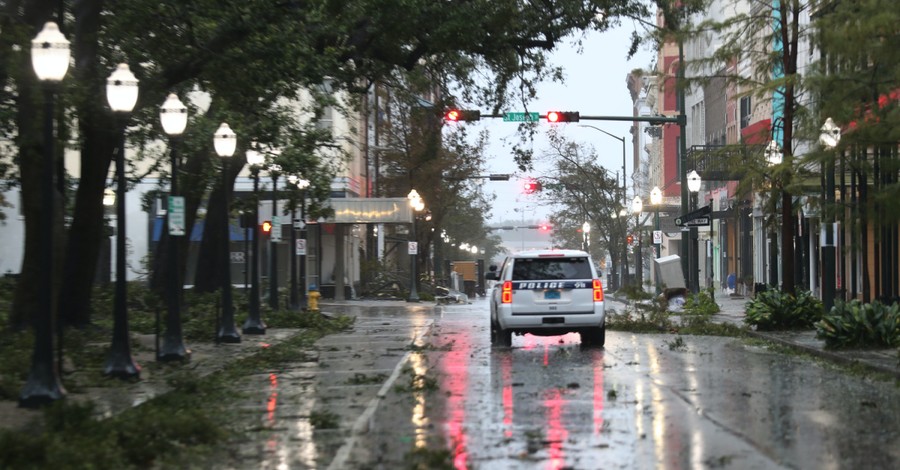 Hurricane Sally made landfall early Wednesday morning near Gulf Shores, Alabama, displacing residents as floodwaters continue to rise.
"There are entire communities that we're going to have to evacuate," Sheriff David Morgan said according to the Associated Press. "It's going to be a tremendous operation over the next several days."
In Orange Beach, at least 50 people were rescued. In Escambia County, more than 40 people were rescued.
In downtown Pensacola, the National Weather Service reported nearly 3 feet of water, and near the Naval Air Station Pensacola, more than 2 feet of rain was recorded.
"It's not common that you start measuring rainfall in feet," said forecaster David Eversole in Mobile, Alabama. "Sally's moving so slowly, so it just keeps pounding and pounding and pounding the area with tropical rain and just powerful winds. It's just a nightmare."
Some half-a-million homes and businesses also lost power.
In Pensacola, resident Kenneth McElroy said a tree fell through his house into his living room.
"You can't get down on yourself, it will make it worse," he said. "At least everybody is accounted for."
He added, however, that he is still hopeful.
"A pandemic, and a hurricane, what's next?" he said. "Sunny days and good times."
Sally pummeled the coast as a Category 2 storm but weakened to a Category 1 storm. Heavy rain is expected to continue into Thursday as the storm moves inland over Alabama and Georgia.
"Sally has a characteristic that isn't often seen and that's a slow forward speed, and that's going to exacerbate the flooding," said Ed Rappaport, deputy director of the hurricane center.
President Donald Trump issued emergency declarations for parts of Florida, Alabama, Mississippi and Louisiana.
White House press secretary Kayleigh McEnany said Trump was working with the states' governors and would be ready "in every way possible."
Photo courtesy: ©Getty Images/Joe Raedle/Staff
---
---