Kayla Koslosky
| ChristianHeadlines.com Editor
| Published: Jan 08, 2020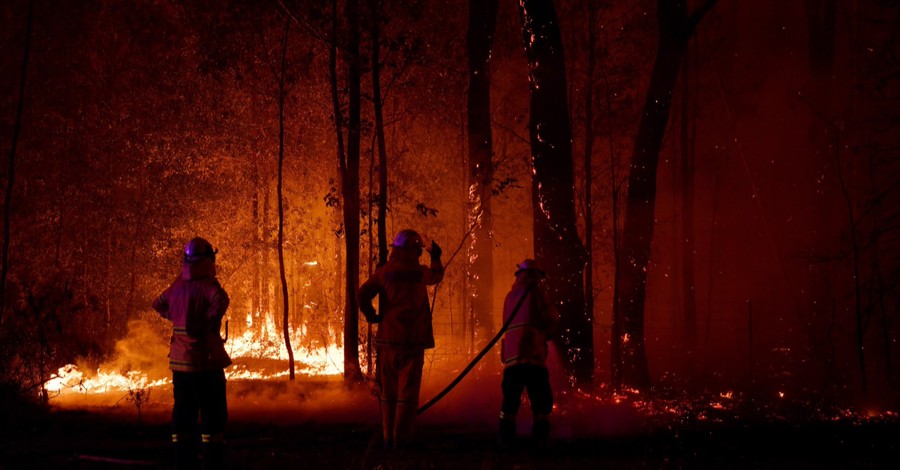 As the bushfires continue to rage on in Australia, New South Wales police have taken legal action against more than 180 people for fire-related offenses, including two dozen individuals who are believed to have intentionally started fires.
According to The Australian, since the fires started in July 2019, 184 people have been charged or cautioned with fire-related crimes across Queensland, New South Wales (NSW), Victoria, South Australia and Tasmania. Some of the fire-related crimes individuals have been charged with include discarding lit cigarettes, setting off fireworks and failing to comply with a total fire ban.
In Queensland, police report that 101 people – 32 adults and 69 juveniles – have been arrested for fire-related crimes. In Victoria, 43 individuals have met similar charges. Four were also caught and arrested in Tasmania while setting fires to vegetation.
Additionally, 24 individuals have been arrested for deliberately starting fires in NSW.
According to a statement from the NSW Police force, "starting a bushfire and being reckless as to its spread" is punishable with up to 21 years imprisonment.
The NSW Bureau of Crime and Statistics and Research reports that 29 fires were intentionally lit in the Shoalhaven region of the state while 27 were lit in the Kempsey region.
The NSW Rural Fire Service reported Wednesday that 127 bush and grass fires – 56 of which are uncontrolled – were still burning in NSW.
At the time of this writing, the fires – which are largely believed to have been caused by drought and extreme heat – have taken the lives of 24 people, including three firefighters. Additionally, over half a billion animals and 18 million acres of land have been incinerated, CNN reports.
How You Can Help
Dozens of organizations are accepting donations as Australia faces one of the most devastating bushfire seasons on record. Here is a list of organizations you can donate to:
Samaritan's Purse – Spearheaded by evangelical pastor Franklin Graham, Samaritan's Purse has had boots on the ground in Australia for the past three months. According to the Samaritan's Purse website, the humanitarian aid organization's mission is to provide "spiritual and physical aid to hurting people around the world." Samaritan's Purse has a location-based in Sydney that works with local churches to set up command centers near disaster zones. Donate here.
Victoria, Australia Fire Departments – The Victoria Government has partnered with the Salvation Army and Bengido Bank to create the Victorian Bushfire Appeal. One hundred percent of the funds donated to the appeal go directly toward communities in need. Donate here.
New South Wales Rural Fire Service – Known for being the largest volunteer fire service in the world, the New South Wales Rural Fire Service is comprised of 2,100 rural fire brigades with a total of about 72,000 volunteer firefighters. Donations made to the NSW Rural Fire Service or local Rural Fire Brigade will directly benefit the organization's volunteers. Donate here.
Australian Red Cross – According to the Australian Red Cross' website, the organization's purpose is to "support and empower people and communities in times of vulnerability."
The humanitarian aid organization works to "reduce suffering across Australia and internationally through mobilising the power of humanity." If you are located in Australia, you can register with the Australian Red Cross to let friends and family know you are safe. Grants are also available through the Red Cross if you have lost your home in the 2019-2020 bushfires. Donate here.
Australia Zoo Wildlife Hospital – Established by the late Steve Irwin and his wife Terri in 2002, the Australia Zoo Wildlife Hospital works to care for "injured, threatened or endangered wildlife" across Australia and in the world. The hospital has taken in animals from across Australia. With around 500 million animals killed in the 2019-2020 bushfires, the animal hospital is working to raise funds for the Australia Zoo Wildlife Hospital Bushfire Appeal. Donate here.
Please pray for Australia as government officials believe "there are months to go" until the fires are extinguished.
Photo courtesy: ©Getty Images/Sam Mooy/Stringer
---
Kayla Koslosky has been the Editor of ChristianHeadlines.com since 2018. She has B.A. degrees in English and History and previously wrote for and was the managing editor of the Yellow Jacket newspaper. She has also contributed to IBelieve.com and Crosswalk.com.
---
---