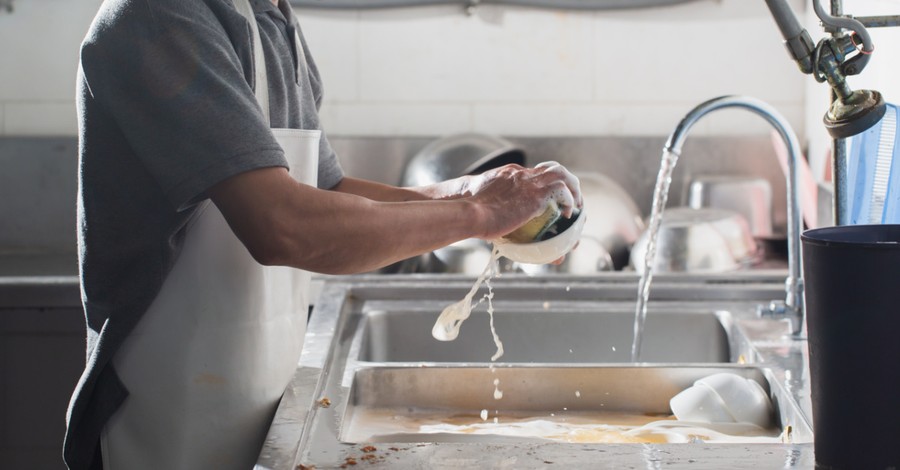 A homeless man gets a job instead of a handout from cafe owner Cesia Abigail in this inspirational short story. But what the man did with this second chance ultimately ended up blessing her more!
In March 2016, a homeless man named Marcus walked into Abi's Cafe in Minneapolis, Minnesota and asked owner Cesia Abigail for some spare change.
But instead of giving him a handout, the homeless man gets a job. And it's something that changed so many lives!
Homeless Man Gets Job and Inspires Cafe Owner
There are plenty of restaurants that would have kicked Marcus back out on the street. But when the homeless man explained to owner Cesia Abigail why he didn't have a job, his reply broke her heart.
"Well, I have a lot of felonies and no one wants to hire me for that. So, now I had to turn myself to the streets and get money the only way I know — stealing and asking for money."
So, rather than give Marcus a handout and send him on his way, she asked him a question instead.
"You want a job?" Abigail asked. "Then I have one for you."
The homeless man got a job that day at Abi's Cafe in Minneapolis, Minnesota washing dishes. But before Marcus got started, Abigail gave him a sandwich. To her surprise, he wrapped half of it in foil and ran outside to give it to another homeless person.
"That really touched me," she said.
From that day on, Marcus showed up day after day for work. And Abigail's act of kindness got her way more than she ever expected!
A Special Bond
Abi's Cafe of Minneapolis, Minnesota, was going through a rough patch when Marcus walked through the doors. So, Abigail could only afford to pay him for a 2-hour shift. But each day, Marcus consistently showed up on time and worked hard.
And what the homeless man did after he gets the job moved Abigail yet again!
Knowing his situation, Abigail was happy to let Marcus eat for free. But he refused.
Whenever he got paid for his work, he would turn around and buy food from Abi's Cafe. He insisted on paying because he said it made him feel good! (Abigail did say she made him at least accept a discount.)
Abigail eventually bumped up Marcus' hours and allowed him to work part-time permanently. Not only did the homeless man get a job, but he also gained a true friend to help mentor him in turning his life around.
Story of Homeless Man Getting Job Blesses So Many
Marcus had been on the streets since he was 16. But after God brought him to Abi's Cafe, all that changed.
"It's going to be hard for him to let go of whatever addiction he has," Abigail said. "I want to help [him], but [he] needs to want to help [himself.]"
Abigail worked with Marcus to set aside 10% of each paycheck so he could start learning how to save money. She also hosted a fundraiser on his behalf, which raised around $8,000 to help find him a place to stay.
After sharing online about this homeless man getting a job, Marcus' story touched so many people.
"We need more people like this," one person said of Abigail's willingness to help. "We are all human — we make mistakes."
"All we need sometimes is a helping hand," said another person.
As for Abigail, her encounter with Marcus has changed her, too.
Better to Give Than to Receive
When God first brought Marcus through the door of Abi's Cafe of Minneapolis, Minnesota, it was a struggling business. But business improved and the restaurant is still going strong today. And it's a restaurant with an owner who treats the homeless with the respect they deserve.
"Some restaurants wouldn't even let you use their restrooms," she said. "I don't judge someone on how they look — go use it. I do not treat [homeless people] any different."
And while Abigail has certainly become like a guardian angel in Marcus' life, the experience has had a powerful impact on her.
"A lot of people are saying I've been a blessing for him, but at that point, I was the one who needed a blessing," she said.
And the whole reason Abigail shared the story online was so that other people could see just how powerful kindness can be.
"Do something nice for someone today," she said on Facebook. "And don't judge them just because they out there asking for money for we don't know their situation… some deserve another shot. God gave me this blessing so why can't I bless others?"
WATCH: Homeless Man Gets Job And Inspires So Many
It truly is better to give than receive because blessing others actually blesses the giver just as much!
Article originally published by God Updates. Used with permission.
Photo courtesy: ©Getty Images/bgton
Video courtesy: ©FOX 9 Minneapolis-St. Paul
---
---