Kayla Koslosky
| ChristianHeadlines.com Editor
| Wednesday, September 23, 2020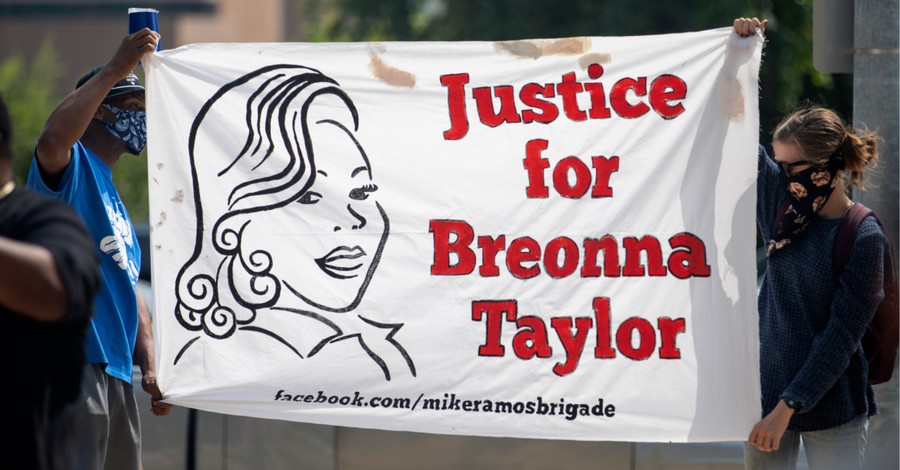 Months after the death of Breonna Taylor, a grand jury has decided to indict one of the three police officers involved in the police shooting of the 26-year-old emergency room technician.
On Wednesday, a grand jury indicted former Louisville police detective Brett Hankison on three felony charges of first-degree wanton endangerment.
Hankison was charged with endangerment because he was found to have fired his weapon into a covered glass patio door and window, a move that is in clear violation of a department policy dictating that an officer must have a clear line of fire before discharging his or her weapon. Reportedly, at least one bullet fired from Hankison's gun traveled through Taylor's apartment wall and into the adjoining residence where a pregnant woman, her husband and their 5-year-old child were sleeping. None of them were harmed.
Hankison, who was not brought up on charges for Taylor's death, has since been fired from the force.
In his dismissal letter issued in June, the Louisville Police Department argued that Hankison showed "extreme indifference to the value of human life" when he "blindly fired" 10 times into Taylor's apartment.
The other two officers involved, Sargent Jonathan Mattingly and Deputy Myles Cosgrove, were not indicted by the grand jury.
According to the Washington Post, Mattingly, who suffered a gunshot wound to the upper thigh, was the only officer to enter Taylor's apartment. Cosgrove, who FBI analysts determined fired the bullet that killed Taylor, was in the doorway of the apartment.
According to a statement from Kentucky Attorney General Daniel Cameron on Wednesday, the force used by Mattingly and Cosgrove was justified to protect themselves.
"This justification," he said, "bars us from pursuing criminal charges in Ms. Breonna Taylor's death."
Both men are still on the force but have been placed on administrative leave.
According to the New York Times, legal experts did not anticipate any of the officers being indicted on murder charges because Taylor's boyfriend, Kenneth Walker, was the first to fire off rounds.
In March, police in plainclothes executed a warrant at Taylor's apartment under the cover of night. Police were looking for Taylor's ex-boyfriend, Jamarcus Glover. According to the New York Times, Police used a battering ram to enter the apartment. Upon hearing what he reportedly believed to be an intruder, Walker armed himself and went to investigate the commotion. This is when Walker and police exchanged fire. During the fire fight, Taylor was shot five times. The Jefferson County Coroner's Office told The Courier-Journal that Taylor likely died less than a minute after being shot.
Since Taylor's death, her name has become a rallying cry for those pushing for police reform and racial justice.
As Christian Headlines previously reported, earlier this month, the city of Louisville, Kentucky reached a $12 million settlement with Taylor's family for her wrongful death. The city also promised Taylor's mother, Tamika Palmer, that actions would be taken to reform the city's police force.
Related:
Louisville Reaches $12 Million Settlement with Family of Breonna Taylor
Photo courtesy: ©Getty Images/Montinique Monroe/Stringer
---
Kayla Koslosky has been the Editor of ChristianHeadlines.com since 2018. She has B.A. degrees in English and History and previously wrote for and was the managing editor of the Yellow Jacket newspaper. She has also contributed to IBelieve.com and Crosswalk.com.
---
---