Kayla Koslosky
| ChristianHeadlines.com Editor
| Tuesday, March 8, 2022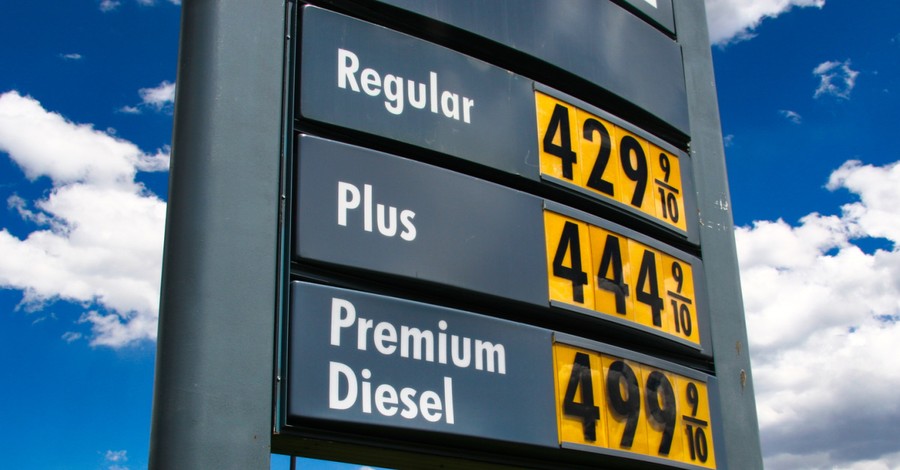 Gas prices have reached an all-time high in the United States, breaking the record high prices set during the 2008 recession.
According to Fox Carolina, the rising gas prices are a direct result of inflation, high demand and Russia's invasion of Ukraine.
As of Tuesday, AAA reports that the average cost of gas per gallon is $4.17. Last week the average price of regular gas per gallon was $3.60, $0.57 less than the current national average.
The previous record high, $4.11, was set on July 17, 2008. The Oil Price Information Service says the national average could reach $5 in the near future, Fox Carolina reports.
In some states, however, gas has already surpassed the $5 mark. In California, where the average cost of gas is $5.44 per gallon, some filling stations have been charging well over $6 per gallon of regular gas. One gas station in Gorda County was reported to be selling gas for as much as $7.59 per gallon.
While diesel gas has yet to break its July 2008 record of $4.84, the cost is rising. Currently, diesel gas costs $4.75 per gallon on average. USA Today reports that that price is more than double the average cost of diesel gas in October 2020.
According to the U.S. Energy Information Administration, Russia is the third-largest oil producer in the world, third to the United States and Saudi Arabia. While the U.S. is the largest producer of oil, it is also the largest consumer of oil, and according to ABC 5 Chicago, the U.S. has failed to meet that demand with domestic crude oil alone. Last year, the U.S. imported eight percent, or 245 million barrels, of its crude oil and petroleum products from Russia. While that is less than the amount of oil the U.S. imported from Canada or Mexico, it is more than it brought in from Saudi Arabia last year.
With the Russian war on Ukraine raging on, more and more people have called for the U.S. to cease purchasing oil from the eastern European nation. President Biden, however, has reportedly been hesitant to do so for fear it will worsen the growing inflation issue in the U.S.
Related:
Rick Warren Rebukes U.S. for Buying Russian Oil: 'We Are Funding the Murder of Ukraine'
Photo courtesy: ©Getty Images/PondShots
---
Kayla Koslosky has been the Editor of ChristianHeadlines.com since 2018. She has B.A. degrees in English and History and previously wrote for and was the managing editor of the Yellow Jacket newspaper. She has also contributed to IBelieve.com and Crosswalk.com.
---
---