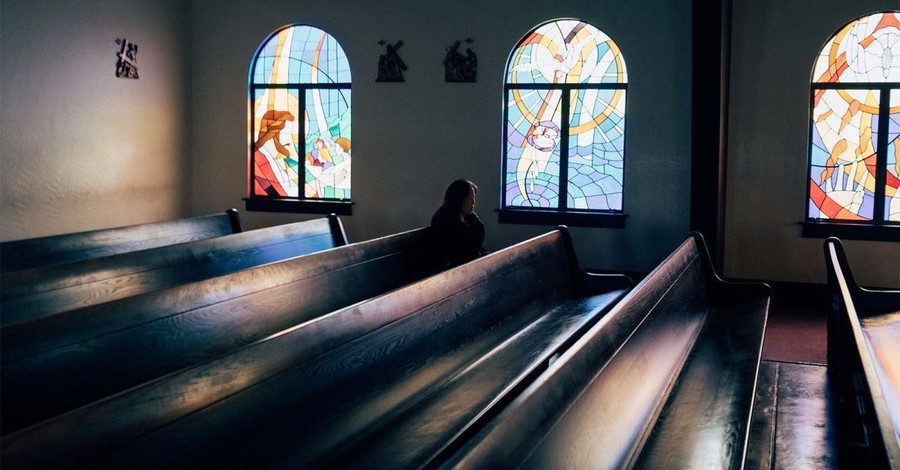 (RNS) — Most Americans still say they believe in God, but their involvement in organized religion continues to wane.
A new Gallup report found that only half of Americans say they belong to a church or other religious body, down from 69% two decades earlier.
Most of the decline is tied to the rise of the so-called "nones" — those who claim no religious affiliation. Gallup found that the share of Americans who claim a religious identity declined from 90% to 77% in recent decades.
But even those who claim a faith tradition may not belong to a religious congregation or community, according to the report, which compared data from 1998-2000 to data from 2016-2018.
At the turn of the century, Gallup said, 73% of religious Americans belonged to a house of worship. That's dropped to 64% today.
"The still-sizable proportion of religious Americans also contribute to declining church membership, as fewer in this group belong to a church than did so two decades ago," the report states.
Being part of a house of worship is no longer necessary for a growing number of religious Americans, said Tim Carney, author of "Alienated America."
"This data confirms what we've been seeing for decades: American life is becoming deinstitutionalized," Carney said. "Americans are less likely to belong to anything. In America, historically, the thing most people have belonged to has been the church, and now more and more people are losing that."
Age and generational differences appear to play a role in whether Americans join a house of worship.
"Just 42 percent of millennials are members of churches, on average," according to the report. "By comparison, 20 years ago, 62 percent of members of Generation X belonged to a church, when they were about the same age as millennials are today."
The poll found that 68% of "traditionalists" — which Gallup identifies as those born before 1945 — are part of a church or other religious body. That percentage has declined from 78% two decades ago.
Gallup's study also found that 89% of traditionalists have a religious identity, compared with 68% of millennials, which it defines as those born between 1980 and 2000.
"Not only are millennials less likely than older Americans to identify with a religion, but millennials who are religious are significantly less likely to belong to a church," according to the report. "Fifty-seven percent of religious millennials belong to a church, compared with 65 percent or more in older generations."
Among other findings:
* Catholics (63%) are less likely to belong to a church than Protestants (67%).
* Nondenominational Christians (57%) are less likely to belong to a church than those tied to a specific denomination (70%).
* Mormons have among the highest affiliation with a church, at about 90%.
* Jewish membership in synagogues has remained steady at about 50%.
Gallup's new numbers are striking because they suggest a even lower level in religiosity than other recent data on religious affiliation.
Last year's General Social Survey, a poll conducted since 1972 by the National Opinion Research Center at the University of Chicago, found that those who reported that they affiliate with "no religion" and those that self-identify as evangelicals are the same size — about 23%.
The difference is one of wording, explained Ryan Burge, a pastor and political science researcher. While the GSS looked at affiliation, which can be more cultural, Gallup asked about membership, which might suggest a more formal connection with a specific religious body.
"A lot of people say they're Catholic, for example, but they never go to Mass," Burge said. "Or they went to college, moved away, and don't attend a church in their new town. So if you ask if they're a member of the Catholic Church, they're more likely to say they're not because they don't actively attend."
Burge said the gap between the population that claims a religious affiliation and population that claims church membership shows that America is still "marginally attached" to civic religion.
"The vast majority of us think we should believe in something, that we should have some religious affiliation," he said. "They're not afraid of the label of religion, they're just reluctant to engage in the activity. That ties into the larger problem in America where people aren't joining stuff as much as they used to."
That lines up with an overall lack of interest in belonging, according to Harvard University political scientist Robert Putnam, whose 2000 book, "Bowling Alone: The Collapse and Revival of American Community," argued that Americans have been engaging less and less in communal social activities – bowling leagues, Rotary clubs, Boy Scouts, gardening clubs, book clubs and more — since the 1960s.
Church attendance, Putnam told Religion News Service, has simply followed this downward trend.
In fact, the data on the decline in church membership shares "almost exactly the same pattern of ups and downs" as engagement in secular civil society, he said.
While the acceleration of the trend may partially be rooted in the increased politicization of religion, Putnam said, it's likely much less about religion and spirituality and much more about a general disengagement with organized social activities.
That gap has only partially been filled by the rise of online forms of community, researchers say, which has consequences not only for faith groups but for society at large.
"This is not a good trend, even from a secular perspective," Carney said. "People who attend church have more connections, more friends, more support in tough times, and more of a sense of purpose. Families that attend church are stronger. And among the working class, the data suggest that people who drop out of church aren't joining anything else in its place."
Putnam, though, cautioned against focusing on just the rearview mirror.
"Just because a trend is going in a direction, doesn't mean it can't reverse course," Putnam said. "I actually think it's possible that the millennials will lead a renewal of civil society. There's a decent chance we're on the verge of a major change in American society."
And religion, he said, could very well be a part of that.
The Gallup study was based on telephone interviews of American adults from all 50 states and the District of Columbia. Trend data on membership came from surveys of 2,000 adults. The margin of error is plus or minus 3 percentage points.
Results for 2016-2018 are based on interviews with 7,688 Americans. Results from 1998-2000 are based on interviews with 7,184 Americans. Both have a margin of error of plus or minus 1 percentage point.
READ THIS STORY AT RELIGIONNEWS.COM.
Article originally published by Religion News Service.
Photo courtesy: RNS/Creative Commons/Anthony Nguyen
---
---