Kayla Koslosky
| ChristianHeadlines.com Editor
| Thursday, June 2, 2022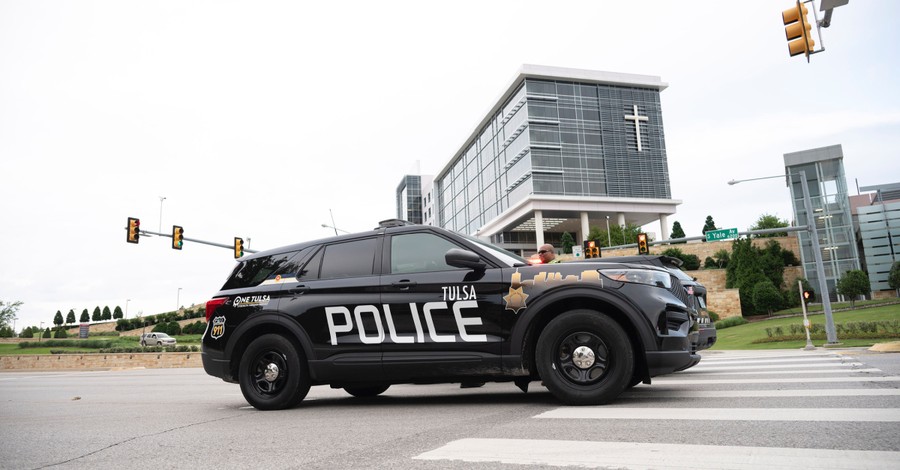 Four people were killed, and multiple others were wounded in a shooting at a Tulsa, Oklahoma, hospital campus on Wednesday.
According to CBS News, the shooter is also dead.
In a statement to CNN, Tulsa Police Department Capt. Richard Meulenberg said that multiple people were wounded, but none are in life-threatening condition. Speaking to the Associated Press, Meulenberg called the scene "catastrophic" but noted that fewer than 10 people were wounded.
Just before 5 pm on Wednesday, a man, described as a Black male between 35 and 40, fired off multiple weapons at the Saint Francis Hospital campus. Tulsa Deputy Police Chief Eric Dalgleish told reporters that it appears the gunman used both a long gun and a handgun to carry out the attack.
According to CBS News, once learning of the shooting, police arrived on the scene within three minutes. About five minutes later, police made contact with the shooter, who eventually died from an apparent self-inflicted gunshot wound.
"I was very happy with what we know so far regarding the response of our officers," Dalgleish told reporters.
Tulsa Mayor G.T. Bynum also expressed his "profound gratitude for the broad range of first responders who did not hesitate." Bynum appeared to be alluding to the amount of time – more than 60 minutes – it took Uvalde police to enter Robb Elementary School, where 19 children and two teachers were killed in a mass shooting last week.
Dalgleish told reporters that officers first came face to face with the suspect on the second floor of the hospital's Natalie Building.
"The officers that did arrive were hearing shots in the building, and that's what directed them to the second floor," he said.
Upon learning of the shooting, Oklahoma Gov. Kevin Stitt issued a statement calling it a "senseless act of violence and hatred."
He added, "Sarah and I are praying for the families of those who lost their lives and for those who were injured."
The names of the victims or gunman have not been released at this time. The motive behind the shooting is still unknown. It is also unclear if the shooter was targeting a specific person or group of people.
Related:
10 Killed, 3 Injured in Mass Shooting at Buffalo Supermarket
1 Killed, 5 Wounded in Shooting Inside a Southern California Church
How 7 Christian Leaders Reacted to the Uvalde, Texas, School Shooting
DOJ to Review Delayed Police Response in Uvalde Shooting

Photo courtesy: ©Getty Images/J. Pat Carter/Stringer
---
Kayla Koslosky has been the Editor of ChristianHeadlines.com since 2018. She has B.A. degrees in English and History and previously wrote for and was the managing editor of the Yellow Jacket newspaper. She has also contributed to IBelieve.com and Crosswalk.com.
---
---