Kayla Koslosky
| ChristianHeadlines.com Editor
| Wednesday, July 17, 2019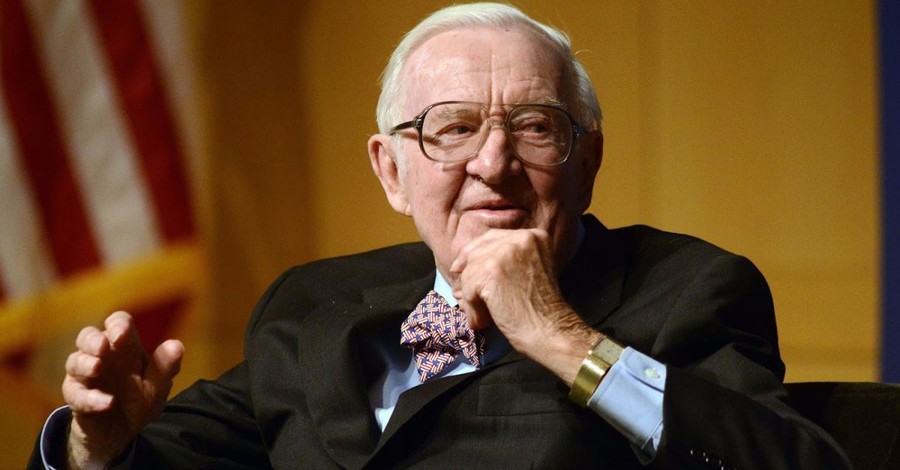 Republican-nominated "lion of liberalism," Supreme Court Justice John Paul Stevens, died on Tuesday at the age of 99.
According to the Associated Press, Stevens – who served as a Supreme Court Justice for nearly 35 years – suffered from a stroke on Monday and passed away the following day. 
Chief Justice John Roberts announced Stevens' passing in a statement on Tuesday writing, "On behalf of the Court and retired Justices, I am saddened to report that our colleague Justice John Paul Stevens has passed away."
He continued, "A son of the Midwest heartland and a veteran of World War II, Justice Stevens devoted his long life to public service, including 35 years on the Supreme Court. He brought to our bench an inimitable blend of kindness, humility, wisdom, and independence. His unrelenting commitment to justice has left us a better nation."
Stevens is well known for being an outspoken critic of President George W Bush. 
After 9/11, President Bush argued that the enemy combatants held at Guantanamo did not have the right to have their case heard in a U.S. Court because they were not citizens of the United States and were not being held on U.S. soil.
In 2004, Steven wrote the majority opinion for the Rasul v. Bush case, ruling against the president. It was decided that prisoners being held at Guantanamo did indeed have the legal right to have their case heard in a U.S. Court, the Huff Post reports. 
In 2006, Stevens wrote the majority opinion in the case of Hamdan v. Rumsfeld, which declared that a Bush administration military commissions system violated U.S. and international law.
Stevens also "acted to limit the death penalty, squelch official prayer in schools, establish gay rights, promote racial equality and preserve legal abortion," the Associated Press reports.
Stevens began his tenure in the Supreme Court after President Gerald Ford nominated him in 1975. The great-grandfather of 13 only retired in 2010, allowing him to serve more than two-times the average tenure for a justice.
Stevens is survived by his daughters Elizabeth and Susan, his nine grandchildren and his 13 great-grandchildren.
Photo courtesy: Getty Images/William Thomas Cain/Stringer
---
---