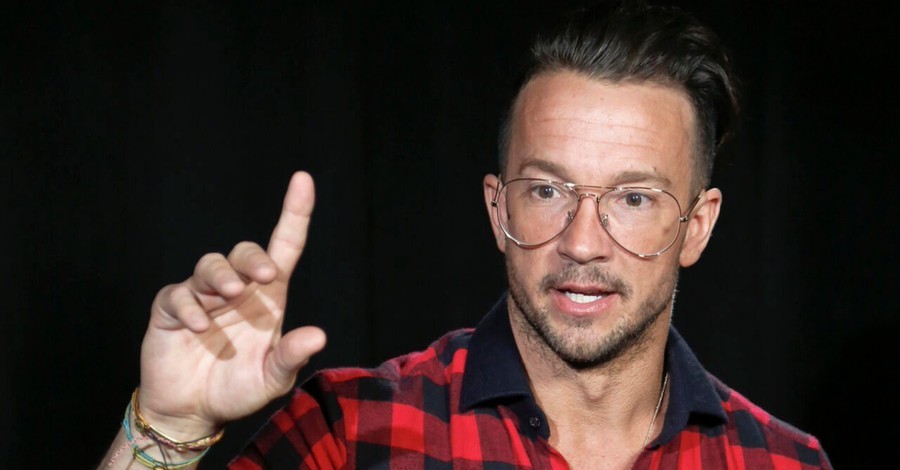 NEW YORK (RNS) — A former Hillsong NYC staff member has come forward with allegations that the megachurch's former pastor Carl Lentz subjected her to "bullying, abuse of power and sexual abuse" over the course of seven years as she worked as a nanny in Lentz's home.
"I felt trapped and silenced. I also felt so ashamed and I had been told not to say anything or tell anyone," Leona Kimes, 37, told Religion News Service via email Sunday (May 30).
In a statement published on Medium on Monday, Kimes, now a co-pastor of Hillsong's Boston location, claimed Lentz abused her sexually on multiple occasions. "I was physically violated by his unwanted and repeated sexual touching of my intimate areas. I froze. Every time, I froze," Kimes said in her statement.
A legal representative for Carl and his wife, Laura Lentz, responding to Kimes' allegations, told RNS the Lentzes "vehemently deny the allegations and, in addition to that, have irrefutable proof the events did not happen as they are being described."
Kimes' allegations are the most recent chapter in a scandal that has caused turmoil in the global church founded in the 1980s by Brian and Bobbie Houston in Australia, now a multimedia empire with 130 locations around the world.
Lentz, 42, who had established Hillsong's Manhattan church with the Houstons' son Joel, was fired in November for "moral failings" and admitted to an adulterous affair. Soon after, Ranin Karim, a Brooklyn jewelry designer, discussed her relationship with Lentz on "Good Morning America." The following month, comments from Brian Houston, in which he called Lentz "a narcissist," suggested the affair was not Lentz's only transgression.
One of several pastors GQ Magazine once described as "hypepriests" for their fashionable attire and celebrity congregants, Lentz was perhaps best known for baptizing Justin Bieber in NBA player Tyson Chandler's bathtub. But since Lentz's firing and subsequent move to California with his wife and children, he has been little heard from, and Hillsong has portrayed his pastorate as a one-time mistake.
In December, the New York law firm Zukerman Gore Brandeis & Crossman, hired to investigate Hillsong East Coast's leadership, recommended protocols to prevent similar situations, and Brian Houston apologized "unreservedly" for his lack of oversight.
Kimes' statement paints a darker picture than what the church first made public after the law firm's report, alleging unwanted sexual encounters with a subordinate whose husband was also employed by the church.
Kimes said she began working as the Lentzes' nanny and housekeeper in 2011, spending as many as 19 hours a day at their home. Requests for foot rubs and massages escalated to Lentz sexually touching Kimes, according to her statement, including in a car and a movie theater while one or more of his children were with them. Kimes said the two never kissed and never had intercourse.
By 2016, Laura Lentz had apparently learned of the alleged behavior and Kimes said the couple addressed the situation with her. "I was blamed and silenced," Kimes said in her statement. "I was the problem."
Multiple times in her statement, Kimes said she blamed herself for the alleged sexual activity. "I would leave church on Sunday full of shame after hearing his sermon. I would think it was all my fault, only to get a flood of messages from him that afternoon."
In 2017, Kimes said, the Lentzes sat down with her again to address the situation. This time, according to Kimes, "he took full responsibility for taking advantage of me and putting me in a situation that was so heavy for me."
Lentz had considered confessing to leaders, but "after talking it through with his wife," they decided it wasn't necessary, according to Kimes. They told her they would establish boundaries. But, Kimes said, Lentz's wife told her soon after "I should repent and dismissed me from all of my duties in the house."
"I'd been fired from their family, but not from their staff. I felt like it was my fault, leaving me full of shame. I wasn't given another role, and thought we could resolve it, though I wasn't sure how. I just knew we were all going to keep quiet."
Later that year, Kimes and her husband relocated to lead the Hillsong campus in Boston.
During those first years on staff for Hillsong, working in the Lentz household, Kimes said the job, which she considered her ministry, was "exhilarating but also exhausting." She said she was responsible for "cleaning their house, running their errands and ensuring that everything within the walls of their house was as perfect as possible. It was also my responsibility to take care of the pastors' children."
"I rarely had time outside of work to be with friends, family or other employees," Kimes told RNS.
Hillsong churches have reportedly depended on volunteers to work long hours that left many burned out, with one former volunteer telling Vanity Fair they joked about "the Hillsong hangover," after long weekends serving at the church.
Kimes said the "do whatever it takes attitude" extended to staff, who "often sacrificed personal needs for what our lead pastors needed — or even just wanted."
Kimes and her husband, Josh Kimes, have themselves come under scrutiny for their treatment of volunteers in their Boston church. Tiffany Perez, a former volunteer there, told Business Insider that she was asked to care for the couple's daughter for up to 25 hours a week as well as do cleaning and look after their dog, while being paid $150 a week.
Josh Kimes was hired at Hillsong NYC in 2013 as an associate pastor and "looked after youth and young adults, evening college, midweek services," Leona Kimes told RNS. She did not tell him of the alleged sexual assaults by Lentz. "Even though I knew Josh loved me with his whole heart, I was also terrified that I would lose my family and that added to my fear," she told RNS. She said she also worried he might lose his job.
Kimes said she was afraid to say anything to higher-ups at Hillsong. "It seemed to me like my pastor had ensured that there was great distance between him and any sort of accountability or communication with his oversight. So, I couldn't even imagine reporting my experiences. We were growing so quickly that we didn't really have the things that are supposed to protect against situations like this — Human Resources, whistleblower policies or any sort of 'safe place' to share concerns," Kimes said in her statement.
Kimes finally told both her husband and Hillsong leadership on the night she found out Lentz had been fired from the church in November — "After I was safe," she said in her statement.
Rachael Denhollander, an abuse advocate and attorney who has worked with faith organizations in addressing sexual abuse, said abuse and power dynamics in religious environments often prevent victims from taking action.
"When you have somebody who is ostensibly speaking as a spiritual authority, then it starts meshing with your beliefs, your convictions and how you define yourself," said Denhollander. "It makes it difficult to be able to point to something and say 'this is wrong,' because you've been conditioned to believe your godliness is dependent on your submission, essentially, to what is taking place."
Denhollander raised questions about the work culture at Hillsong. "The situation this survivor was in, the way she was employed in the home," Denhollander said, "that raises very legitimate questions about Hillsong's policies and procedures."
Those procedures have been criticized by Anna Crenshaw, an American student at Hillsong College in Sydney who was touched inappropriately by a Hillsong staffer, Jason Mays, the son of the church's human resources chief, at a party in early 2016. Crenshaw didn't tell Hillsong leadership about the incident for two years, but told RNS that Brian Houston initially excused Mays' behavior, saying Mays was "just young, drunk, stupid, and in a bad situation."
Crenshaw said Hillsong seemed to initially take her accusations seriously but was slow to take action. After Crenshaw's father, a pastor, became involved, Hillsong reported the assault to the police in 2019. Mays pleaded guilty to indecent assault in 2020 and received two years' probation and mandatory counseling. A church spokesperson told Vanity Fair magazine that Mays was banned from ministry for 12 months, before being reinstated in his administration role and as a volunteer singer.
Crenshaw told RNS she believes there is a cultural tendency at Hillsong "to value those 'higher up' or more connected."
"Unfortunately, due to the close-knit relationships and lack of institutional accountability it may never be dealt with," Crenshaw said. But, she added, "It is never too late to do better."
When asked about Crenshaw, a Hillsong representative pointed to a March statement from Hillsong regarding the matter, which reads in part: "Hillsong Church vehemently denies any allegation of a culture that tolerates abuse. We take every complaint seriously and regularly demonstrate our commitment to updating our policies and procedures."
In a statement about Leona Kimes' allegations, provided to RNS on Friday and now live on their website, the Houstons said that "hearing Leona Kimes' experience was very disturbing" and that they "commend her for her courage and have assured her of our utmost compassion in their (family's) journey forward."
"As a local church within the greater Body of Christ, we welcome this opportunity to grow in what is an increasing societal problem," according to the Houstons' statement.
Kimes said she has been "met with compassion, particularly by Brian and Bobbie Houston," since she came forward, and Brian Houston said her experience "will be central to our processes."
Kimes told RNS there has not been an expectation for her to be involved in developing those processes, but she has been "welcomed to give my input if I choose."
Hillsong has had other fires to address elsewhere.
In January, Reed and Jess Bogard, lead pastors of the Dallas location, abruptly resigned during a Sunday morning service. Houston later said the couple, who had served in New York with Lentz, "failed to meet the commitments and standards of Hillsong Church," and the Dallas location has been shuttered for the foreseeable future.
In April, Darnell Barrett, a pastor for the Montclair, New Jersey, Hillsong campus, resigned after sharing revealing photos of himself on Instagram stories to a group of friends that included a woman who once volunteered for him at the New Jersey church.
Denhollander hopes Hillsong will reopen an independent investigation — one that includes a waiver of attorney-client privilege and that will culminate in a public report to ensure accountability and transparency.
If an organization's policies are not aimed at giving employees clear opportunities to report potential abuse, Denhollander said, "you run a very high likelihood of other predators in that organization that you may not be aware of." When a system is less than transparent, she added, there is a very strong likelihood other unhealthy dynamics will come into play.
For her part, Kimes said she is not going anywhere. "Even with all I've been through, I still love it. Hillsong is my church, and I will remain on staff, working toward a stronger future."
This is a breaking story and may be updated.
READ THIS STORY AT RELIGIONNEWS.COM.
Article originally published by Religion News Service. Used with permission.
Photo courtesy: ©RNS/AP Photo/Bebeto Matthews, File
---
---