Kayla Koslosky
| ChristianHeadlines.com Editor
| Monday, April 15, 2019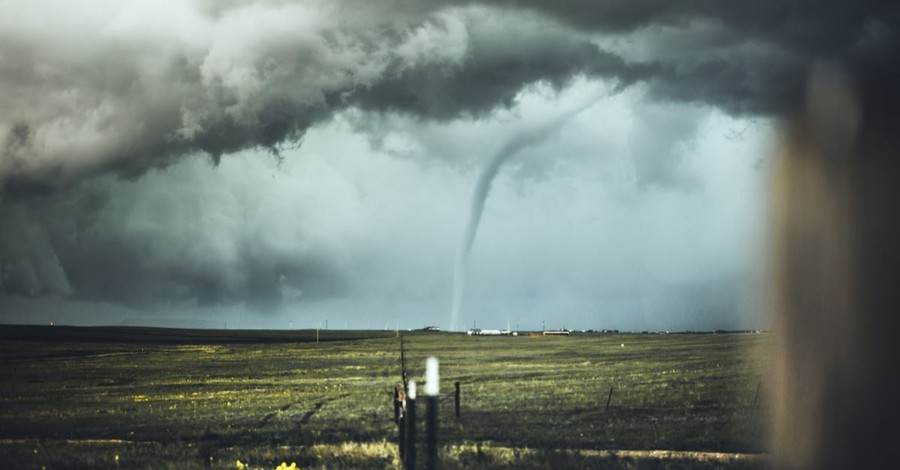 At least eight people were killed over the weekend after several tornadoes touched down and flooding ensued across Texas, Mississippi, Louisiana, Arkansas and Georgia.
According to ABC News, the tornadoes and flooding killed at least eight people – including 3 children – left dozens injured and essentially flattened one Texas town.
According to AccuWeather, the deadly storm system spawned "dozens of tornadoes" across the southern states. 
The National Weather Service reports that an EF-3 tornado touched down in Franklin, Texas, 125 miles away from Dallas. According to Franklin authorities, the tornado nearly flattened the town, destroying "55 homes, a church, four businesses, a duplex and part of the local housing authority building," ABC News reports. 
An EF-2 tornado is reported to have touched down in Hamilton, TX where 19 people were taken to the hospital for treatment. 
Another tornado in Mississippi took the life of 95-year-old Roy Ratliff, after the twister struck his trailer. An additional 19 people – including two in critical condition – were taken to the hospital for treatment due to tornado-related injuries. 
According to ABC News, one man, 72-year-old Robert Scott, says he fell asleep in his recliner chair late Saturday and woke up to find that he was in his yard. Scott's house had been torn apart by a tornado. His wife Linda, 71, was also in the house when the tornado ripped it off of its foundation. The two, thanked God that they both survived the twister. "We're living, and God has blessed us," Scott told ABC News. 
In Vicksburg, Mississippi, another possible tornado touched down. So far, no injuries have been reported in Vicksburg.
In Louisiana, the storm system caused flash flooding which took the lives of two people, 13-year-old Sebastian Omar Martinez who drowned in a drainage canal in Bawcomville, LA. Another person – whose name has not been released – also drowned after their car was submerged in floodwaters in Calhoun, LA.
In Alabama, a possible tornado knocked out power lines and damaged mobile homes. 
ABC News reports that some 90,000 people across Texas, Mississippi, Louisiana, Arkansas and Georgia were without power as of mid-day Sunday. According to Poweroutage.us, however, it appears that power in affected areas has been restored.
Photo courtesy: Unsplash/Nikolas Noonan
---
---