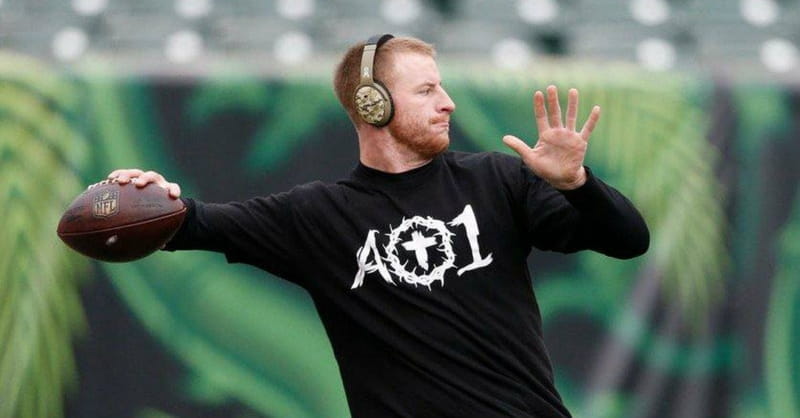 ---
The 2018 National Prayer Breakfast is scheduled for this Thursday evening in Washington D.C., and the keynote speaker will be Philadelphia Eagles Christian quarterback Carson Wentz.
Although Wentz's year may have previously seemed like it was a year of trials, especially due to his season-ending ACL injury, the year may be proving to be one of Wentz's most exciting, despite his injury.
First, he was able to cheer his team on to a Super Bowl victory, led by Wentz's fellow Christian athlete and Eagles backup quarterback Nick Foles.
Then, on February 6, he tweeted that he got engaged to his girlfriend, Madison Oberg.
 

She said YES! And now Maddie and I both got us a ring 💍😎 can't wait to marry my best friend! God is doing some amazing things and I can't thank him enough! pic.twitter.com/OPr0kilabh

— Carson Wentz (@cj_wentz) February 6, 2018
But, as TheBlaze.com reports, that wasn't the end to the exciting opportunities before Wentz.
Today, he will take part in the Eagles victory parade through the streets of Philadelphia, enjoying the Super Bowl win with the rest of his teammates and fans.
And then, Thursday evening, Wentz will be off to America's capital to give an address as the keynote speaker at the National Prayer Breakfast dinner where he will be filling in for Vice President Mike Pence who is in South Korea representing the U.S. government at the Winter Olympics in Pyeongchang.
President Trump also spoke at the National Prayer Breakfast this morning, stating, "We can all be heroes to everybody and they can be heroes to us, as long as we open our hearts to God's grace, America will be free, the land of the free, the home of the brave and the light to all nations."
Photo courtesy: Facebook/Carson Wentz
Publication date: February 8, 2018
Veronica Neffinger wrote her first poem at age seven and went on to study English in college, focusing on 18th century literature. When she is not listening to baseball games, enjoying the outdoors, or reading, she can be found mostly in Richmond, VA writing primarily about nature, nostalgia, faith, family, and Jane Austen.